Inside Iowa's Craft Whiskey Industry
22/09/2018 Iowa's modern craft whiskey industry comes with a long and storied tradition.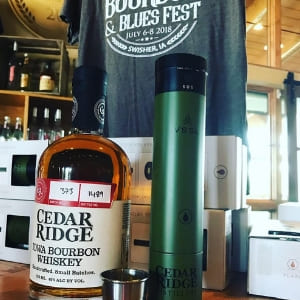 If there is one defining crop for the state of Iowa, it's corn. So it's perhaps not surprising that craft distilleries and nano-distilleries within the state have been experimenting with corn as the basis for a brand new generation of Iowa whiskey. Making bourbon in Iowa corn country, in other words, is now catching on. Remember - during the Prohibition era, many Iowa farmers turned to bootleg alcohol production as a way to supplement their incomes. So Iowa's modern craft whiskey industry comes with a long and storied tradition.
Templeton Rye
The starting point to begin discussing Iowa's whiskey industry is, of course, Templeton Rye. The company's name hearkens back to the Prohibition era, when Templeton, Iowa emerged as a local craft distilling hub, famed as a place for local Iowa farmers to supplement their income with whiskey and moonshine production. And even today, Templeton Rye refers to itself as "Iowa's most notorious whiskey."
However, as you might have guessed by the name of the company itself, the company's focus on rye whiskey in the middle of corn country is always the subject of debate, especially from bourbon purists. Adding to the controversy is the fact that Templeton Rye is much more of a bottling operation than a production operation.
Yet, Templeton Rye still has the biggest whiskey brand in the state and has taken steps in recent years to expand its footprint even further in Iowa. The company, for example, is now in the process of setting up its own working commercial distillery within the state of Iowa. That could help to mitigate the argument that Templeton Rye is not really an Iowa-based whiskey producer.
Making the argument that Templeton Rye should be considered a craft whiskey producer, though, is still challenging. This new commercial distillery is going to immediately vault the company into the ranks of mid-size whiskey producers. With just a single step, Templeton Rye is going to transition immediately into the ranks of mid-size and larger producers, thereby entirely bypassing the "craft" or "micro" label. Consider, for example, that the new Templeton Rye facility will include a 20-acre plant set to open in late 2018. That facility will be capable of producing upwards of 500,000 proof gallons per year. And, on top of that, Templeton will have the capacity to handle warehousing for 40,000 barrels.
Mississippi River Distilling Company
Known by many locals as simply "MRDC," Mississippi River Distilling Company is easily the largest of Iowa's craft whiskey producers, even if it pales in comparison to the much larger Templeton Rye. In fact, MRDC is considered to be one of the "four kings" of Midwest whiskey production, and that means that MRDC has the scale and scope that other Iowa players lack. For example, the Four Kings whiskey project involves other big-name craft distillers Journeyman Distillery (based in Michigan), FEW Spirits (based in Illinois) and Corsair Artisan Distillery (based in both Bowling Green, Kentucky and Nashville, Tennessee). That gives you an indication of the company's size.
Mississippi River Distilling Company is known primarily for its production of Cody Road Bourbon and Cody Road Rye, together with small-batch single barrel whiskies, experimental whiskies, and seasonal liqueurs. MRDC uses only 100% local grain in its whiskey production, and proudly promotes itself as a "grain-to-glass distillery," in which all corn or rye used in spirits production comes from within a 25-mile radius of the distillery.
Cedar Ridge Distillery
Cedar Ridge is the oldest and largest whiskey producing craft distillery in the state, and in the past 24 months, has re-established itself as the leader of the Iowa craft whiskey industry. In 2017, for example, the Artisan Distilling Institute named Cedar Ridge Distillery its Distillery of the Year. Given its expanding scale and size, it's perhaps no surprise that Cedar Ridge is generally acknowledged to have the most extensive whiskey lineup in Iowa. Cedar Ridge's key products include bourbon, a 5-year-old reserve bourbon, a malt whiskey, a single-barrel malt whiskey, a wheat whiskey, and a malted rye. If you are looking for what's new in the world of Iowa whiskey, it's worth keeping an eye on Cedar Ridge Distillery.
Broadbent Distillery
Located south of Des Moines, Broadbent Distillery is arguably the smallest legal distillery in Iowa. The flagship product of Broadbent Distillery is Two Jays Iowa Corn Whiskey, which is a 100% corn, unaged whiskey. For whiskey fans that prefer a little barrel ageing, Broadbent Distillery also offers a slightly aged Two Jays whiskey. In addition, this Iowa distillery offers a higher strength light whiskey called Two Jays Urban Style. This whiskey is distilled to a higher strength and then aged in new barrels.
Iowa Distilling Company
Located in South Central Iowa, Iowa Distilling Company specializes in a 100% corn whiskey. The company also offers a straight bourbon, which includes a high rye mash bill and is aged to achieve the right flavour and aroma profile.
Legendary Rye
While Legendary Rye is located in the same county as Templeton Rye (based in Templeton, Iowa), it is nowhere the size or scale of Templeton Rye. However, unlike other Iowa distilleries that focus on corn whiskey, Legendary Rye focuses on rye whiskey (as you might have guessed from the name).
Artisan Grain Distillery
The Quad Cities region - that unique region of American heartland where Iowa and Illinois meet - is also home to an up-and-coming Iowa craft whiskey distillery: Artisan Grain Distillery. It's located in the middle of Davenport, Iowa and specializes in rum and corn-based moonshine.
3-Oaks Distillery
Family-run and operated, 3-Oaks Distillery is one of the finest examples of a nano-distillery. The company offers a single product - 3-Oaks Whiskey - that is a unique combination of four different grains: corn, rye, barley and malted barley.
The future of Iowa craft whiskey
As can be seen above, Iowa's corn belt is now home to a group of young, vibrant and (at times) experimental craft whiskey distilleries. While Templeton Rye is easily the biggest whiskey brand name in the state, it can no longer hold exclusive claim to being the best whiskey producer in the state.
Certainly, the growth and expansion of the whiskey industry is now a state-wide phenomenon, and no longer limited to just a few local nano-distilleries. Iowa has a long, proud tradition of craft distilling that goes all the way back to the Prohibition era. When you combine that with the ability to source high-quality local grains very easily, it's a winning formula for success in the whiskey business.
Image credit: Cedar Ridge Distillery on Instagram (@CedarRidgeIowa)