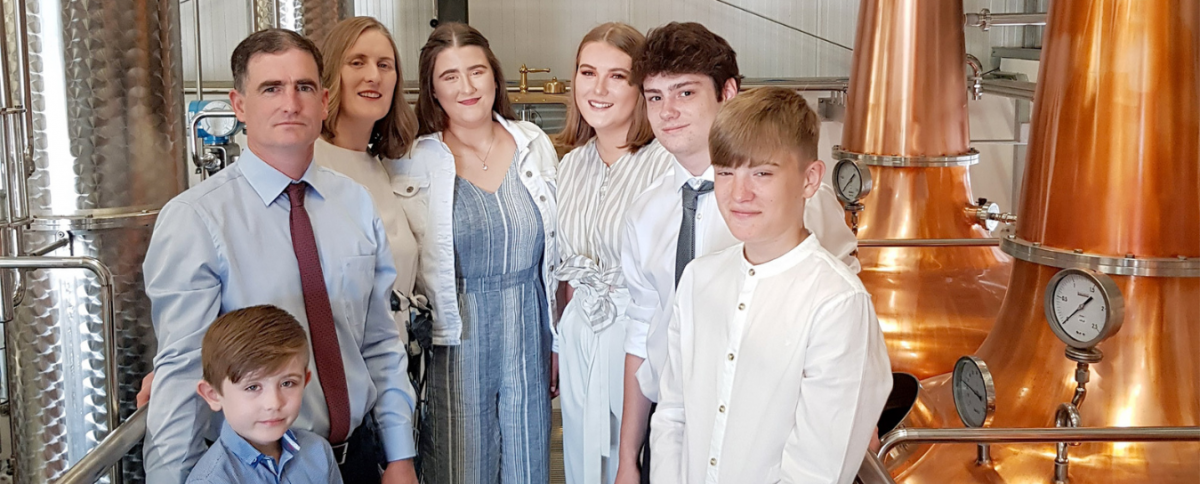 Ballykeefe Distillery: Nurturing Tradition and Sustainability in Every Drop
31/10/2023 From Fields to Glass - A Legacy Revived for the Modern Palate
In the heart of Ireland, amidst the lush, picturesque countryside near Kilkenny city, the Ging Family proudly stewards an unbroken farming lineage that stretches back as far as written records exist. Morgan Ging, the visionary at the helm of the Ging Family, shares a deep-rooted fascination with the intertwined histories of Irish farming and Irish Whiskey. This profound connection led him to dream of diversifying the family's farming enterprise by adding a distillery, much like the centuries-old tradition. It took 25 years of tireless research and unwavering dedication to transform this dream into a reality.
Morgan Ging was unwavering in his vision to create a distillery that would stand as a worthy modern-day descendant of the illustrious history of Irish Whiskey. Sustainability and environmental protection lay at the core of his planning, and no expense was spared to achieve the highest quality standards in every facet of the distilling operation and the visitor experience. Ballykeefe Distillery stands as a testament to the Ging Family's commitment to community-based activities and support for local sporting and cultural endeavors, reflecting their deep roots in the area.
Fields to Your Glass
Nestled in the enchanting Irish countryside, close to the medieval capital of Kilkenny city, Ballykeefe Distillery crafts a range of super-premium spirits in its eco-friendly, on-farm distillery. Every drop is a labor of love, born from their fields and delivered to your glass.
Birthplace of Irish Whiskey
Ballykeefe Distillery holds a unique distinction in the world of spirits as the birthplace of Irish Whiskey. Situated in the heartland of Ireland, adjacent to Kilkenny city, it traces its heritage back to 1324 when the first written account of distilling in Ireland appeared in the Red Book of Ossory. The word "Whiskey" itself is an Anglicization of the Gaelic phrase "uisce beatha," meaning "water of life." Today, Ballykeefe Distillery revives this historic legacy, bringing forth a special "water of life" from centuries past for a new generation to savor and enjoy.
Reviving a Lost Tradition
For more than two centuries, a tradition that was once widespread across Ireland had faded into obscurity. Small family farm distilleries were scattered throughout the land, but time had obscured their legacy. Ballykeefe Distillery became the torchbearer for this historical legacy, reigniting the flame of Irish Whiskey production on a working family farm. It embarked on its journey in August 2017, carving a niche as a single estate Whiskey distillery. At Ballykeefe, every step of the process, from sowing the grain to distillation, is carried out on their farm. The distillery proudly upholds the finest traditions and ethics of artisanal and family production, while simultaneously embracing state-of-the-art technology and eco-friendly practices to protect the environment.
Image Source: Ballykeefe Distillery
Fields to Your Glass - The Eco-Friendly Approach
Ballykeefe Distillery's commitment to sustainability is not just a lofty ideal; it's a way of life. Located amidst the idyllic Kilkenny countryside, a mere 15 minutes from the city, the Gings see themselves as custodians of both the farm and distillery operations. Their goal is to hand down the farm to future generations as a more sustainable entity than when they first began farming at Ballykeefe. To this end, the distillery was conceived to complement and diversify the farm's operations, which originally focused on beef and tillage.
What sets Ballykeefe apart is its commitment to growing its own barley on their family farm. This ensures the highest quality standards. After reaching peak ripeness, the barley is harvested, with the straw serving as winter bedding for the cattle, and the by-products of distillation becoming nourishment for the livestock. This commitment translates into an eco-friendly operation with zero off-farm waste, preserving and protecting the surrounding environment.
Image Source: Ballykeefe Distillery
The creation of the first Whiskey distillery in Kilkenny in over 200 years has revived a lost tradition, making Ballykeefe Distillery a unique grain-to-glass operation. From the fields to your glass, every sip embodies a legacy that spans generations, a tribute to the past and a promise for a more sustainable future.
Ballykeefe Distillery's Signature Edition THIRTEEN achieved the best score at the 2023 USA Spirits Ratings making it Best in Show by Country Category and Gold with a score of 95 points.
An Irish pure pot still whiskey, offering a smoky yet gentle texture with a rich mouthfeel. Balanced and potent, it intertwines apricot and peat for a delightful depth, also features cereal and delicate vanilla notes.
Get rated by Quality, Value and Package by the top trade buyers in the USA. The super early bird deadline is November 30. Enter now and save.