10 Celebrity-owned Alcohol Brands
14/12/2021 From 818 Tequila by Kendall Jenner to Villa One by Nick Jonas, USA Spirits Ratings shares insights, stories, and product reviews about 10 celebrity-owned alcohol brands.
The last decade has seen an increasing number of celebrities getting into the alcohol business. Many of your favorite celebrities have created, partnered, or collaborated with liquor brands or wine labels. Today we will look at some of them.
818 Tequila – Kendall Jenner
This past February, Kendall Jenner took to her social account to share about 818 Tequila for the first time. The magical journey of 818 Tequila started 7 years ago when skilled jimadors began to find optimal conditions for 818. Working closely with local, family-owned farms in Jalisco, Mexico, all these years, they brought the smoothest, most natural, and best tasting tequila possible. Take a look!
818 Tequila Blanco shows off its brilliant platinum look and light body with the nose opening with mild floral elements, lemongrass, and chamomile aromas. You will find notes of sweet agave and vanilla, with undertones of tropical and citrus fruits in taste. Lastly, it will drag you to the ultra-smooth finish with the notes of almond, key lime pie, and toasted coconut.
818 Tequila Reposado will leave you in awe with its amazing straw color with golden hues and medium body. On the nose, you will notice vanilla, meringue, honey, and fruit accents. The palate will show you a ripe roasted agave flavor with notes of caramel and vanilla.
818 Tequila Añejo is full-bodied and flaunts a light amber color with shiny golden reflections and bronze hues. This one opens with caramel, toasted nuts, orange peel, chocolate, and toffee notes on the nose. With vanilla, sweet agave, and crisp herbal notes, this Añejo will take you towards a very long, silk, and rich finish.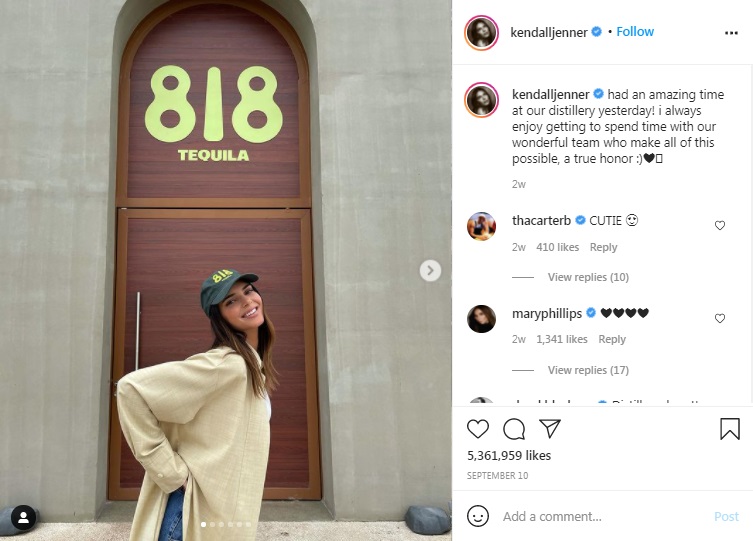 Image: Kendal Jenner on Instagram
They have set up the brand with a great sense of responsibility creating a positive impact on individuals, the community, and the environment. Their sustainability project involves creating bricks from the leftover agave fibers and liquids. "The area code 818 is home to me, but the earth is home to all of us. So, from the agaves we grow, to the production of the bottle, sustainability and transparency of our supply chain was our core focus" says Kendall Jenner emphasizing sustainability. She adds "We've had so many magical nights drinking 818 and we hope you enjoy it as much as we do."
Teremana Tequila - Dwayne Johnson
Teremana is made up of two meaningful words; Tere meaning earth, and Mana meaning spirit. Combined, it means 'Spirit of the Earth'. Produced in a small Mexican town, amidst the highest peaks of the Jalisco Highland mountains, each step of the Teremana Tequila making process respects nature. Have a look at these two tequilas Teremana offers!
Blanco: This one is a gluten-free tequila made with 100% Highlands Blue Weber. It shows off notes of bright citrus with a smooth, fresh finish.
Reposado: Like the above one, this Reposado is also a gluten-free addition to the Teremana portfolio. This one shows off notes of oak and vanilla with a smooth, rich finish.
Terermana aims to be the invitation to bring people together, the one that starts conversations, creates laughter, and appreciates the journey of life.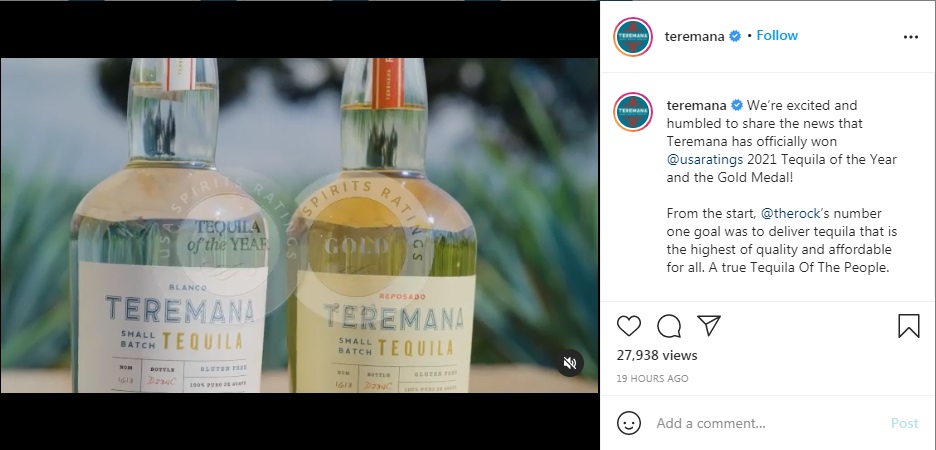 Image: Teremana Tequila on Instagram
"After years of hard work, this is truly a dream come true. My team and I are committed to bringing you the highest in quality tequila, because quality, the people, the land, and legacy are what matter most. From all of us here at Teremana, we invite you to COME, HAVE A DRINK" says Dwayne Johnson.
Check out Teremana Tequila's award-winning brand at the 2021 USA Spirits Ratings.
Casamigos Tequila – George Clooney
Casamigos is a result of tequila-filled nights with friends. Casamigos was made just for friends and family, they never thought of releasing it to the public. However, today, consumers and tequila and mezcal connoisseurs alike enjoy and appreciate the authenticity of Casamigos. Old friends George Clooney, Rande Gerber, and Mike Meldman love Casamigos on the rocks, by the shot, and at times straight from the bottle.
"Our idea was to create the best tasting, smoothest Tequila and Mezcal, that didn't have to be covered up with salt or lime. So we did." - George Clooney + Rande Gerber + Mike Meldman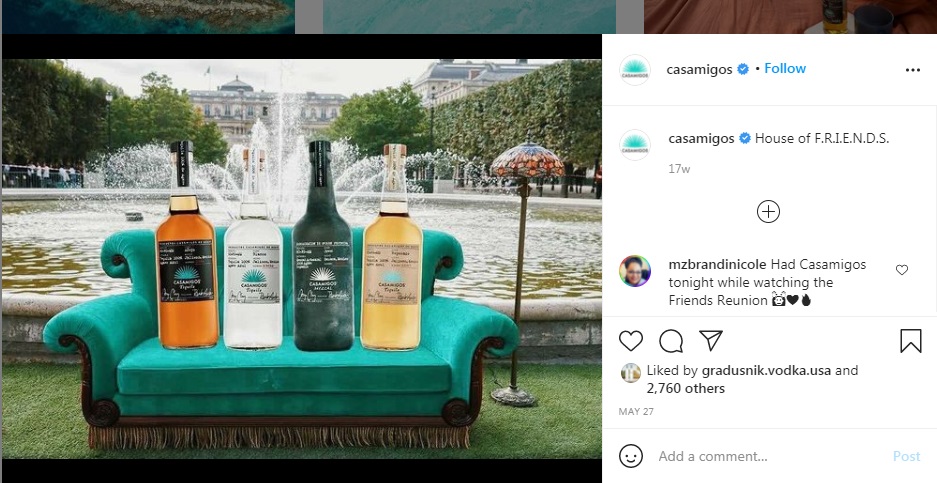 Image: Casamigos Tequila on Instagram
Master Distiller at Casamigos Tequila uses a special yeast blend resulting in a consistent, refined flavor, unlike the commercial yeasts others use. Their unique flavor is a result of an 80-hour fermentation process, compared to the average 48 hours.
One of the tequila brands at the Casamigos is Reposado Tequila which shows of golden honey color and aroma of caramel with hints of cocoa. Another one is Blanco which opens up with hints of citrus and sweet agave. It has a fruit-forward palate with notes of vanilla and grapefruit. To view their full product portfolio, click here.
Aviation Gin – Ryan Reynolds
Ryan Reynold's Aviation Gin is distilled using a proprietary maceration recipe that produces a pure medley of botanical flavor. A precise blend of botanicals such as cardamom, coriander, French lavender, anise seed, sarsaparilla, juniper, and two kinds of orange peel is used to make this gin. This American gin compliments many cocktail recipes. You can find some of them here.
Image: Aviation Gin on Instagram
"I've tried every gin on the planet and Aviation is hands down, the best. Also, I don't recommend trying every gin on the planet. Stick with this one." – Ryan Reynolds, Co-Owner, Aviation American Gin
Heaven's Door Whiskey – Bob Dylan
Heaven's Door, a collection of handcrafted American whiskeys, became an avenue for Bob Dylan's selection of painting and iron gate sculptures. Iron gates showcased on the bottles of Heaven's Door come from Dylan's metalworking shop, Black Buffalo Ironwork.
"Gates appeal to me because of the negative space they allow. They can be closed but at the same time, they allow the seasons and breezes to enter and flow. They can shut you out or shut you in. And in some ways, there is no difference." – Bob Dylan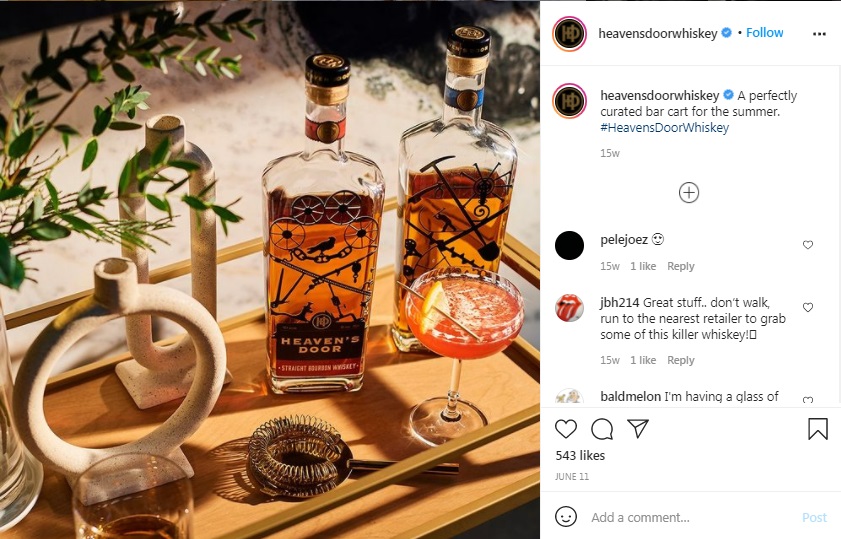 Image: Heaven's Door Whiskey on Instagram
Ryan Perry, Master Blender at Heaven's Door, works with world-famous distilleries whiskey-makers to create Heaven Door's expressions. Some of their award-winning bourbon whiskeys are Heaven's Door Straight Bourbon Whiskey - non-chill filtered to preserve its mature flavors, Double Barrel Whiskey - a blend of 3 whiskeys aged for 6 years, and Bootleg Series - a limited annual release featuring one of Dylan's paintings. Take a look at their whiskey portfolio here.
[[relatedPurchasesItems-42]]
"I wanted to create a collection of American Whiskeys that, in their own way, tell a story. I've been traveling for decades, and I've been able to try some of the best whiskey spirits that the world has to offer. This is great whiskey." – Bob Dylan
Virginia Black American Whiskey – Drake
Virginia Black American Whiskey is created in collaboration between Brent Hocking, Founder & Creator of the Original DeLeón Tequila; and award-winning artist, songwriter, rapper, and actor, Drake. It's a personally selected collection of two, three, and four-year-old bourbons finished with a decadent profile. This high-rye bourbon has a nose of raisins, dried figs, and vanilla. Its smooth palate shows notes of honeyed cherries, rich vanilla, and oak. The finish is long with hints of toffee, orange peel, and baking spice.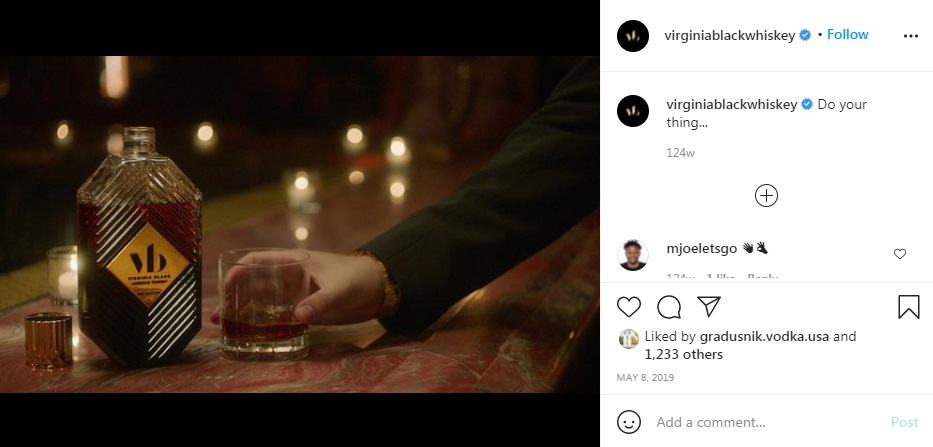 Image: Virginia Black American Whiskey on Instagram
Conjure Cognac – Ludacris
Conjure Cognac is produced under the partnership of the rap superstar Ludacris and Birkedal Hartmann. What makes this brand more special is Ludacris was actually involved in the blending of Conjure. This ultra-classy cognac is manufactured in the region of Cognac in the South West of France by the largest independent, family-owned Cognac firm in the world.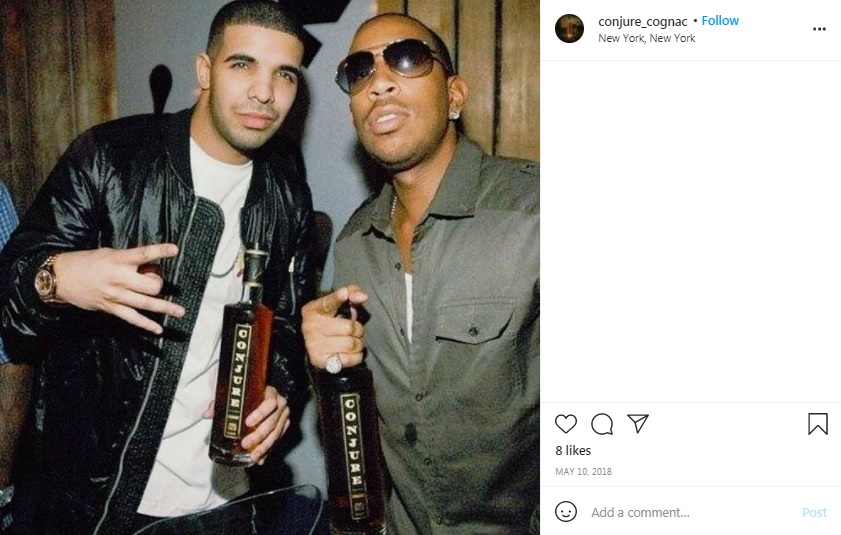 Image: Conjure Cognac on Instagram
This French Cognac is a bold and full-bodied blend that attracts most palates. Its nose lets out hints of cedar, cocoa, and hazelnut. The palate has a long-lasting elegant finish.
Here are some of the cocktail recipes that bartenders can try with Conjure Cognac.
Haig Club – David Beckham
"Over the years I've had brands come to me wanting me to be involved in certain things and I know whether it's right or wrong straight away. Meeting Diageo, as soon as they told me about Haig Club, the Haig family, and the history behind the whisky with Haig, I was in. Once we sat down, discussed the project, and that I was becoming part of a family that had been around for 400 years, I didn't need to know anything else. I love the heritage so as soon as I knew about it, it was kind of a given that I was going to be involved. I've always wanted to be a whisky drinker but being an athlete I've never got into that. I never drank too much over my career, which was 22 years. We've had a lot of fun, a lot of success so far, but most of all, it's great to be part of a family that's been around for so many years" says David on his partnership with Haig Club. This itself says a lot about the brand.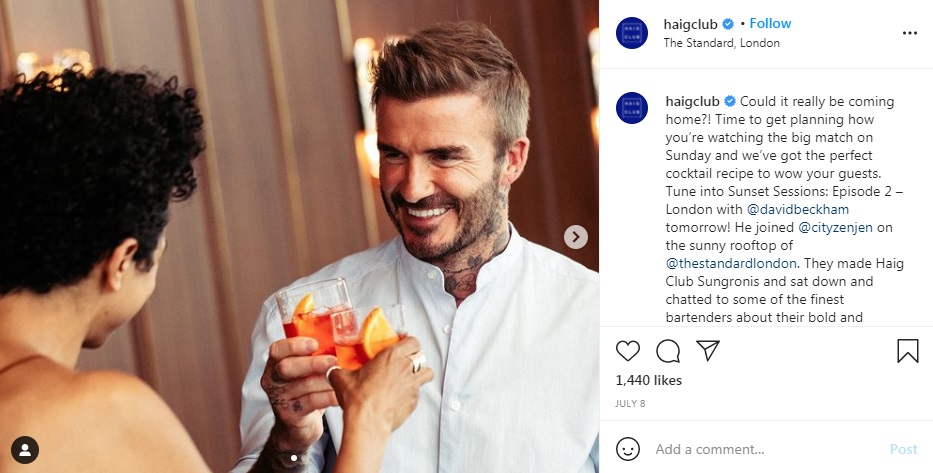 Image: Haig Club on Instagram
Haig Club Clubman is designed to be different, stylish, and modern. It is matured exclusively in American ex-bourbon casks which makes it wonderfully smooth, sweet, and enjoyable whiskey.
Voli 305 Vodka – Pitbull
Owned and operated by Armando Christian Perez, aka Pitbull, Voli 305 Vodka is a non-GMO & gluten-free extra smooth vodka with a superb finish. This is the first super-premium vodka of Miami, produced using the finest locally sourced ingredients including Florida sweet corn.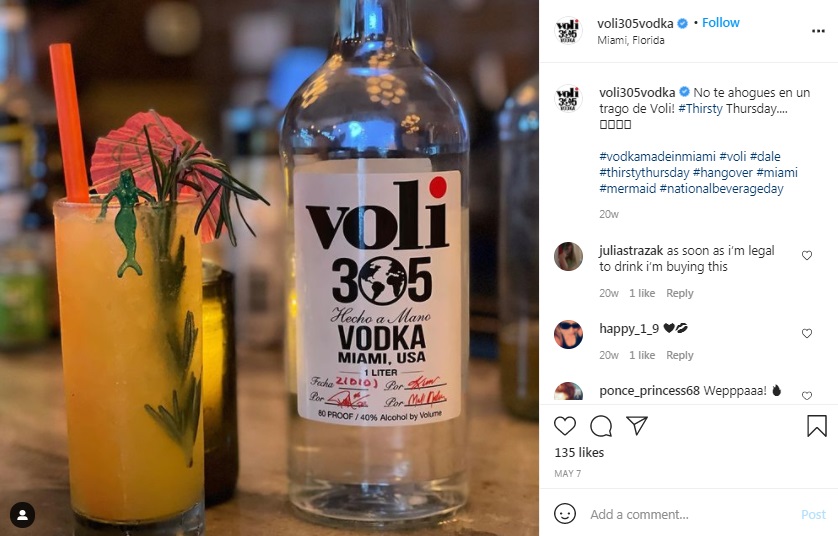 Image: Voli 305 Vodka on Instagram
Avaline – Cameron Diaz & Katherine Power
The journey of Avaline started on one beautiful afternoon in the backyard when Cameron and Katherine did a conversation about wine. This led them to create Avaline, a range of clean wines that are fully organic, free from dozens of unwanted extras. Their mission is to champion a new standard in wine by making clean wine accessible to everyone. Their recently-launched red wine is Cameron's favorite. It's a light to medium body with hints of cherry and a touch of spice. Their white wine is an everyday, easy-drinking blend with a touch of citrus and a crisp, fresh finish. Find out the entire portfolio here.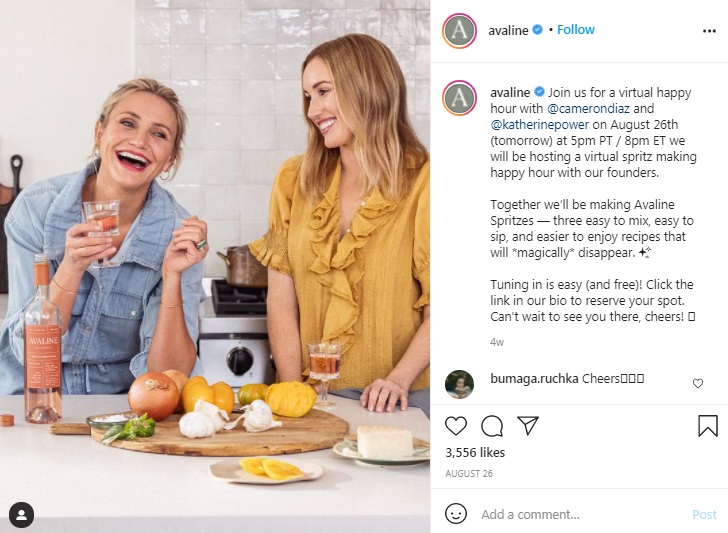 Image: Avaline on Instagram
These are just a few of the alcohol brands owned or partnered with by celebrities. There are so many more. Wait for our next list where we will cover more exciting brands owned by your favorite celebrities.
Enter your brands before November 30, 2022 and get super early bird pricing. Don't miss to get the best deal.