Craft Whiskey Distilling Finds a New Home in Vermont
20/09/2018 Vermont has a booming craft whiskey movement and many craft distillers are creating a wide range of whiskies and whiskey liqueurs.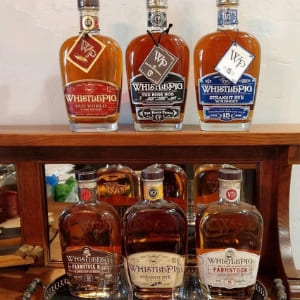 If you ask most people what they think of when you say "Vermont," many would probably name the state's production of everything from maple syrup to creamy butter. Others might mention the state's booming craft brewing industry, led by standout performers like Harpoon Brewery. But did you know that the state also has a booming craft whiskey movement? And, in many cases, these craft distillers are able to leverage locally farmed grains and artisanal craft expertise to create a wide range of whiskies and whiskey liqueurs.
The biggest name in the Vermont craft whiskey industry
The big Vermont craft whiskey operation that everyone points to, of course, is Whistle Pig. This craft distillery has seemingly appeared out of nowhere to become one of the nation's most famous craft whiskey brands. In fact, in July 2017, mainstream media giant CNN went one step further, asking the provocative question: "Is this the world's best whiskey?" This was not just hyperbole, either, or a bit of CNN fake news. The whiskey from Whistle Pig is just that good.
Whistle Pig, in fact, proudly calls itself the "most awarded Rye Whiskey maker in the world," and it's hard to challenge that assertion. In competition after competition, Whistle Pig routinely takes home the top prize, led by excellent products like its famed "Boss Hog" rye whiskey. When CNN was covering the company, the $499 Boss Hogg IV (nicknamed "The Black Prince") was winning every award in sight. At any big-name spirits competition, there's a good chance that Whistle Pig has a product vying for the top prize.
And, even if you're not willing to shell out $500 for a bottle of premium craft whiskey, there are plenty of other ways to try out the company's famous rye whiskey. For example, you can try the company's popular Farmstock whiskey, which does not come with an age statement.
That Whistle Pig ever became big in the first place is somewhat of a surprise. While the company takes pains to present itself as a small, artisanal craft distillery based on a piece of postcard-perfect rural farmland, the reality is that the company was launched by a former reality TV star who once appeared on "The Apprentice." When Raj Bhakta launched the company in 2007, he set it up using a unique "bottler-to-distiller" business model, in which rye whiskey from Canada was brought in to be bottled. Even today, the company does not have a complete in-house whiskey - its Farmstock rye whiskey, which is produced at a new distillery in Vermont, is as close as the company has to an in-house whiskey. For that reason, many within the industry still refer to Whistle Pig as a "non-distiller producer."
Five solid contenders to Whistle Pig
While Whistle Pig is still the darling of the Vermont craft whiskey scene, there are more than a few up-and-coming stars.
Mad River Distillery - For now, Mad River may be better known for its skiing than its craft whiskey production, but has become one of the biggest names within the state's craft whiskey scene. Established in 2011, Mad River Distillery is second in size only to Whistle Pig. The company is best known for its maple-flavoured whiskey. Mad River is located in the Green Mountains, and the actual distillery is based on a wonderfully picturesque patch of 19th-century farmland.
Smuggler's Notch Distillery - Continuing on the theme of craft distilleries located in ski areas, Smuggler's Notch Distillery is a unique father-and-son operation that now produces a bourbon, a wheat whiskey and a maple-infused bourbon.
Caledonia Spirits - If you are looking for innovation within the world of Vermont craft distilling, look no further than Caledonia Spirits, which has been at the forefront of ageing whiskey in Vermont wood. This distillery actually began as an outgrowth of a beekeeping operation. And what could be more natural, then, than transitioning from the production of raw, organic honey to craft whiskey? While this micro-distillery was only established in 2013, it had already been home distilling for years - but under much smaller capacity and volume. Now, however, Caledonia Spirits has upgraded to a 500-gallon hybrid still for making rye whiskey. But don't try to find this rye whiskey on retail shelves quite yet - the whiskey is still in barrels, maturing.
Appalachian Gap Distillery - This craft micro-distillery is based in Middlebury. One of its claims to fame is that the distillery is solar powered. That hints at some of the ingenuity and DIY creativity often used by the state's artisanal distillers. The two core products here are Snowfall (a 108 proof white whiskey) and Ridgeline (a 98 proof whiskey). Unlike many craft distillers that use a dominant grain, Appalachian Gap uses a unique mix of 45% barley, 30% corn and 25% rye to make its white whiskey.
Silo Distillery - With Silo Distillery, it's possible to see how the various artisanal worlds of Vermont can begin to collide. For example, Silo Distillery is based in the same town (Windsor) as Harpoon Brewery. And the distillery specializes in maple-flavoured whiskey - perhaps no surprise for a state where one of the most famous exports is maple syrup. The home of Silo Distillery is in a modern, updated farmhouse.
Vermont Spirits - This micro-distillery started off with the production of vodka, and has now transitioned to a 100% corn whiskey.
The past and future of Vermont craft whiskey
The history of craft distilling in Vermont dates all the way back to the Revolutionary period. It's just that, until now, the tiny, artisanal nature of this craft distilling never got any attention. Now that Whistle Pig is wowing the world with its Boss Hog creations, though, it's almost a near-certainty that other craft producers will get into the game. Whistle Pig, after all, has only been around since 2007 and could face competition from micro-distilleries that have the entire production process in-house. One thing is certain - a state is known for its natural beauty, its artisanal craftsmen, its ski resorts and its charming bed & breakfasts have something else to be proud of today: a vibrant, creative craft distillery movement.
Image credit: Whistle Pig on Instagram