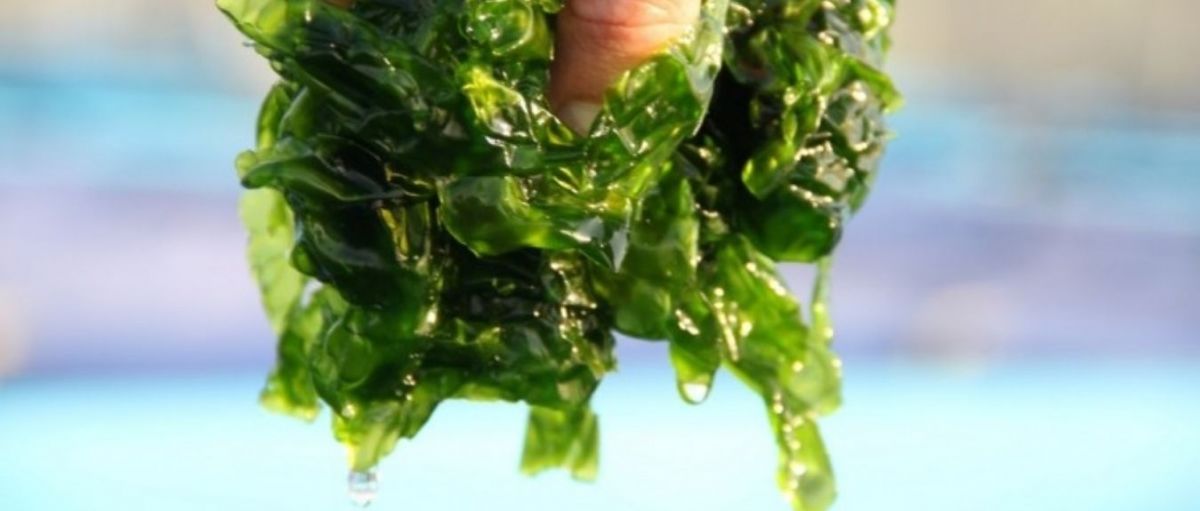 Discover The Seaweed Gin Trend
04/04/2023 Discover the growing trend of seaweed-infused gins which take you to breezy coastal islands.
Seaweeds, a highly sustainable food source, have now become a new way to elevate the flavors of your gin. A growing number of craft spirits makers are turning to seaweed to add a new touch of shores to their gins. And this unique flavor is something all gin lovers must try.
But before you begin sipping, let's know a little more about Seaweeds.
[[relatedPurchasesItems-42]]
What is Seaweed?
Seaweed is the common name for a variety of different species of marine plants and algae that grow in the ocean, rivers, lakes, and other water bodies. Some seaweeds are microscopic like phytoplankton, some are medium-sized, while some like kelps are giant and much larger in size. Seaweeds are found in many colors like red, green, brown, and black. They can be found on coastal areas, beaches, shorelines, and almost anywhere.
What does Seaweed taste like?
The most pronounced flavor that you will notice in seaweed is saltiness. It has quite an intense taste that is pretty unique, but different types of seaweed will have subtle differences in flavor.
Here are some of the Best Seaweed-Infused Gins that Brings You the Taste of the Ocean —
Seaweed Gin
Image Source: The New Foundland Distillery
The Newfoundland Distillery's award-winning Seaweed Gin is made using dulse seaweed which is harvested from the Grand Banks. It is full of juniper and is slightly salty to taste. It pairs perfectly with oysters, clam chowder, and sushi. Seaweed Gin earned a double gold award at the prestigious San Francisco Spirits Competition in 2018 and a silver medal at the 2018 Canadian Artisan Spirit Competition. It was also chosen as the Best Canadian Contemporary Gin at the 2021 World Gin Awards.
Edinburgh Seaside Gin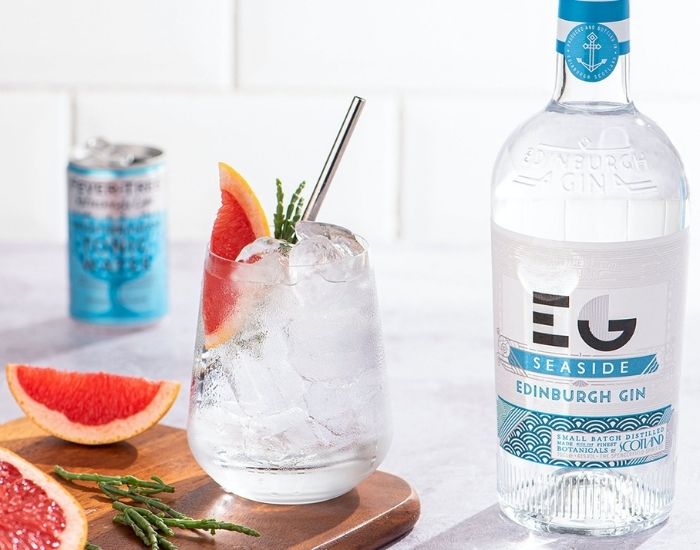 Image Source: Edinburgh Seaside Gin
Edinburgh Seaside Gin, created in partnership with Heriot-Watt University, celebrates the native botanicals of Scotland. It is made using bladderwrack seaweed, scurvy grass, ground ivy, gorse flowers and it captures the essence of the seaside. It has a fresh sweetness on the nose, characterized by soft salinity and herbaceous, grassy notes on the palate, followed by a clean finish. Edinburgh Seaside won a silver medal at the prestigious San Francisco World Spirits Competition in 2020.
Isle of Harris Gin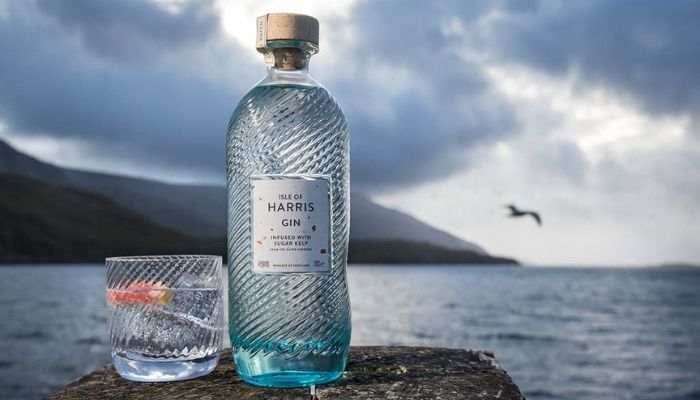 Image Source: From the gin shelf
Isle of Harris Gin, the first product from Isle of Harris Distillery, is infused with local, hand-harvested sugar kelp seaweed and nine other carefully chosen botanicals which speaks of the island's deep connections to the sea. It is a refreshing, complex juniper-forward gin with a characteristic sugar kelp marine richness. The gin is super dry and has a little umami and sweetness on the palate. It is foraged during the spring and summer months, which allows the kelp to replenish in winter. Isle of Harris Gin earned a gold medal at the 2021 World Gin Awards.
St. Laurent Gin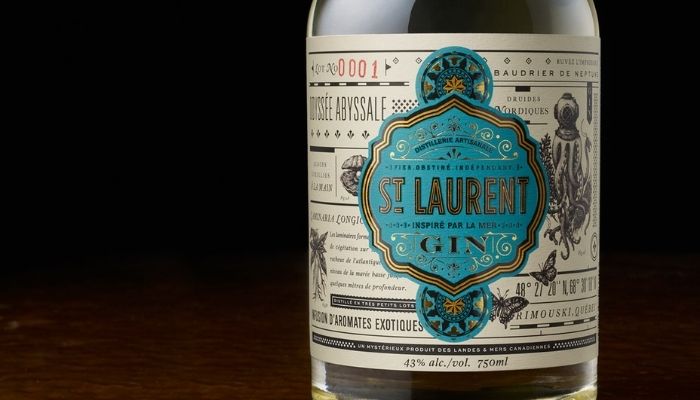 Image Source: Rain
Distillerie Du St. Laurent uses local luminaria seaweed, hand-harvested from the Bas-Saint-Laurent region for its distinctive St. Laurent Gin. It has a herbaceous and floral approach leading to pine forest notes and is followed by a citrus aroma. Laminaria seaweed gives St. Laurent Gin its characteristic pale greenish hue and a mineral and slightly salty finish. The gin is meant to evoke the character of both the Quebec boreal forest and the maritime character of the mouth of the St. Lawrence river.
Fundy Gin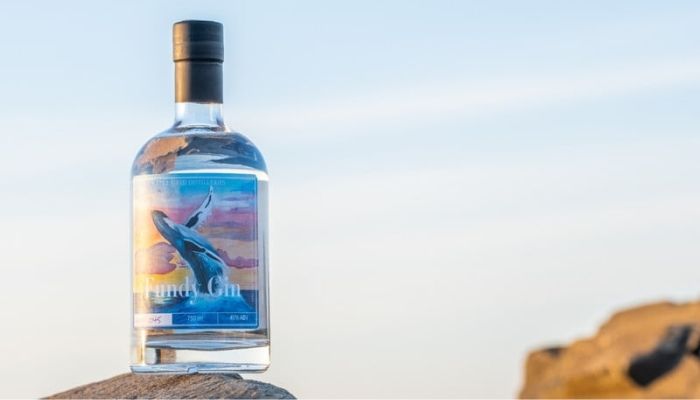 Image Source: The manual
Still Fired Distillery, a small-batch distillery in Annapolis Royal in Nova Scotia, handpicks and sun-dries the dulse seaweed for its Fundy Gin. It is a one-of-a-kind gin, offering a truly authentic maritime taste. It has a citrus-forward nose followed by sweet spices and pine notes. The palate has some jammy sweetness with pine-forward juniper leading into a slightly more mineral seaweed salad note. Fundy Gin is a delightful experience of aroma and flavor and can be enjoyed in a smooth-tasting gin martini, served with tonic and lime or soda and juice.
Sheringham Seaside Gin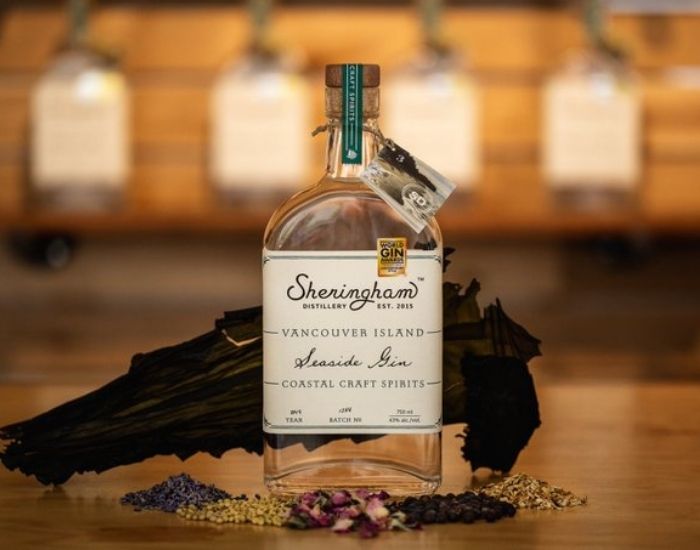 Image Source: Twitter
Sheringham Distillery's award-winning Seaside Gin is made of organic white wheat, malted barley, natural botanicals, and sustainable hand-harvested local winged kelp seaweed (Alaria marginata). It has citrus and floral hints along with notes of the sea which make this gin as refreshing as a seaside stroll. Seaside Gin nabbed Best Contemporary Gin in Canada at the 2019 World Gin Awards and 2020 BC Food and Beverage Awards Product of the Year. It also won a double gold award at the 2021 Santé Spirits Award.
Article by Aanchal Sharma, Beverage Trade Network
Header Image Source: Food navigator
Enter your brands now and get in front of America's top buyers. This is where products are reviewed by Quality, Value and Package.