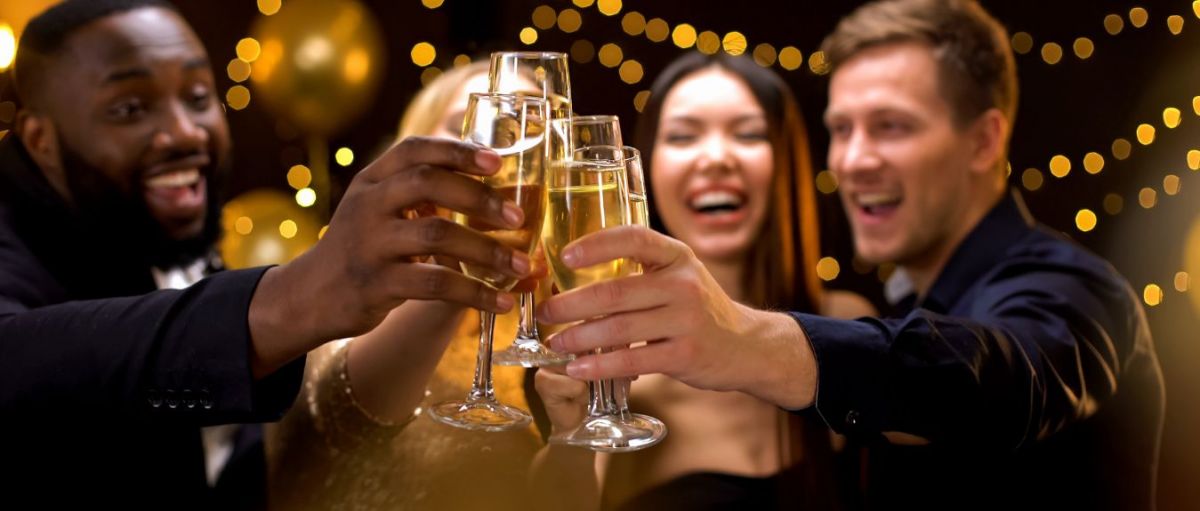 How Bars and Restaurants Can Grow Their Happy Hour Beverage Sales
27/07/2022 Happy hour sales are superb to attract more customers and business! Use these happy hour ideas to showcase what sets you apart from your competitors.
Happy hour strategies are one of the most tried-and-tested methods for drawing customers and boosting bar sales. The purpose of happy hours, which are often unique to bars and pubs, is to increase current sales and promote business during slow hours.
A well-designed happy hour program can significantly increase your revenue. However, before hosting happy hours, remember that offering occasional discounts is not good for business. In addition, delivering unplanned discounts will only result in higher beverage costs. So, to earn profits and boost sales, you must devise a creative Happy Hour plan.
Although unique to bars, nowadays, every restaurant uses this practical tactic to increase its bottom line. Every restaurant has been developing different strategies to keep customers satisfied to return to their restaurant again.
A happier hour is typically between 4 and 7 pm when most individuals want to unwind after a long day at work. During these limited times, customers can receive discounts on alcoholic beverages, snacks, and hors d'oeuvres at any bar or restaurant. Certain restaurants also offer guests a range of entertainment, including music and dancing.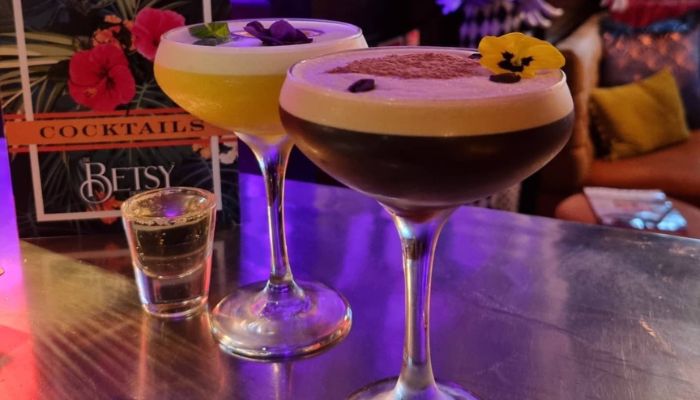 Image Source- The Betsy Swords
A Quick Overview of Happy Hour Bar Techniques
Happy hour marketing techniques used in pubs and restaurants focus on offering additional value in the eyes of the guests to boost sales and raise revenue.
Bars can use different happy hour strategies. They can offer a free drink with the purchase of another, lower drink prices, sell drinks and food packages during specific times of the day, etc. Happy hours move drinks and food off the menu more quickly during slow times of the day that otherwise go unsold.
Do Happy Hour Marketing Techniques Boost Beverage Sales?
Yes, in a nutshell! Whether you are an independent bar owner, pub owner, or restaurant owner, happy hour methods are one of the most successful tactics. If properly implemented, happy hours can enhance your beverage sales. Happy hour techniques leverage the psychology of customers to overindulge when they sense a significant benefit rather than just offering discounts or free drinks.
In addition, there are a few other ways that happy hour methods might boost your beverage sales.
~ Happy hour combines drinks and food, boosting liquor sales, mocktails, and food at your bar.
~ They are particularly successful at drawing in new customers and are too good of a deal for your regulars to miss.
~ Happy hours can promote your bar or restaurant and build your brand's presence.
~ Happy hours open a window for your regulars to come in more frequently because they receive a discount, boosting business during slow hours.
How can restaurants and bars increase their happy hour beverage sales?
When you understand the meaning of happy hour strategies and its importance, the next step must be to develop a proper happy hour strategy. You must consider several things while planning a happy hour strategy to increase the sale of beverages.
Offer Accurate Price
Pricing is, of course, the key component of a Happy Hour strategy. You must be careful not to reduce the costs unnecessarily. Remember to raise the price of your best-selling items to make up the difference while you lower the price or offer a drink for free. You need to strike a balance between your offers to guarantee that you are still making profits on your reduced markup.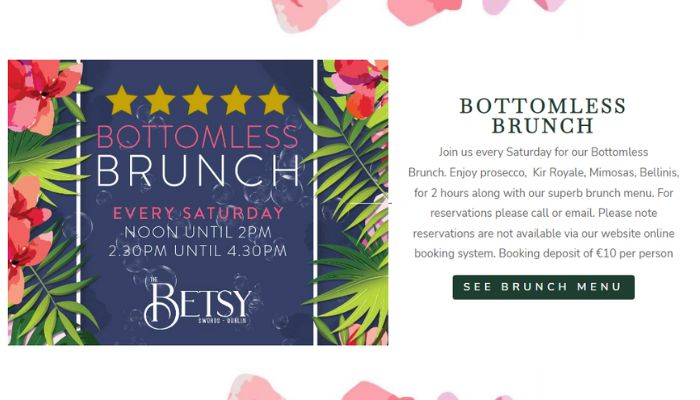 Image Source- The Betsy Swords
Develop a Special Menu
An essential component of the happy hour program is the menu. You can use this to cover up the cost of the low-priced drinks. Create package deals with beverages and the most popular yet high-profit margin dishes. The most popular items on a happy hour menu are beers, cocktails, mocktails, and appetizers.
You can also introduce innovative food and drink pairings that may raise interest in your menu and promote specialized ingredients. Highlight any interesting or premium foods you may have, such as morels, fresh in-season local produce, or truffles, on your happy hour pairing menu.
You can also attract guests by putting something special on the menu that is only available during Happy Hours. Additionally, you wouldn't want to miss out on the teetotalers, vegetarians, or vegans. So, don't forget to provide something for those who don't drink or don't eat non-vegetarian and dairy dishes. Create unique drink menus and food combinations to cater to every type of customer.
Target your Regulars
The Target Audience is the most crucial consideration while launching any campaign. Knowing the kind of customers who frequent your bar and restaurant during happy hour will help you tailor your program according to their requirements. Most of the sales come from repeat customers, not newcomers. Especially, for bars, regulars are like a gold mine, so it is important to focus your happy hour strategies around them. You have to note whether your target customers are corporate employees who visit after Office Hours or young people who like to visit pubs for partying. You need to schedule your happy hours during convenient hours for your customers.
The Happy Hours' day and hour must be determined in advance. Generally, Tuesdays are often slow business days. Additionally, you can decide on a flat rate for a specific drink and give Happy Hours all day. To fight the competition, you can offer another late Happy Hour special to draw customers.
Train Servers to Upsell
It is known that restaurant servers can significantly affect sales, and upselling is the immediate answer. When ordering, consumers frequently ask the server for assistance. Customers are more likely to select a Combo Offer and make their order during Happy Hours, due to which upselling becomes more important.
Train your servers to recommend profitable items on the menu or to enhance the Combos for an additional charge. Create an incentive program to keep your team motivated. That way, they can upsell more.
Apart from that, your in-house sommelier can also help you increase your restaurant sales by recommending the best wines you can offer your customer during happy hours. They can try to understand your guests, their preferences, habits, and the cuisines you serve in the restaurant. It will help you to create delicious happy hour menus.
Michael Mighetto Hoefling, the sommelier at Spruce SF, said in an interview with Sommelier Business, "I would start by looking at the menus; what the focus is for the BTG. Then I would look at the wine list, layout, and how it is customer-friendly and easy to navigate. How are the wines stored, where are the cellars, and how much space is devoted to wine storage? I believe in BTG wines that are regionally familiar, so they sell themselves, e.g. Provence rosé, Chablis, Sancerre, Sonoma Chardonnay, Napa Cabernet." You can easily use this strategy to upsell your wine sales during happy hours.
[[relatedPurchasesItems-42]]
Add Special Tasting
If your bar and restaurant are located near wineries or breweries, you can easily take advantage of that. Join forces with neighborhood wineries and breweries to display their products in your restaurant. Invite the owners of these wineries and breweries to visit and promote their products to the customers. Promotions like this will draw customers who are not only beverage enthusiasts but also those who want to try them.
Your in-house sommeliers and bartenders can help you create a tasting menu that you can serve with delicious dishes to your happy hour customers.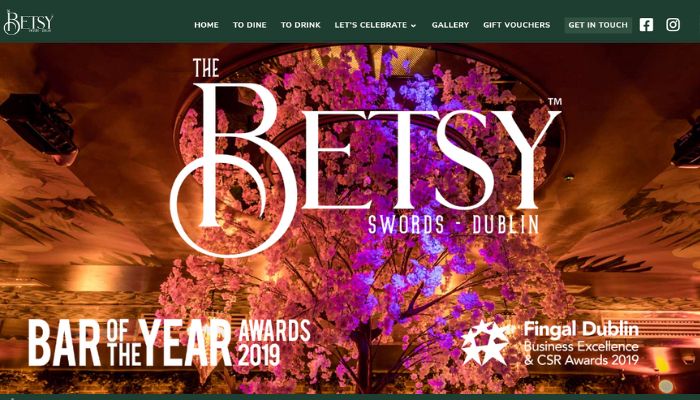 Image Source- The Betsy Swords
Promote Events, Discounts, and Updates through Social Media Platforms
Being socially active is essential today, especially for hospitality or food and beverage professionals. You need to have a good website for your bar and restaurant where you can promote the happy hour ideas along with the menus and other events. Your website must tell your customers about the story of your restaurant. Due to the intense competition, businesses must also engage customers personally and highlight what makes them unique. Social media platforms are the best way to do that! Open an Instagram or Facebook page for your bar and restaurant if you don't already have one.
Promote your menu items, unique cocktails, events, and happy hour ideas on social media. Make engaging and catchy hashtags, and encourage customers to utilize them even when posting anything related to the restaurant.
If you look at the website of The Betsy Swords, you will see that the website is not only vibrant and colorful but also has every detail about the restaurant. They have every item listed on their website and a gallery where you can see pictures of the restaurant before visiting it. You can also see their customers' specials and book your table from their website. For example, they have Friday Steak Special that starts at 4 pm.
You can also check their Facebook and Instagram profiles directly connected to their website. So, if you are in Dublin and thinking about where to spend your evening, The Betsy Sword can be your place. Its owner Jerry Harrington will be more than happy to welcome you!
Measure the Numbers
One can only determine a campaign's success by looking at the numbers. Monitoring the profit margin for each item is the most accurate way to assess this. Add up the total sales of every item during Happy Hour, then multiply the result by the Profit Margin for each sale.
Happy hour strategies are a fantastic opportunity to test new items, learn about customer behavior, and increase sales. Try it out in your bar and restaurant, and let us know how it went.
Written By Aparna Dutta, Beverage Trade Network
Enter your brands now and get in front of America's top buyers. This is where products are reviewed by Quality, Value and Package.