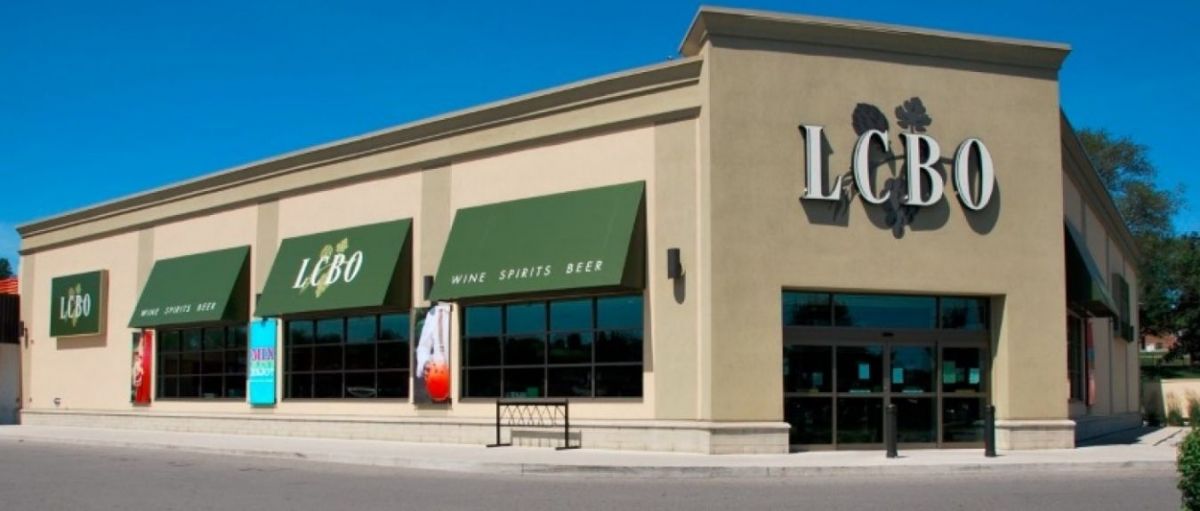 How the LCBO Buys Spirits
30/03/2023 The LCBO in Canada remains one of the world's spirits buying behemoths. It has a total monopoly on spirits sales to Ontario's population of 14 ½ million people.
How does one sell to one of the largest purchasers of spirits in the world?
The rise of giant chain stores like Tesco and Costco changed the spirits purchasing landscape somewhat over the past 20 years, but the Liquor Control Board of Ontario, known simply as the LCBO, remains one of the top single buyers of spirits and wines in the world. Therefore selling to the LCBO can be a make or break proposition for smaller producers; even for sprits-world behemoths, the LCBO is impossible to ignore.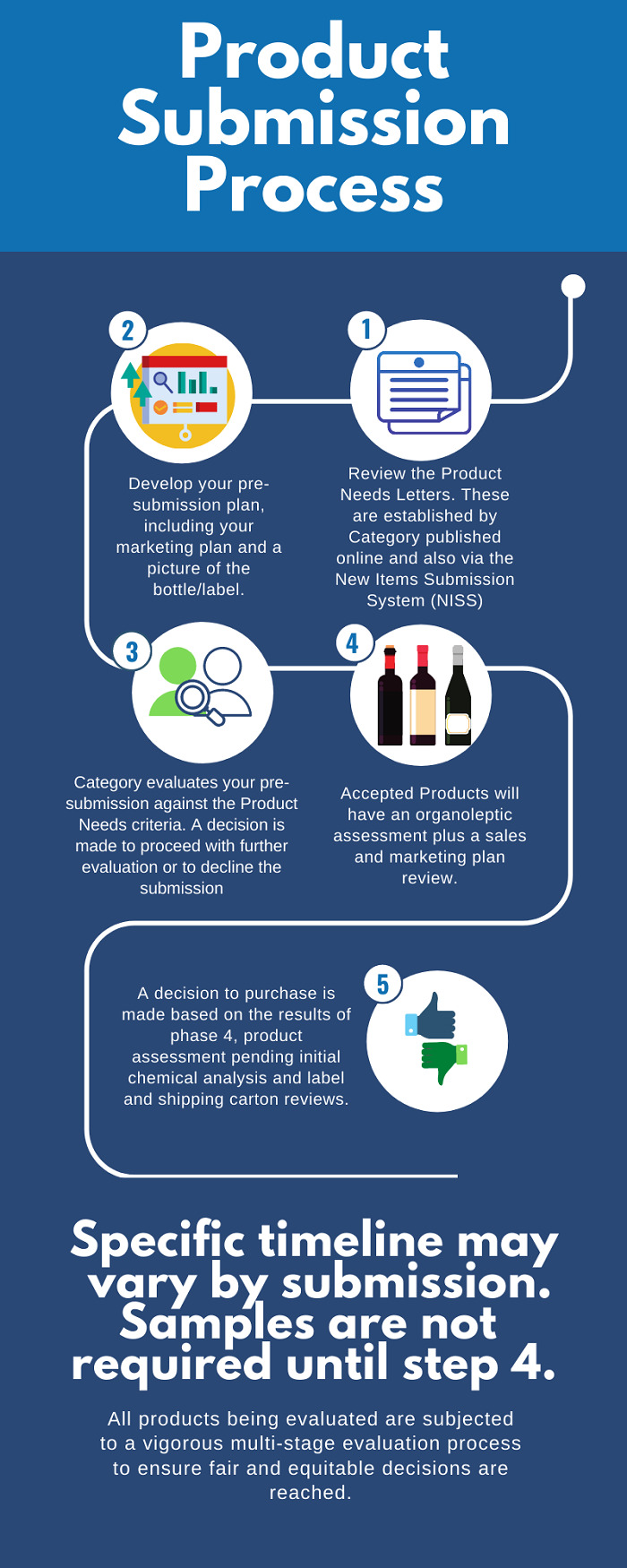 How does the LCBO buy spirits? And why does it have such buying power?
The answer to the latter question has to do with Canadian legislation. By federal law, each province controls the importation and distribution of liquor within its territory. Ontario is Canada's most populous province, with over 14 and a half million people, and by law, the LCBO can keep a tight grip on the importation, distribution, and sales, which is especially true for hard liquor. LCBO stores are typically the only stores licensed to sell hard liquor in the province; it also sells to on-trade and off-trade outlets, dominating wholesale distribution. Bars and restaurants must buy spirits products directly from the LCBO, although there are some minor exceptions for beer and wine.
As a Crown corporation, LCBO is transparent about its buying practices, though this doesn't necessarily mean having your product accepted is easy. For instance, it publishes projected needs for the year, which one can view on the Merchandising Needs Grid document available online. What are the steps involved and how much control do you have over how your spirits are treated if they are accepted?
The first step to submitting your product for consideration is to review the current Product Needs Letter, also known as Open Calls. This may be different from the Needs Grid because these are not projections but rather actual needs identified by the LCBO.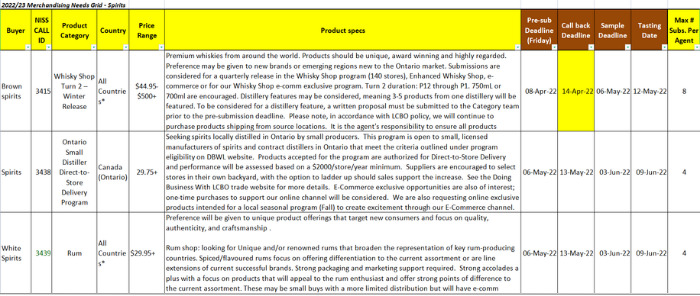 Example of the LCBO Needs Grid for Spirits
When you have reviewed the LCBO's needs, you can submit your product for review via a New Items Submission System (NISS). If you don't have access to this system you can easily apply for access via the Trade Access Request Program, available online. The application must include a one-page marketing plan, with itemized marketing spend for year one, as well as relevant product attributes and accolades plus an image of the product and packaging. It's worthwhile going beyond this and giving as much relevant product information as possible. Up to three additional files (maximum 2 MB each) can be uploaded into NISS.
An LCBO team member—usually a specialist from each respective product category--decides what products are purchased for retail. They review more than 50,000 submissions annually and negotiate with suppliers to make the best of these products available at good prices. Due to its buying power, the LCBO is an attractive customer for spirits manufacturers and there is fierce competition for listings. There are some avenues for enhancing the likelihood of having a product accepted. For instance, LCBO's "Spirit of Sustainability" program is an ongoing priority. Special consideration is given to products that support LCBO's "Good Planet" pilar by minimizing environmental impact. This includes factors like products packaged in lightweight glass and/or following sustainable, biodynamic, or organic agricultural practices that meet Canadian Food Inspection Agency (CFIA) standards.
[[relatedPurchasesItems-42]]
Once you have submitted your product it will be reviewed for:
- Price
- Value
- Packaging
- Marketing plans
- Quality
The review will include evaluation against the Canadian Regulations for Food Labelling as well as for compliance with LCBO Product Packaging Standards and Guidelines for Chemical Analysis. Detailed information on what's involved with Quality Assurance is available online. For instance, every product sold by the LCBO must undergo laboratory testing. New products are tested upon receipt and annually through sampling; this includes chemical analysis and labels compliance reviews. Other components in the Quality Assurance programs include sensory analysis and packaging compliance. LCBO's product specialists know their stuff!
If your new product is purchased, it's important to stay on top of your product's performance, which is easy to do online. You can also view competitors' statistics. Demand for LCBO shelf space is high. Products that are not selling to the published Annual Sales, Sell-through, or negotiated Targets will be discontinued to make room for others.
Of course, one major consideration when pitching products to a giant like LCBO is price. It's important to know how LCBO determines the ultimate price for consumers and the on-trade. And it's important to remember that the LCBO is a public corporation, accountable to the government and people of Ontario. In setting retail prices for products, the LCBO says it strives to balance several key elements of its mandate, including:
· Promoting social responsibility in the sale and consumption of beverage alcohol
· Providing excellent customer service, including offering customers a broad product selection and value at all price points
· Generating maximum profit to fund government programs and priorities
The LCBO also ensures that it meets the legislated requirements under the Liquor Control Act concerning minimum price and uniform price. What does this mean? Minimum prices are the lowest prices that products can be sold and uniform price requires the price for a particular product to be the same throughout the province.
Due to these considerations, LCBO uses a standard mark-up pricing structure. Mark-ups vary by product category (among beer, wine, fortified wine, spirits, and liqueurs, for example) and there is an additional charge on imports to cover supplementary costs associated with those products, but otherwise, the mark-up is consistent for all products. For example, all domestic whiskies are marked up at the same rate and all imported whiskies are marked up at the same rate. You can thus "be confident that the LCBO provides fair and equitable treatment to its business partners," says the Board.
When you are pitching the LCBO buyers, a lot of focus will be on the product's final retail price, which is going to be comparable to the price for on-trade. Payments to you for products follow automatically from the application of the fixed mark-ups and other elements of the pricing structure (for example, freight costs and currency exchange rates if the purchase is in a foreign currency). As part of the agreement to purchase, you must provide a final quote to the LCBO, usually per case.
LCBO buyers are tough, and they will try hard to get not only the best products in each price band, whether for sub-$10 wines, or super-premium spirits but also the cheapest price. As a result, suppliers frequently submit products to the LCBO at prices lower than those charged to other jurisdictions in Canada.
Finally, there are companies that will help you with all of this, including pitching, submission, monitoring sales, and marketing. For example, Loyal Imports in Toronto, Loyal Imports is a young, dynamic company specializing in building spirits brands in Ontario and supporting them with a highly motivated, professional, and passionate sales team. Loyal offers superior market knowledge coupled with expertise in liquor-board regulations, competitive product positioning, and product analysis. This is coupled with expertise in marketing and sales as well as sales force management with a focus on setting objectives and measuring results.
Article By Charlie Leary, PhD
Submissions for the 2024 USA Spirits Ratings are now open. Enter your spirits brands today at the lowest price. Here's how to enter.