Q & A with Tamir Benshalom, Bar Manager at Bull Valley Roadhouse, USA
28/09/2018 In an Interview with UWR, Tamir talks about Bull Valley Roadhouse, Current Cocktail Trends, and His Fav Food and Beverage Pairing.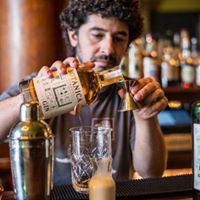 Tamir Benshalom is a Bar manager at Bull Valley Roadhouse. Tamir's journey from busser to bar manager started in December 2001. Working with a number of bars, he has a tremendous experience in this industry. He has been with Bull Valley Roadhouse since past 5 years. This bar is tucked away at the end of the canyon road in the dock town of Port Costa. Since its opening in November 2012, the Roadhouse has developed a devoted regional following.
In an interview with USR, Tamir talked about his working with bars, how he stays inspired and his favourite food and beverage pairing.
What is everyone ordering right now?
Whiskey libations mescal with may be right behind it. People also want tiki drinks!
What cocktail trend would you like to see disappear?
Slushie machines.
What is the most underrated spirit?
eau de vie (un-aged fruit brandy)
What do you do differently from other bartenders?
I don't think I do anything different from anyone else, but I'm also like no one else. I basically am one big mix of everyone.
With bartending how do you stay inspired?
I stay engaged with the guest
Favourite food and beverage pairing on the menu?
Oysters and Txakolina
Get your spirits brands rated by Quality, Value, and Packaging. Registration Ends On June 30, 2022. Enter now!