Ten Best American Single Malts You Need To Try
08/04/2022 Inspired by the Scotch whiskies, we have created a list of some of the best American single malt whiskeys to help you celebrate this Scottish American Heritage Month.
The young category in the world of whiskeys, American Single Malt, is gaining popularity all over the world. The land of Bourbon and Rye is now familiar with this new and fast-growing category. With the rise in demand for American Single Malts, most of the craft distilleries in the United States are leaning toward producing some of the finest single malt whiskeys across the country. But what exactly is an American Single Malt Whiskey? There are no strict rules or laws for the production of American Single Malt Whiskeys like Scotch whiskey or Bourbon, but the American Single Malt Whiskey Commission has set some standards to identify American Single Malt Whiskeys. For a distillery to use the term "American Single Malt", the whiskey should be made from 100% malted barley, distilled in one distillery within the United States, matured in oak barrels not exceeding the capacity of 700 liters, distilled not more than 160 US proof (80% ABV) and bottled at 80 US proof (40% ABV) or more. The American Single Malt comes in a range of styles from aging in different oak barrels to using a unique technique altogether. To help you find the right match for your palate, we have created a list of the top ten American single malt whiskeys that are redefining the whiskey-drinking culture in the United States.
Westward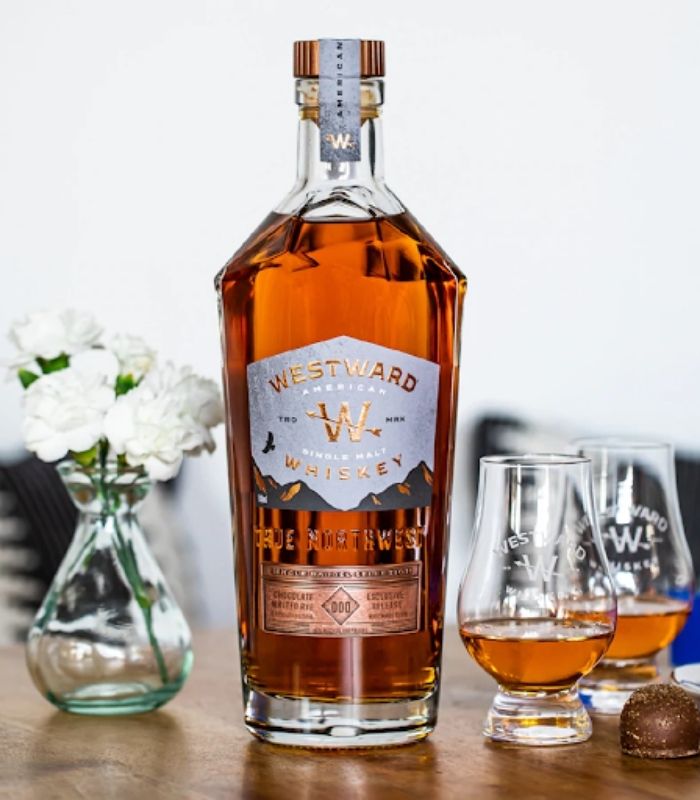 Source: Westward Whiskey
One of the leading voices for the American Single Malt, Westward is producing a range of unique expressions that stand out in this growing category. Westward has been making whiskeys for over two decades, creating some of the elite expressions of American single malt. These whiskeys are a tribute to Oregon's culture and its amazing wine and whiskey producers. Westward American Single Malt is distilled and bottled in Portland from locally sourced two-row barley, brewed using ale yeast, and matured in lightly charred new American oak barrels, resulting in a smooth and complex profile. Apart from its core expression, they also produce single malts finished in stout, pinot noir, and tempranillo cask, with a range of other flagship expressions.
[[relatedPurchasesItems-42]]
Tasting Notes: A fruity nose of red berries, apple, and pear mixed with sweet malts, vanilla, and brown sugar notes. The palate is round and complex with notes of ripe stone fruits, sweet baking spices, tobacco, dark chocolate, and hints of oak, followed by a lingering finish.
AVB: 45%
Price: $74.95
Buy it here
Del Bac Distiller's Cut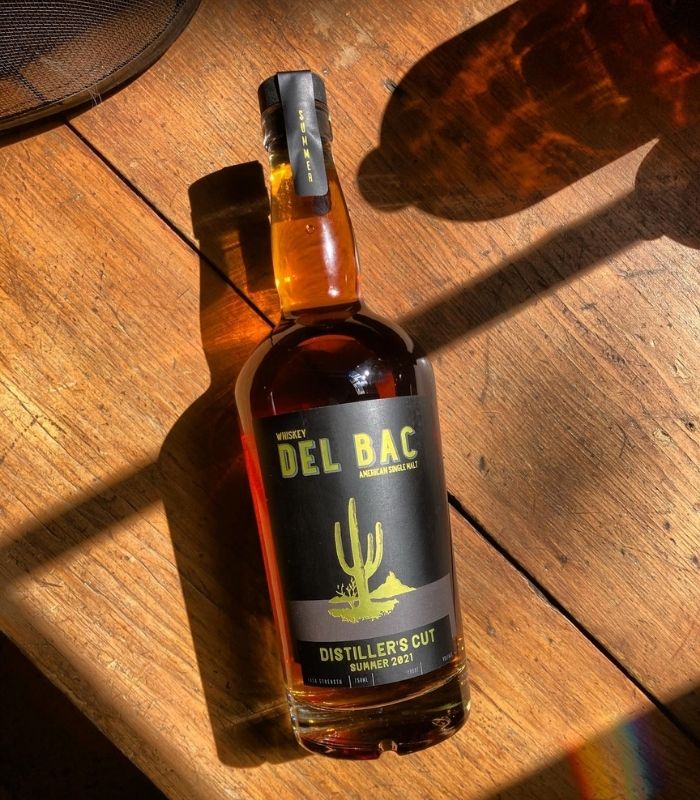 Source: Instagram / Whiskey Del Bac
Whiskey Del Bac has been producing award-winning single malts since 2013 in Tucson, Arizona. It was created by Stephen Paul and his daughter Amanda Paul, inspired by an idea to malt barley using mesquite instead of peat, which gives the whiskey a unique character. Currently, Del Bac is famous for the use of mesquite smoke in their whiskey. The Distiller's Cut is a limited production cask strength whiskey that is produced in different batches using 100% malted barley. It is an optimum expression of the art of blending using different techniques which include varying malts, different cask types, and finishing methods. Apart from the cask strength, Del Bac also produces their flagship single malts which include a classic expression, Dorado and Old Pueblo.
Tasting Notes: Fruity on the nose with bold aromas of mesquite, hints of sweet malt, toffee, oak, baking spice, tobacco, and a touch of herbal notes. The palate is dry and smooth with flavors of sweet baking spices, fruits, nuts, and a touch of tannic oak that ends with a chocolaty and spicy finish.
AVB: 58.15%
Price: From $85.39
Buy it here
Balcones Pilgrimage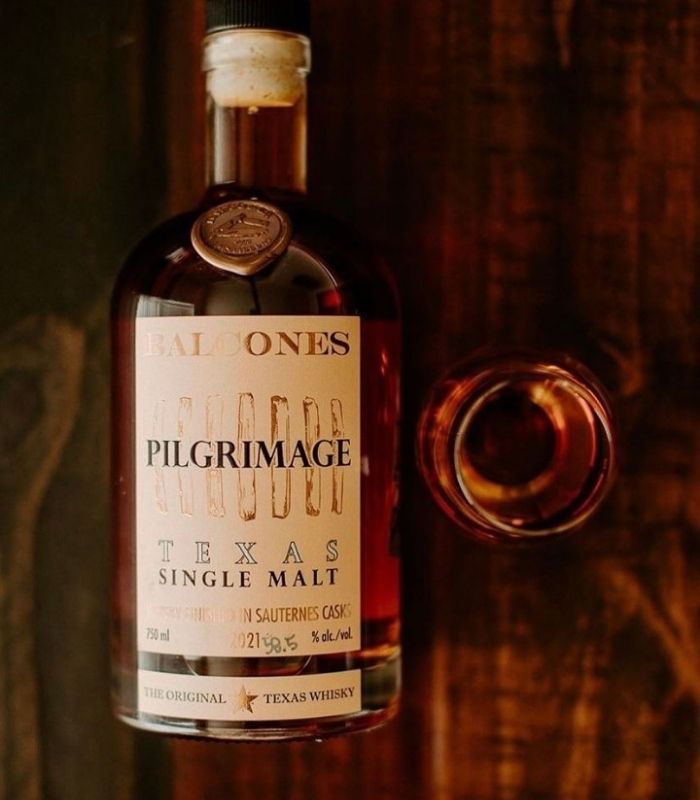 Source: Instagram / Balcones Distilling
An award-winning distillery, producing some of the best spirits in the heart of Texas, Balcones pays a lot of emphasis on originality and authenticity. Balcones Pilgrimage is a cask-strength limited edition expression added to Balcones' award-winning portfolio. With a vision to innovate and expand with continuous experimentation, Balcones create some distinct styles of whiskeys. Pilgrimage is crafted using 100% golden malted barley, matured in aged casks, and finished in Sauternes wine barrels, giving it a complex and rich texture. This whiskey is a brainchild of Head Distiller Jared Himstedt, with a taste profile varying every year. Balcones has a vast portfolio of internationally recognized spirits which includes some of the best American Single Malts like classic Texas Single Malt, Lineage, Hechiceros, Brujeria, and much more,
Tasting Notes: The nose is pronounced with notes of candied stone fruits, figs, tobacco, and sweet woody aromas. The palate is balanced and smooth with flavors of sour fruits such as cranberries mixed with subtle spiciness and nutty notes, followed by rich flavors of honey in the end with a sweet malty finish.
AVB: 58.5%
Price: From $80
Buy it here
High West High Country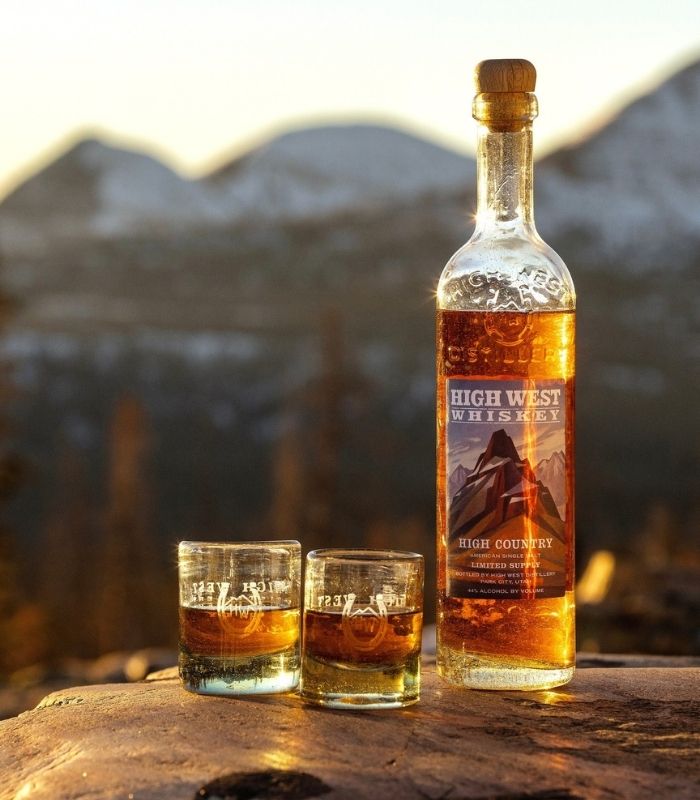 Source: Instagram / High West Distillery
Founded by David Perkins and his wife, Jane in 2006, High West Distillery has been producing different styles of whiskeys for several years and is now contributing to the rise of American Single Malt by creating High Country American Single Malt. It is distilled and bottled in the Wasatch Mountains of Utah using a unique process of distilling "on-the-grain", where grains are left during fermentation and distillation, instead of filtering out. The distillation happens in a copper pot still before aging for at least two years in both new and used oak barrels, giving it a complex and distinct quality. Apart from High Country, High West also produces some delicious whiskeys that include bourbon, rye, and barrel-aged ready-to-drink whiskey cocktails.
Tasting Notes: The nose has some pleasant aromas of dried cherries, toasted coconut, banana, and nuts with hints of smoke and wood. The palate is rich with a balanced structure and flavors of smoked pear, apple, honey, dark chocolate, and toffee nuts with a lingering finish of sweet caramel and smokey notes.
AVB: 44%
Price: $79.99
Buy it here
Westland Garryana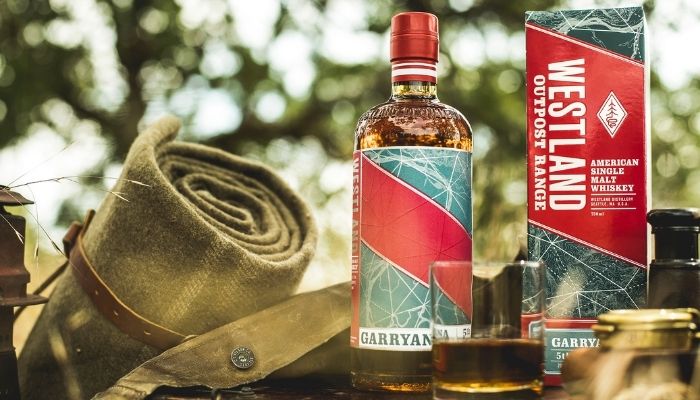 Source: Westland Distillery
Another distillery from the Pacific North, Westland, is widely contributing to the single malt whiskey scene in America. Westland uses Garryana oak to mature their whiskey, which gives it a unique structure and a character of the region itself. Garryana's first edition was launched in 2016, since then the annual release has been a huge success and loved by single malt lovers across the United States. The sixth edition of Westland's Garryana was released in November 2021 and is not made like a regular whiskey. It uses different types of malts which include Washington Select Pale Malt, Munich Malt, Extra Special Malt, Pale Chocolate Malt, and Brown Malt, which is then matured in five different casks for over 41 months before bottling. Westland also produces some other whiskeys including their flagship American Single Malt, Seattle Kraken, and Colere.
Tasting Notes: A pronounced nose of dried red fruits, bonfire smoke, maple candy, and a touch of savory spices. The palate is complex with a round mouthfeel and flavors of cedar, cinnamon, dried apricot, and light caramel with a lingering finish.
AVB: 50%
Price: $175
Buy it here
McCarthy's Oregon Single Malt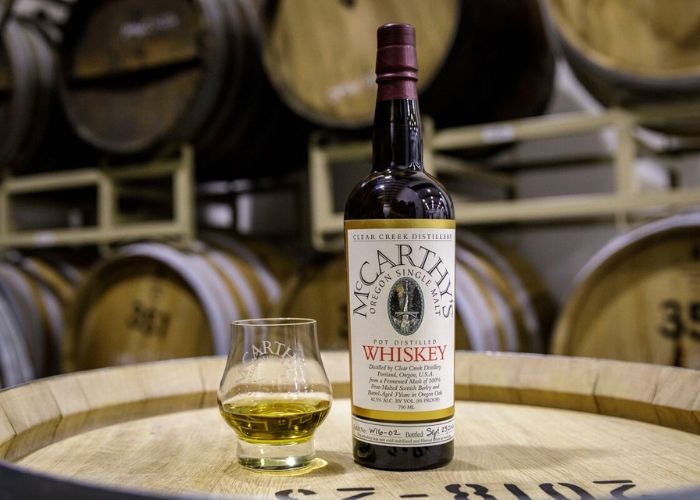 Source: Hood River Distillery
McCarthy's Oregon Single Malt was created by Clear Creek Distillery, now under Hood River Distillery, an Oregon-based distillery making some of the finest drinks for over 85 years. McCarthy's Single Malt is named after the founder, Steve McCarthy. He created his own single malt after getting inspired by a trip from Ireland and paced the single malt revolution in the United States. McCarthy's is made from peated malts which are imported from Scotland, giving a character similar to Islay whisky. It is distilled in a Holstein pot still and matured in Oregon oak casks for three or six years, resulting in a range of different flavors in a single sip. It is made using the same old techniques and equipment by the same hands of American Craft Distilling expert Joe O'Sullivan.
Tasting Notes: An intense and smoky profile with notes of dried fruits, plums, and buttered popcorn with hints of wood chips and a warm finish of honey and delicate peat.
AVB: 42.5%
Price: $33.5
Buy it here
St. George Baller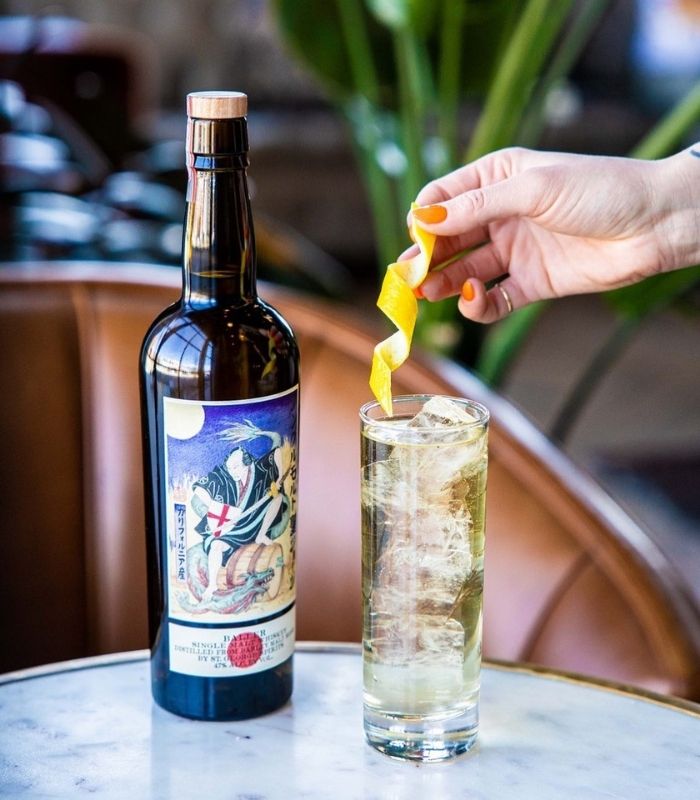 Source: Instagram / St. George Spirits
St. George Spirits are one of the craft distilleries that were making single malt whiskeys way before it became popular. St. George describes their Baller single malt as "A California take on the Japanese spin on Scotch whisky." It is inspired by the Japanese and Scottish styles of making whiskeys and is made by giving it a local twist. It is made from two-row pale malted American barley and is matured in used bourbon casks and French oak wine casks before filtering through maple charcoal. The distinct flavor profile comes from finishing the whiskey in a cask that has held the distillery's own version of Japanese plum liqueur called umeshu. The bottle comes with a very artistic label that contains all the basic information about the whiskey.
Tasting Notes: A crisp and dry profile with a touch of sweet malt, fruits, and some nutty characters such as almond, followed by a lingering smoky finish.
AVB: 47%
Price: $65
Buy it here
Cedar Ridge The QuintEssential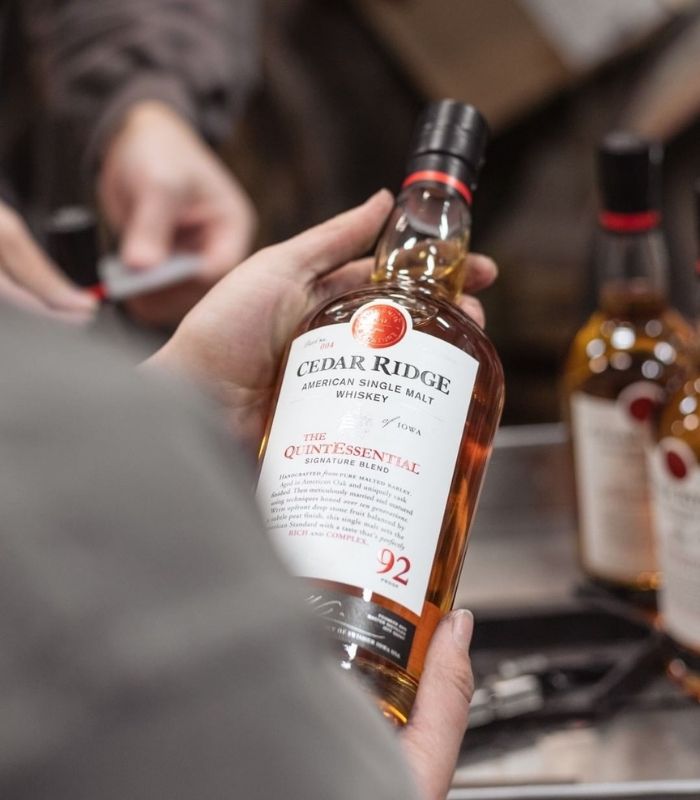 Source: Instagram / Cedar Ridge Distillery
Founded in 2005 by Jeff Quint, Cedar Ridge is one of the leading craft distilleries in the United States. Cedar Ridge was the first licensed distillery in Iowa since prohibition and is still crafting some of the internationally recognized spirits. The QuintEssential is an American single malt whiskey handcrafted from pure two-row pale malted barley, matured in a whole range of casks from ex-bourbon to sherry including wine barrels from the Cedar Ridge Winery, and then finished in a large oak solera system, giving it a unique profile. This technique is centuries old and has been there for around ten generations. It is complex yet light with a wide array of flavors extracted from the different casks used. This is considered a perfect sipping whiskey, best served on the rocks or in a classic stirred cocktail.
Tasting Notes: A rich and complex profile of bold stone fruits at the beginning that is balanced by a subtle smokiness of peat, followed by vanilla and caramel in the end.
AVB: 46%
Price: $60
Buy it here
FEW Spirits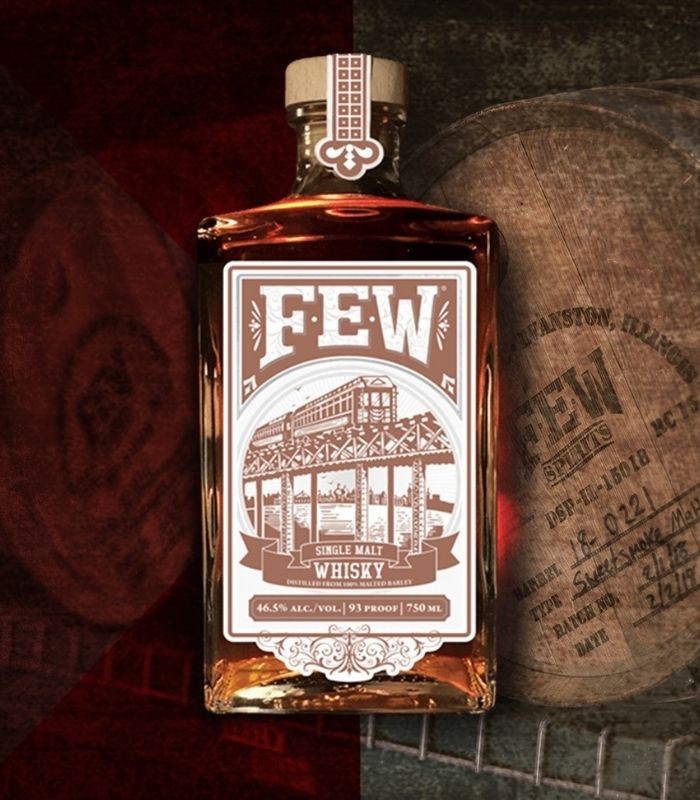 Source: Instagram / FEW Spirits
FEW Spirits is a craft distillery located in the birthplace of Prohibition, Evanston, Illinois, crafting award-winning spirits from grains to glass since 2011. It is considered one of the best craft distilleries and has been listed as one of the best single malt distilleries in the U. S. by experts. FEW Spirits' Single Malt Whisky is a limited edition whisky with only 500-600 bottles released annually. It is handcrafted in small batches using 100% malted barleys which consist of both unsmoked and cherry wood smoked malts instead of peat. After distillation, it is aged and finished in used Bourbon oak barrels. This whisky has a huge Scottish influence and provides similar drinking experiences with an American twist. Apart from single malt whisky, FEW Spirits also produces some of the finest small-batch craft spirits including Straight Bourbon, Straight Rye, Breakfast Gin, Barrel Gin, and much more.
Tasting Notes: A smokey nose with hints of almond and honey. The palate is smooth and balanced with flavors of freshly made cappuccino and dark chocolate with smoke from cherry wood and oak. The finish is long with notes of caramel, oak, spices, and Ovaltine.
AVB: 46.5%
Price: $72
Buy it here
Hillrock Estate Distillery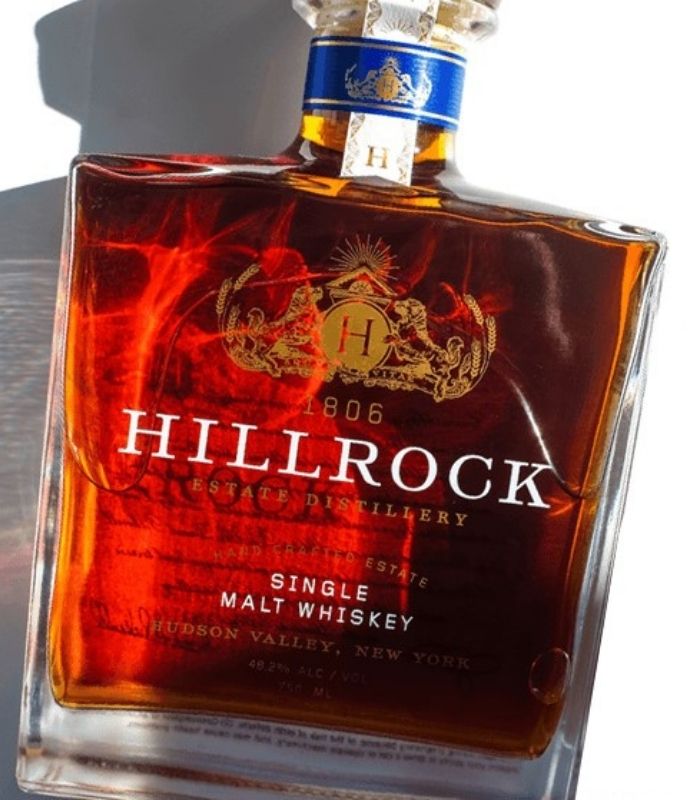 Source: Hillrock Estate Distillery
A family-owned distillery, Hillrock has been producing whiskey in the Hudson Valley since prohibition. This whiskey is produced under the guidance of Master Distiller Dave Pickerell with a vision of creating some of the finest handcrafted spirits using their own naturally grown grains, batch distilling in copper pot stills, and aging in fine oak barrels. The award-winning field-to-glass Hillrock Single Malt Whiskey is handcrafted in small batches using Hillrock estate barley which is then traditionally floor malted, milled, fermented, distilled in small batches in a custom-built 250-gallon copper pot still, aged, and bottled within the estate. This whiskey reflects the amazing terroir of the Hudson Valley from the first dip itself. In addition to the single malt, Hillrock also produces solera-aged bourbon and double cask rye whiskey.
Tasting Notes: The nose is complex with aromas of cinnamon and clove, layered with hints of caramel and vanilla. Smoky on the palate with notes of tobacco, campfire, and leather, which leads to a lingering smoky finish.
AVB: 48.2%
Price: $105
Buy it here
Header image source: The Wall Street Journal
Article By Tushar Anand, Writer, Beverage Trade Network
Enter your brands before November 30, 2022 and get super early bird pricing. Don't miss to get the best deal.