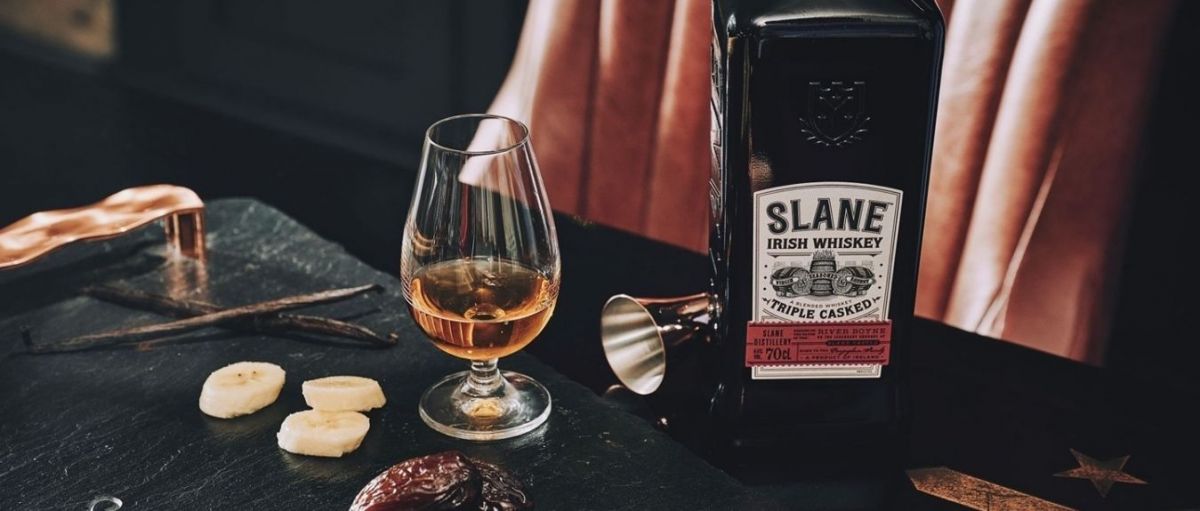 This Irish Whiskey Day, Raise Your Glasses To Some Of These Best Irish Whiskeys!
02/03/2022 As the distribution and demand for Irish Whiskey increase across the world, many distilleries are slowly spurring up in Ireland. We curated a list of some of the best Irish whiskies that you must try this Irish Whiskey Day!
The global Irish whiskey market recorded a whooping value of US$ 4.33 Billion in 2021 and is all set to reach a value of US$ 6.91 Billion by 2027 while exhibiting a CAGR of 7.60%, according to the IMARC Group. As alcohol consumption rises across the globe, consumers opt for more premium alcohols and want something that can be incorporated into their fancy cocktails too. With the lessening of taxes and tariffs, especially in Nigeria and the US, the distribution and consumption of Irish whiskey increased. Its ability to fuse perfectly with other drinks and offer a smooth drinking experience makes it one of the go-to whiskeys for the millennials. According to the Allied Market Research, Irish whiskey is extremely popular in countries like the U.S., the UK, France, and Germany, owing to certain factors such as increasing disposable income, bar etiquette, and spirits-led tourism. You can read more about the global market of Irish whiskey here.
[[relatedPurchasesItems-42]]
March 3rd marks a very important day in Ireland and is celebrated as the Irish Whiskey Day every year. It all started from the way Irish Whiskey is made. It is triple distilled and must be matured for at least three years before it is sold. It comes in three different styles Single Grain, Single Malt, and Single Pot Still. The significance of the number 3 marks the celebration of this day on 3rd March (3/3). A major day for the consumption of Irish whiskey across the world, Irish whiskey sales are boosted through interesting marketing campaigns and offers during this period. Consumers across the globe, often associate Irish whiskey with Jameson and it rightfully deserves so after recording a sale of 8.6 million cases despite the pandemic in 2020. Not just this, the brand is owned by Pernod Ricard, the second-largest wine and spirits seller in the world. This flagship brand of Midleton Distillery has seen continued dominance and has been one of the top-three pours in 79% of the world's best bars. However, there are many more brands in the market apart from Jameson, that are producing some of the great Irish whiskies and are a hit across the globe.
Connemara Irish Peated Single Malt Whiskey
From the distillery of Kilbeggan, Connemara is the only Irish Peated Single Malt Whiskey which is owned by Beam Suntory. Situated on the River Brosna in Kilbeggan, County Westmeath, this Irish whiskey is inspired by the 18th-century art of drying malting barley over peat fires. It carries a distinct aroma and flavor that is peaty while instilling a very delicate smokiness with a smooth, sweet taste. Having won over 20 medals in major spirits competitions, Connemara has complex flavors and is a rare Irish whiskey.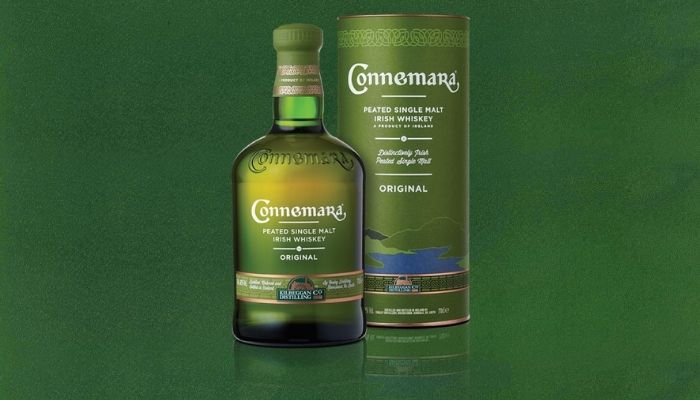 Image Source: Connemara
Distillery - Kilbeggan Distillery
Tasting Notes - Aromas of sweet barley with wafts peaty smoke and well-baked apple crumble. Taste of lightly honey sweet, subdued clean rather than sooty smoke with peaty vegetal notes, sweet barley, light spice, and vanilla oak
Price - $84.99
Writers' Tears Copper Pot Irish Whiskey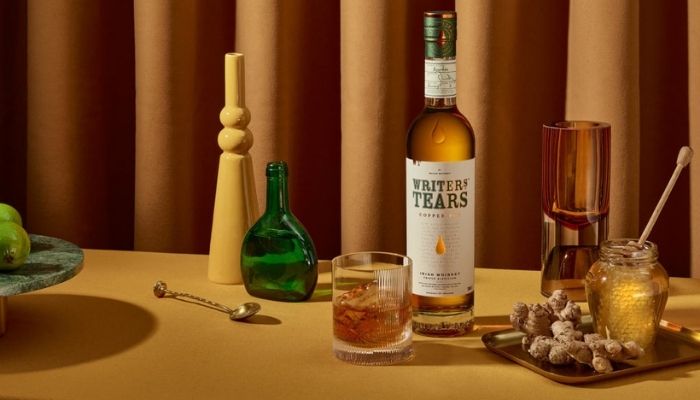 Image Source - Walsh Whiskey
Walsh Whiskey's critically acclaimed and award-winning recreation, Writers' Tears has been associated with 19th-century Irish writers. Known as the 'champagne of Irish whiskey', it was made from a master blend of pot still and malt whiskeys that were both distilled in copper pots. A light, sweet Irish whiskey with a modern name, it is aged in American bourbon barrels which gives it a light, smooth flavor profile with oodles of honeyed and fruity notes. It is a great spirit for someone new to Irish whiskey.
Distillery - Walsh Whiskey Distillery
Tasting Notes - With aromas of apples and hints of vanilla, it tastes of gently spiced ginger and orchard fruits with a long and elegant finish of dark chocolate.
Price - $39.99
Dingle Single Malt Batch No. 6 Irish Whiskey
A small, artisanal, and independent production, Dingle Single Malt Batch No. 6 Irish whiskey is produced by the Dingle Distillery situated in the County Kerry in Ireland. The Irish whiskey has been a highly anticipated whiskey which is the sixth and final release of their Single Malt Batch series. Comprising of malt whiskey, it was exclusively matured in Tawny Port casks and offers a great interaction between Single Malt spirit and Fortified wine. With multiple layers of sweetness, it has a well-balanced depth and flavor.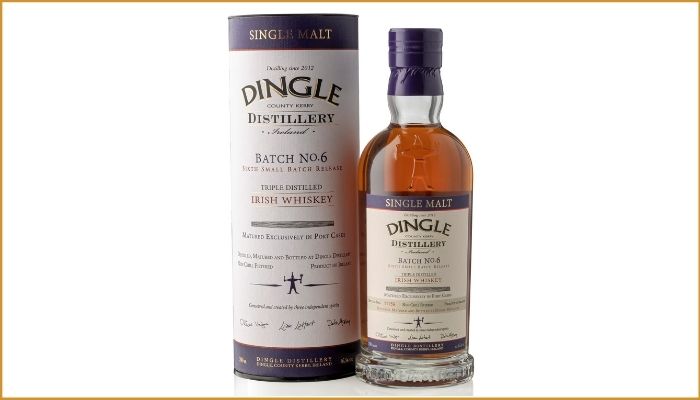 Image Source: Dingle Distillery
Distillery - Dingle Distillery
Tasting Notes - On the nose, it has wonderful and intense notes of maple syrup-infused waffles, thick-cut marmalade, butterscotch, and crystallized ginger. On the palate, it has a full fruity and spicy flavor with notes of stroopwafels laced with syrup, red-currant jelly, crushed cranberries, and dark chocolate along with a gingered spice and honeyed dates finish.
Price - $78.22
Slane Triple Cask Blended Irish Whiskey
Created with the barrel-raising art and the expertise of whiskey making of the Brown-Forman family and born on the historic ground of the Conyngham Family, Slane is an award-winning blended Irish whiskey that brings the legacies of two historic families together. A smooth spirit with a natural character, it is exceptionally created with passion and is matured in its signature triple casked blend of Virgin-oak, refill-American whiskey, and Oloroso-sherry casks.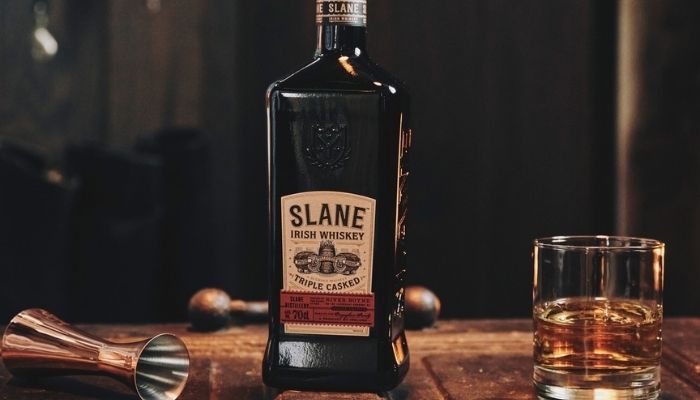 Image Source - @slanewhiskey on Instagram
Distillery - Slane Distillery
Tasting Notes - On the nose, it has the aromas of complex fruits with drizzles of caramel, butterscotch, vanilla, and subtle baking spice. On the palate, it gives spicy hints first which are quickly sweetened with rich caramel, vanilla, and butterscotch. It has a lingering finish of dry fruit and caramelized wood sugar.
Price - $25.95
Knappogue Castle Irish Single Malt 16YO
Inspired from the Knappogue Castle, the Irish whiskey derives its meaning from Knappogue which translates to 'hill of the kiss' in Gaelic. This 16-year-old Single Malt is made using unpeated barley and has been triple distilled at the Bushmills Distillery. Its delicate distillation process, along with the moist and temperate Irish climate, and its special aging in Sherry cask give it a distinct flavor. It is aged for a minimum of 14 years in bourbon barrels and then finished in Oloroso sherry casks to complete a minimum of 16 years.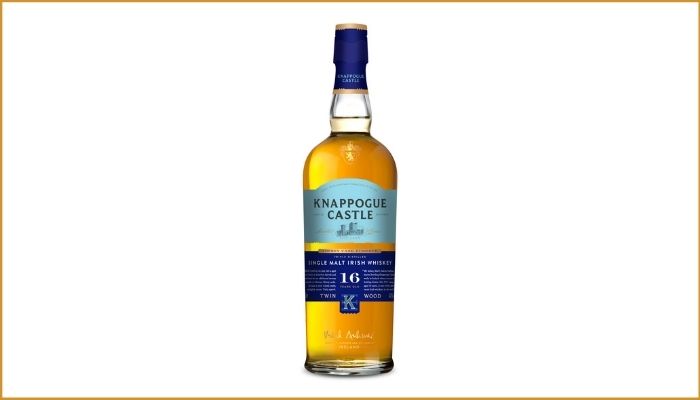 Image Source: Knappogue Whiskey
Distillery - Bushmills Distillery
Tasting Notes - On the nose, it has the aromas of rich fruity, nutty, and malty notes. It opens up some more notes of pepper and sherried fruit. On the palate, it has notes of sherried fruit layered with dusky dark chocolate along with some lingering sweetness. It has the right amount of sweet sherry flavor that compliments the overall strong whiskey.
Price - $104.99
HYDE No. 1 President's Cask 10YO Single Malt
Situated on the Wild Atlantic way coast in the County Cork, HYDE is a stunning Irish whiskey matured and finished to perfection. The presidential quality of the Irish whiskey is named in honor of Ireland's very first president Douglas Hyde who has defined the national identity of Ireland. The whiskey is made with selected ingredients and finished in vintage oak casks with specific charring levels. It has a rich character and a truly unique taste. HYDE Irish whiskey has also been a Silver Medal winner at the London Spirits Competition 2021.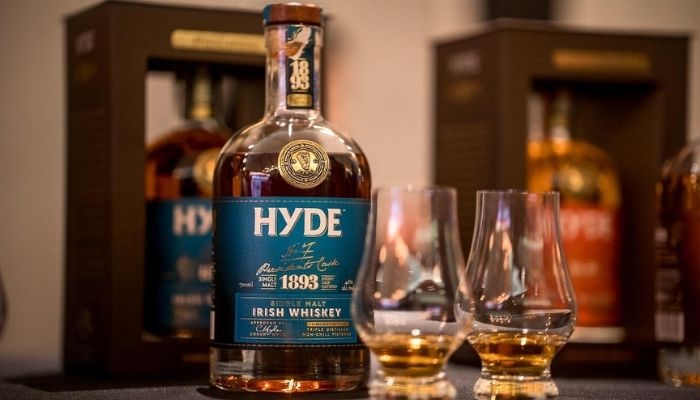 Image Source - @hyde_irish_whiskey
Distillery - HYDE Distillery
Tasting Notes - On the nose, it smells of delightful peaches and cream, vanilla, barley malt softness, citrus, sweet, honey, caramel, and lemon infused with spices. On the palate, it offers smooth yet complex notes of creamy and fruity flavors of caramel, Manuka honey, apricot, and plum. Ending with a rich, spicy, and oaky finish, it lingers in the mouth.
Price - $68
Redbreast 12 Year Old Irish Whiskey
Staying true to the Irish Pot Still whiskey-making tradition, Redbreast is a quintessential style of Irish whiskey which is built on a loyal following. It is the largest selling Single Pot Still Irish whiskey in the world, the 12-year-old boasts the flavor complexity and distinctive qualities of Pot Still whiskey matured in a combination of bourbon and sherry casks. It is made from a mash of malted and unmalted barley and then triple distilled in a copper pot still and has complex and distinct qualities of a Pot Still whiskey.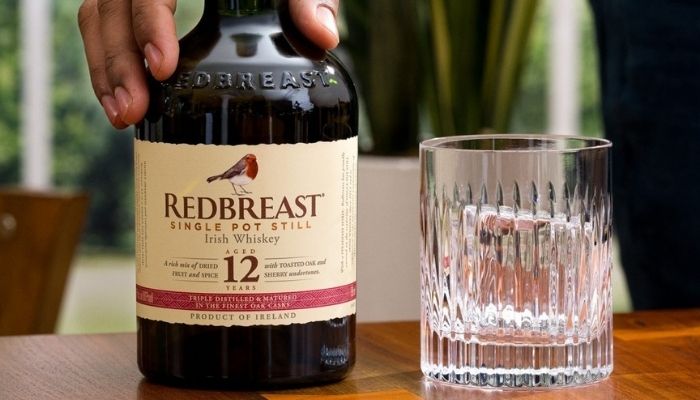 Image Source - @redbreastirishwhiskey on Instagram
Distillery - Irish Distillers
Tasting Notes - On the nose, it smells of ripe and dried fruits like clementine skin, dried mango, along with notes of vanilla bean and honey. On the palate, it is soft and mouth-filling with gentle and creamy notes of nutmeg, nuts, and a little bitterness of hazelnut. Finally, it gives a sprightly spicy and drying tannin finish.
Price - $69.99
Article by Shreya Kohli, Beverage Trade Network
Header Image Source - @slanewhiskey on Instagram.com
Enter your brands now and get in front of America's top buyers. This is where products are reviewed by Quality, Value and Package.