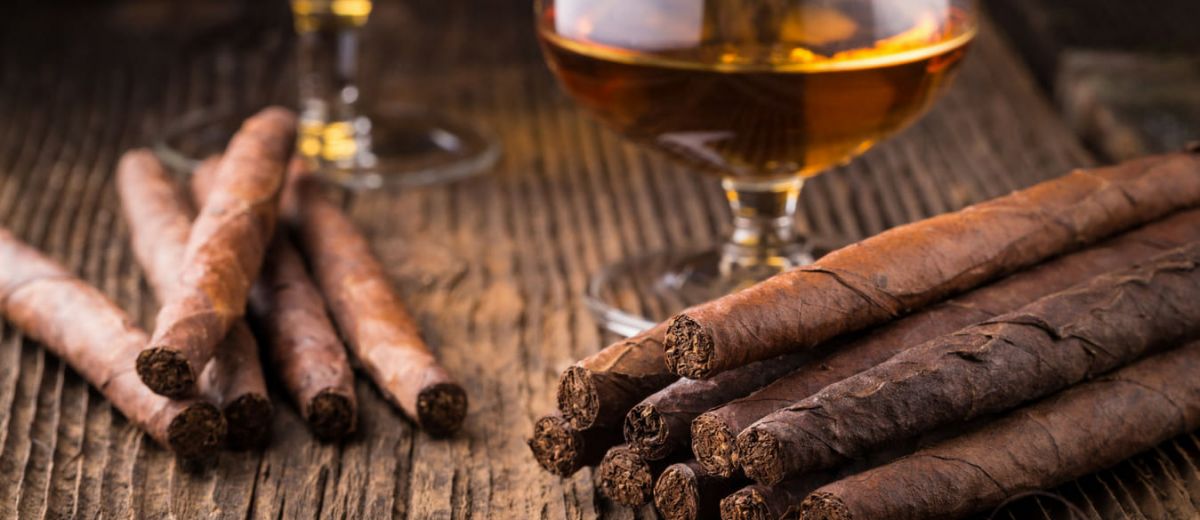 Tips for Pairing Whiskeys With a Fine Cigar
18/05/2022 Pair the right flavour and aroma profile of a whiskey with the right flavour and aroma profile of a cigar.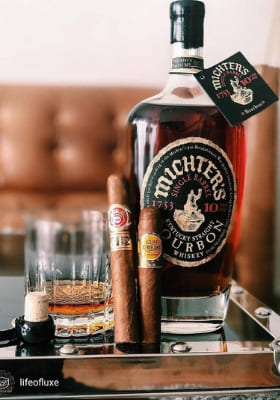 For whiskey aficionados, one of the great pleasures in life is being able to pair a premium whiskey with a fine, hand-rolled cigar. The secret, of course, is being able to pair the right flavour and aroma profile of a whiskey with the right flavour and aroma profile of a cigar. In doing this, there is a multitude of different factors to keep in mind.
The starting point for many whiskey fans is simply choosing the right whiskey. That decision alone will determine what your best options are in terms of cigars. In other words, your choice of whiskey will influence your choice of cigar and not the other way around. Generally speaking, there are four major types of whiskey that pair well with cigars – Scotch, Bourbon, Irish and Rye – so that makes for a good starting point. However, even within these broad categories, there is a lot of room for differentiation.
Scotch whisky
For example, within the Scotch category, there are sweeter and lighter whiskies, as well as those that are more peaty and smoky in character. Thus, you really need to have a good understanding of the different whisky regions in Scotland, and how they tend to produce different types of whiskies. For example, the three most famous Scotch whisky regions are The Highlands, The Lowlands and Speyside.
Within the United States, when people talk about Scotch whisky, they are usually talking about whiskies from Speyside. This region has the highest number of distillers in the country, not to mention some of the most famous distillers in the world. Below are some of the most famous Scotch whiskies from Speyside:
These whiskies combine elegant flavours with just a hint of sweetness, so you will need a cigar that can handle this complexity, while also complementing this sweetness.
One great option is the Jaime Garcia Reserve Especial. This cigar has a wrapper with a rich, sweet flavour. Even better, this rich flavour aligns very well with the types of flavours and aromas you might expect from any barrel-ageing process. For example, Balvenie Scotch whisky is typically aged in a sherry cask, and the Jaime Garcia Reserve Especial would make an excellent match for this whisky. The cigar, too, has a Nicaraguan core that has an earthy flavour that some have said is redolent with dark chocolate flavours. So if you are looking to enjoy whisky and a cigar in the evening, what could be a better pairing of whisky and cigar?
[[relatedPurchasesItems-42]]
Bourbon
Another popular whiskey to enjoy with a cigar is Bourbon, the majority of which is distilled in Kentucky. Some of the most popular names of Kentucky Bourbon include the following:
Generally speaking, Bourbon is a sweeter whiskey because it has been distilled with a minimum of 51% of corn – and in some cases, this figure can be as high as 70%. However, most Bourbon is aged in charred barrels, which also imparts a caramelized flavour and smokiness to each whiskey. When it comes to choosing a cigar, then, you will want an option that complements all of these flavour and aroma factors.
One of the best cigars to pair with Bourbon is the Perdomo 20th Anniversary Sun Grown cigar. There's a good reason for that – the Perdomo cigar is fermented for a minimum of 14 months in Bourbon barrels, so the flavour/aroma profile match is almost exact. And the Perdomo comes with a Habano wrapper that includes notes of cedar, coffee and nuts. When combined with the Bourbon, this is really an extraordinary match.
Irish whiskey
In contrast to Bourbon, which is made from corn, Irish whiskey is made from unmalted barley. This lends a very different, unique flavour profile to the whiskey that you must take into account. Some of the most popular names of Irish whiskey include the following:
Generally speaking, Irish whiskey has a very smooth taste and a slightly perfume-like aroma. Moreover, it can exude a spicy taste with pronounced notes of nuttiness. Taking this into account, an excellent pairing option for Irish whiskey is the Camacho Connecticut BXP cigar. This simply extraordinary-looking cigar comes with a silky, Ecuadorian wrapper, while the leaf inside imparts a slightly sweet nuttiness. Finally, the subtle spicy accents of the Irish whiskey are complemented by the spicy Honduran filler tobacco inside.
Rye whiskey
Finally, we have rye whiskey, which is typically aged in charred oak barrels and consists of at least 51% rye grain. This rye grain imparts a spicier note to the whiskey, and this is an important factor to take into consideration when choosing the perfect rye whiskey. Some of the most popular names of rye whiskey include the following:
Given the spicy flavour/aroma profile, one great pairing option is the PDR 1878 Sun Crown cigar from the Dominican Republic. This is an outstanding cigar that pairs well with flavorful rye whiskey. The cigar offers leathery, peppery notes, combined with a creamy texture. Unlike other cigars, the PDR 1878 is medium-bodied, so it won't overpower your rye whiskey. Instead, it offers a very complementary flavour/aroma profile.
Final thoughts about whiskey and cigar pairing
Of course, every spirits drinker will have his or her own favourite whiskey. And there are some types of whiskey – such as Jack Daniel's Tennessee Whiskey – that do not fit neatly within any of the four broad sub-categories above (although most people would agree that Jack Daniel's is as close to a Bourbon whiskey as you can get without it actually being called Bourbon).
The important point is to focus on the distinguishing flavour and aroma profiles of each of the main types of whiskey, and then look for cigars with complementary types of flavour and aroma profiles. Thus, slightly sweeter Bourbon whiskies will pair better with certain types of cigars than, say, a spicier rye whiskey would.
However, while there may be much debate on this subject, there is one thing that whiskey drinkers can agree on – there is simply nothing better than relaxing during the evening with a glass of premium whiskey and an equally premium hand-rolled cigar.
Image credit: Michter's Bourbon on Instagram
Enter your brands now and get in front of America's top buyers. This is where products are reviewed by Quality, Value and Package.