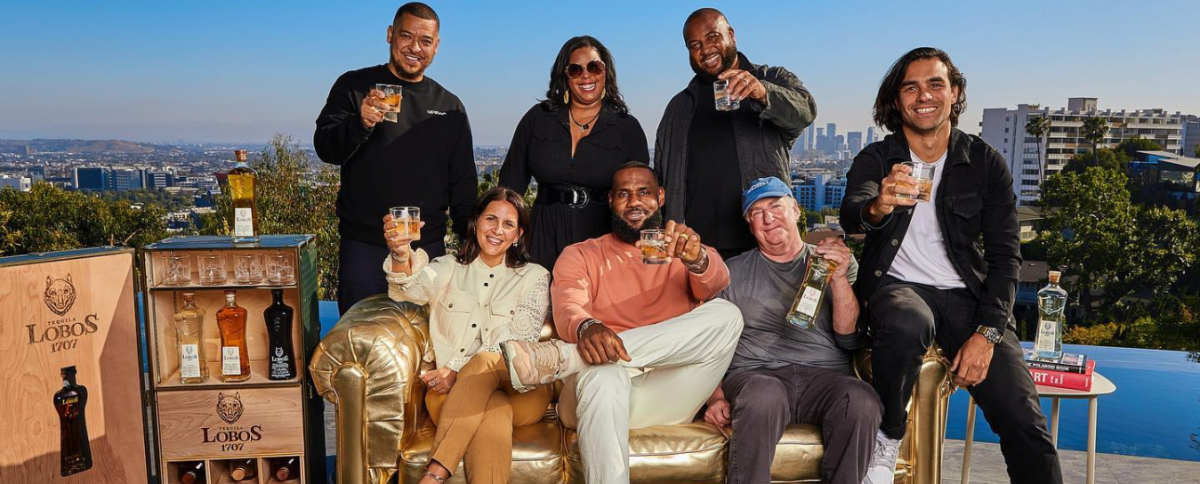 Unleash Your Inner Explorer with Lobos 1707: A Tale of Heritage and Innovation
25/09/2023 Crafting Legends: The Lobos 1707 Saga - Where Past and Future Dance in Every Sip
In a world brimming with spirits, there's one name that stands out, a name that whispers tales of the past while embracing the future – Lobos 1707. This independent spirits producer, perched at the confluence of heritage and innovation, has woven a rich tapestry of Tequila and Mezcal that tantalizes the senses and honors centuries-old traditions.
A Journey Back to 1707: The Birth of Lobos 1707
Picture Los Altos de Jalisco, Mexico, in the year 1707. Here, in the heart of agave country, Blue Weber agave thrived under the care of skilled jimadors. Little did they know that their labor would give birth to a legend – Tequila. But it was Diego Osorio, the great-great-grandfather of Lobos 1707's founder, who would elevate this agave elixir to new heights.
Diego Osorio, a man of curiosity and ambition, transported Tequila in sherry wine barrels back to his native Spain. As he uncorked those barrels, he discovered alchemy within – the marriage of agave and sherry-bathed oak, birthing a Tequila of unparalleled smoothness and elegance.
Image Source: lobos1707 facebook
Master Distillers and the Best of Two Worlds
Lobos 1707's commitment to honoring this tradition is unwavering. Their unique process melds the expertise of Master Distillers from both Mexico and Spain, fusing the best of two worlds into one extraordinary spirit. It's in this spirit that Lobos 1707 finds its essence, representing a harmonious blend of heritage and innovation.
Diego Osorio's Odyssey: A Journey Through Time and Taste
Inspired by the maritime voyages of his ancestor bearing the same name, Diego Osorio, Actor, Founder, and Chief Creative Officer, embarked on his own odyssey. He rekindled the centuries-old recipe, bringing Southern Spanish Andalusian wine barrels filled with Mexican agave liquor back to Spain. The result? A premium liquid infused with history, culture, and family legacy, a testament to Lobos 1707's commitment to its roots.
The Artistry of Lobos 1707: A Flavorful Symphony
Lobos 1707 Tequila and Mezcal Artesanal are crafted in Mexico, their flavor profiles a tribute to both old and new world influences. Traditional Mexican distillation blends seamlessly with the brand's historic Pedro Ximénez (PX) wine barrels, utilizing the solera method. The result is a portfolio that includes Lobos 1707 Tequila Joven, Reposado, Extra Añejo, and Lobos 1707 Mezcal Artesanal, each with its unique and elevated character.
A Legacy Passed Down: The Lore of Osorio Tequila
For nearly five centuries, the lore of Osorio Tequila has been handed down through generations. Diego Osorio, the modern torchbearer of this legacy, embarked on a quest that took him through Altos de Jalisco and Oaxaca. Along the way, he collaborated with jimadors, crafters, and contributors from around the world to refine the liquid and birth the brand that is Lobos 1707. It's a legacy that lives on, a testament to the passion and perseverance of many.
Image Source: lobos1707 facebook
Unveiling the Legend: The Design of Lobos 1707
Within the design of every Lobos 1707 bottle lies a story waiting to be told. The Osorio coat of arms, featuring wolves, the escutcheon animal, and the Agave Wind Rose Compass, symbolizing adventure, pay homage to the brand's Spanish and Mexican heritage.
Each bottle's hue is a nod to its origin. Joven, with its blue tint, echoes the Blue Weber agave, while Reposado's rich red invokes Jalisco's clay. Bronze graces Extra Añejo, a reflection of the blazing sun, the essence of its aging process. As for Mezcal, it wears black, an homage to Oaxacan volcanic soil.
Your Story Begins Here
As you embark on your journey with Lobos 1707, remember that the only piece of the story left unwritten is yours. What will you bring to the table? With Lobos 1707, the possibilities are as limitless as the spirit itself. Explore, savor, and create your own chapter in the enduring legacy of extraordinary Tequilas and Mezcal.
Lobos 1707 Tequila and Mezcal's Lobos 1707 Extra Anejo Tequila acquired the best score at the 2022 USA Wine Ratings making it Gold with a score of 90 points.
Nice light caramel color. Aromas of oak and dried apricot on the nose. Flavors of cigar box, vanilla, roasted agave, black pepper, smoky apple, and pear. Rich texture, minerality, well-balanced, smooth buttery finish.
Get rated by Quality, Value and Package by the top trade buyers in the USA. The super early bird deadline is November 30. Enter now and save.