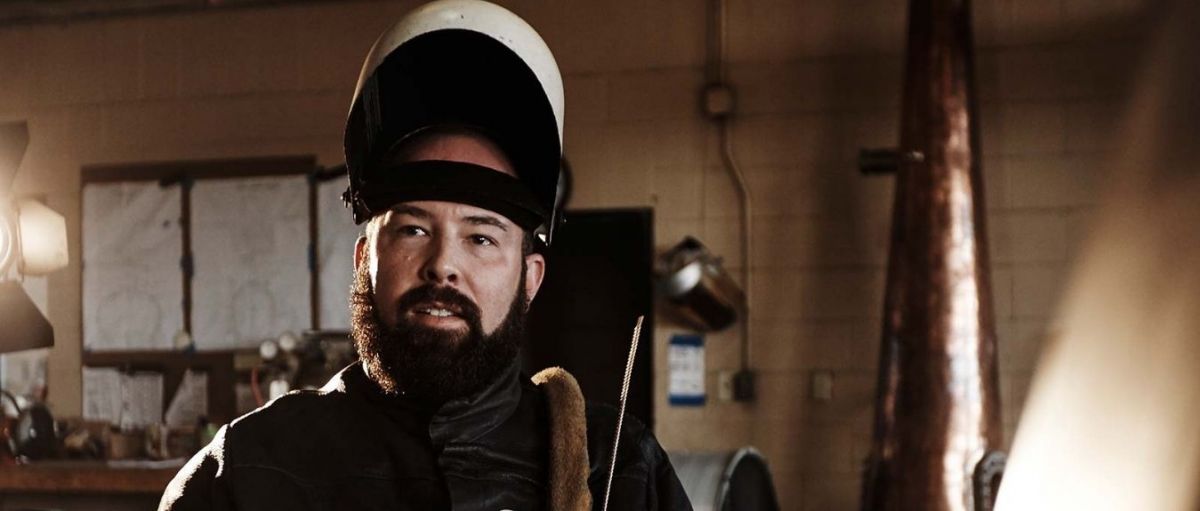 Meet The Whisky Icon Of The U.S. Craft Distilling Industry
22/04/2022 Chip Tate from Tate & Co. is a globally recognized craft whisky wizard who believes in creating new, exciting, and internationally acclaimed spirits.
Celebrated leader in the craft distilling industry, Chip Tate is the founder of Tate & Co. Distillery and Tate Craft Copperworks. He launched his career in distilling along with his first distillery in 2008, where he used his beer brewing experience in whisky-making. From welding and hammering his own copper stills to finding new whisky traditions, his work is internationally acclaimed by leading industry experts. Known for drawing concepts from centuries of distilling, he is continuously setting the bar high for distillers using his creativity and innovation. Chip's innovation and vision for his spirits helped him win more than 150 national and international awards, some of which include Craft Whisky Distiller of the Year by Whisky Magazine for both 2012 and 2014, Whisky Magazine's Icon award, and US Craft Distillery of the Year for 2012. Moving on in his journey, Chip expects to lead the craft distilling movement and empower locally made craft spirits.
Tell us a little about yourself? What inspired you to join the Beverage Distillation industry?
I have always seemed to have an innate draw to fermentation, from a young age. I began baking naturally-fermented bread when I was 11. By 19, my interest turned to beer when I was introduced to a local homebrewer. I've always found the transformation of the components of fermentation into something entirely new to be magical. In my twenties, I seriously pursued brewing as a hobby and began to entertain professional aspirations heading into my thirties. In 2002, I passed the Institute of Brewing and Distilling's Diploma exam in brewing and distilling, intending to become a full-time brewer… but by 2007, my love of malt beer had morphed into a passion for making Texas' first whisky.
[[relatedPurchasesItems-42]]
Therefore in 2008, I founded Balcones Distilling, which was a tremendous and unequivocal success. Unfortunately in 2014, problems caused by some recent investors we had taken on led me to leave, and make a fresh start. I left Balcones and founded my new distillery, Tate & Company Distillery, in 2015. We are finishing the construction of a large campus here in Waco, and plan to be online for production later this year.
What does your typical day look like?
I'm a natural early riser (4 am typically) so I have particularly full mornings. I will usually begin the day quietly, with a few hours of reading and meditation. My wife, Rachel and I share some time and breakfast together when my kids are not home. I then like to play some guitar and work out with our business manager, Brad. I've found managing a healthy personal life is essential to running a healthy business. Our workouts are really a mix of business conversation and important self-care, especially since copper-working can be rather physical. At 47, I find gym time to be necessary to stay in the game. The afternoon varies, but time with the guys building, welding, and installing distillation equipment, as well as taking varied meetings, is the norm. Whisky business tends to fall into the late afternoon by way of tours or work on blending projects.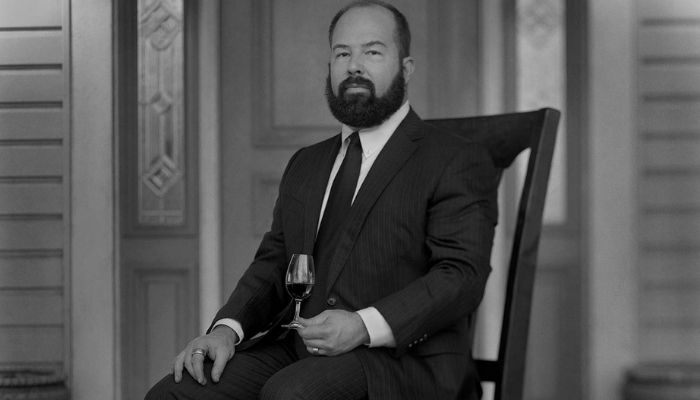 Mr. Tate enjoying his dram. Source: Tate & Co. Distillery
According to you, what makes a spirit great? Where do you draw inspiration from while distilling a new spirit? What role do you think Distributors and retailers play in the development of a new spirit?
A great spirit should be a piece of living cultural art that captures something delicious, important, and true in the glass. It should reflect a complex interaction between well-chosen elements and the distiller, as the artist, skillfully combined to be both bold and elegant.
While I think distributors and retailers are an invaluable source of both artistic and market feedback, I believe the fundamental responsibility for conceiving and creating great spirits does (and must) fall to distillers.
How do you work with the Distributors to increase sales?
At the moment, we are not distributing. But, historically I have always believed in partnering with my distribution teams to bring my brand to market. By that, I mean that I try to inculcate a strong sense of ownership and enthusiasm by personally meeting with the distributor sales team in their market, letting them see and taste our best to understand what my whiskies are really about. Strong brand buy-in is hard to inspire, but the only best way to go is in my book; The New Single Malt.
How do you work in harmony with the Restaurants, Pubs, and Retailers? How do you think they can help you to increase sales and how can you work with them to innovate and expand?
Again, we are not currently distributing whisky. But, historically, I have used a similar approach with restaurants, pubs, and retailers as I describe above for distributors - I focus on quality interactions with knowledgeable staff in-market to build and support on and off-premise retail buyers.
What does Tate & Co. Distillery DTC (Direct To Consumer) channel look like? Can you give us a brief overview of it? What are the different avenues of DTC sales for Tate & Co Distillery?
We really only have a line of brand swag available online right now. No other DTC just yet, but we are beginning a series of custom silver rings as part of Tate Craft Copperworks soon.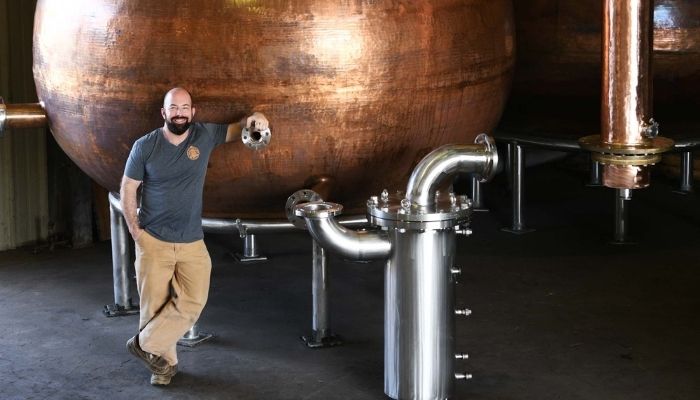 Chip Tate standing in front of his self-crafted copper pot still. Source: Tate & Co. Distillery
What kind of changes has taken place in the distillery since the Pandemic? With the decrease in DTC sales due to the Pandemic, how have you planned to increase them?
The main effect of the pandemic, other than the obvious health precautions we must all now take, has been to temporarily stymie investment in the project due to indirect effects for our investors. That is beginning to improve now, however.
What are some of the recent upgrades and innovations in terms of technology in the distillery? What do you think are some of the upcoming innovative Spirits trends in the US market?
We have included a number of innovations in our distillery. All focus around maintaining the flavors of things like directly fired stills, while increasing the efficiency of the old methodology. Both in equipment design and distilling, I like to understand tradition and build from there.
I think there will be some new and interesting brown spirits making a comeback, and perhaps some new whisky categories as well.
How do you focus on sustainability while distilling your spirits?
The conservation of energy and water is our main focus right now. I have engineered more efficient evaporative cooling and closed-loop cooling loops to reduce water and energy usage. As another example, we also use infrared burner systems to heat our directly-fired stills, both to reduce energy usage and improve the evenness of pot still heating. Heat exchangers will remove and recover heat often wasted in the dumping of pot stills to further reduce energy usage.
What is the one tip you would like to give someone who is looking forward to joining the beverage distillation industry?
It is hard to wear many hats, but very necessary. Learn to juggle them well.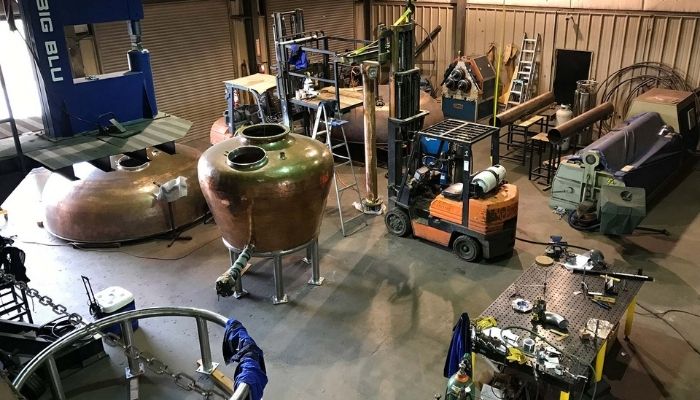 A view from Chip Tate Craft Copperworks. Source: Tate & Co. Distillery
Can you tell us a bit about Chip Tate Craft Copperworks?
Sure. Chip Tate Craft Copperworks is where our work is focused right now, producing all of the distillation equipment necessary to the Tate & Company Distillery project. We primarily build large pot stills in the Copperworks, but we also manufacture top-end condensers, spirit safes, and other necessities. As head of Copperworks, I do all the design, sheet metal layout, and engineering for the non-code equipment.
Finally, which are some of your favourite spirits you have on your shelf?
I've never met a good whisky I didn't like. I love a good bourbon, but malt whiskies and brandies make up the lion's share of my daily drams.
Header Image: Distiller and Still Maker - Chip Tate. Source: Tate & Co. Distillery
Submissions for the 2024 USA Spirits Ratings are now open. Enter your spirits brands today at the lowest price. Here's how to enter.