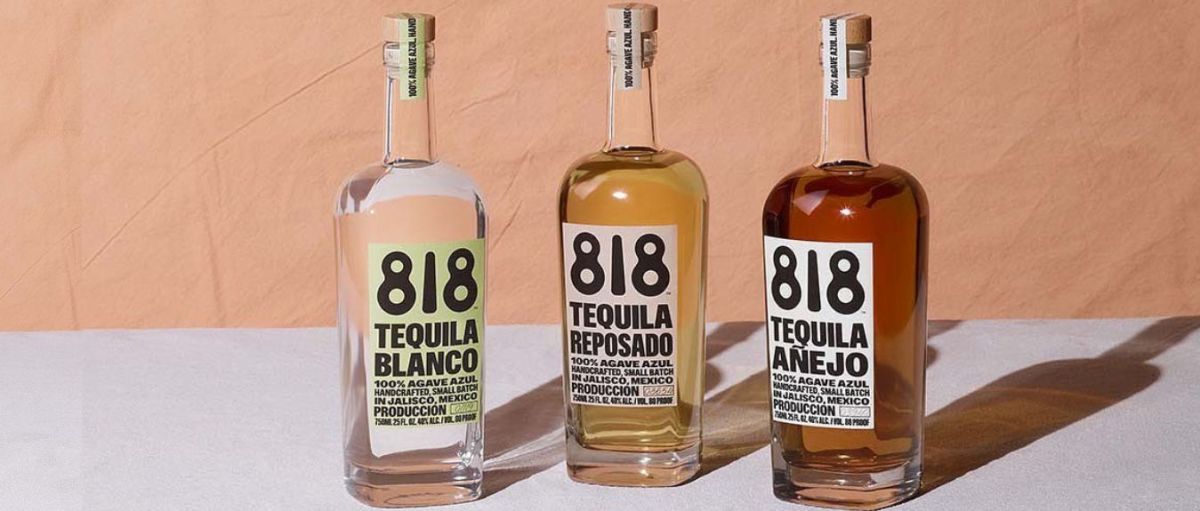 Running a Successful Celebrity Tequila Brand with Mike Novy of 818 Tequila
30/03/2023 Mike Novy, President, and CEO of Kendall Jenner's 818 Tequila shares his views on the importance of Marketing, Branding, E-commerce, and Sustainability in creating a successful brand.
With more than 25 years of immense experience in the beverage industry, Mike Novy started his journey as a Vice President, Marketing and Sales at E&J Gallo, National Sales Manager at Constellation Spirits, and President at Tequila Casa Dragones. In January 2021, he was appointed as the President and CEO of 818 Spirits. Founded by model and Keeping Up with the Kardashians star Kendall Jenner, 818 Tequila debuted in California and has since expanded to Nevada, Texas, New York, New Jersey, Georgia, and Florida. 818 Spirits collaborates closely with family-owned farms in Jalisco, Mexico, to bring you the smoothest, most natural, and best-tasting tequila possible. 818 Tquila has received 22 tasting awards at more than 6 international spirits competitions including Gold Medal and Best Reposado at the World Tequila Awards.
Hey Mike, Can you tell us about yourself and your background? What led you to join 818 Tequila?
I worked for three companies prior to 818 and learned important lessons from each. Ernest and Julio created a foundation of structure and discipline combined with a pioneering spirit. Constellation Brands imparted a sense of restlessness and speed of execution, and Casa Dragones taught me how important it is for a small entrepreneurial team to have each person working in harmony with the others. When I got the call to join 818 and heard Kendall speak about what she wanted to accomplish by launching a brand for the next generation of tequila consumers I could see that my experiences and skillsets could help bring her vision to life.
What sparked your interest and love for the tequila category?
Tequila is fascinating. But like most people, I had to look beyond the large brands and US party connotation of tequila to see the vast assortment of beautiful and artisanal products. Done correctly, tequila respects the land, the communities, and the history that it comes from. When made with traditional methods, it's very nuanced in flavor. And the people who make it are passionately committed to their art. Mexico is known for amazing craftsmanship and tequila is no exception.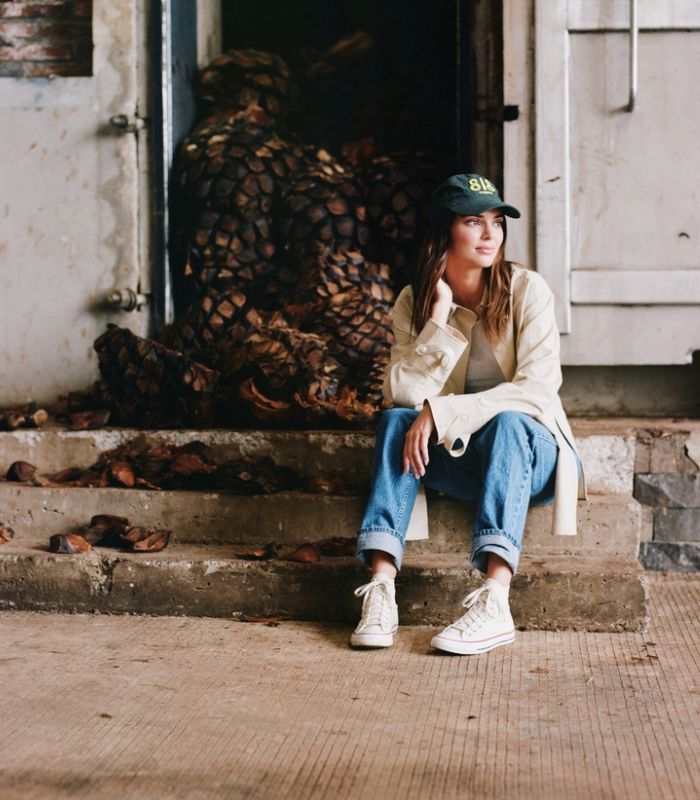 Can you tell us Kendall's initial idea behind launching 818 Tequila?
Tequila has been a part of Kendall's family for many years. As she grew to appreciate the many styles and brands, she also saw that there was an opportunity to speak to the next generation of tequila consumers who value smoothness and complexity of flavors, and social responsibility. She worked on the project for several years until she had a blend that she, her friends, and her family really loved. But rather than simply trust their own palates, they submitted samples blind (with no connection to Kendall) to spirits competitions. When they won many awards, they felt that the time was right to move forward and launch 818.
Being the President and CEO of 818 Tequila, what does your day look like?
Each day is busy with diverse activities. We have a very small team, our company culture is very action-oriented, and the business is growing at a fast pace, so we all work hard and usually seven days a week. Fortunately, my role allows me to work daily with Kendall and every other member of our team, on all aspects of the business, so I have a very good feel of where we are performing well or where we need to do better so that we can constantly attack business opportunities.
[[relatedPurchasesItems-42]]
Because of your vast experience in the area, you were appointed by 818 Tequila's President and CEO in January 2021. What do you consider your most significant contribution to the firm thus far?
I am most proud of the team we have built. They are superstars who know how to play well together as a team. The team makes beautiful tequila, creates world-class marketing, drives strong sales execution, and keeps the company running and the brand growing. One of our sayings is "create the company you've always wanted to work for" so each member is an active contributor to the culture of 818. I've lived through many organizational cultures in my career and I know if you get this right, the rest of the achievements come, a lot easier.
According to you, What role do marketing, branding, and story play in overall success?
They are all critical to business success - especially in the spirits industry. There are many wonderful tequilas in the world, but most consumers can only name a few. Our goal is to develop a very strong connection with our consumers and let them know who we are and what we stand for.
What is the best advice you got when you first started?
Never be complacent. I learned that from wine industry icon Ernest Gallo, with whom I worked directly early in my career. His message was clear – never stop learning, growing, or pushing to improve. He set high standards and when we achieved them, the bar went higher. That's a big part of our mindset at 818. For example, in less than one year on the market, we are already one of the best-selling premium tequila brands in the U.S. Yet we know we can do better in every way.
The path from distillery to consumer is long and branched, with multiple levels complicating distribution. So how do you keep track of each phase, and which one do you find the most challenging for your business?
We have applied for B-corp certification which requires a very high level of transparency and accountability, so we track information at each step of the production and logistics process. More importantly, every day we review and discuss our results from production to sales with a cross-functional team. This helps us keep our fingers on the pulse of the business and develop immediate solutions to problems that might otherwise knock us off track. At this point, the most challenging step in the journey from distillery to consumer is maintaining share-of-mind with gatekeepers in the trade, especially distributors, who have a lot of competitive distractions. Fortunately, consumers are gravitating to 818 so once it's on a shelf or a back bar, it sells very well.
What role does e-commerce play in your business, and how do you approach it?
The 818 consumer is digitally native so e-commerce is a natural part of our business. While we have roles on both the sales and marketing team focused on the e-commerce channel our entire team understands the importance of the space to our brand. For example, we work with our account partners directly to drive consumer traffic to their retail or digital storefronts, and we work directly with many e-comm marketplaces like Drizly and Reservebar.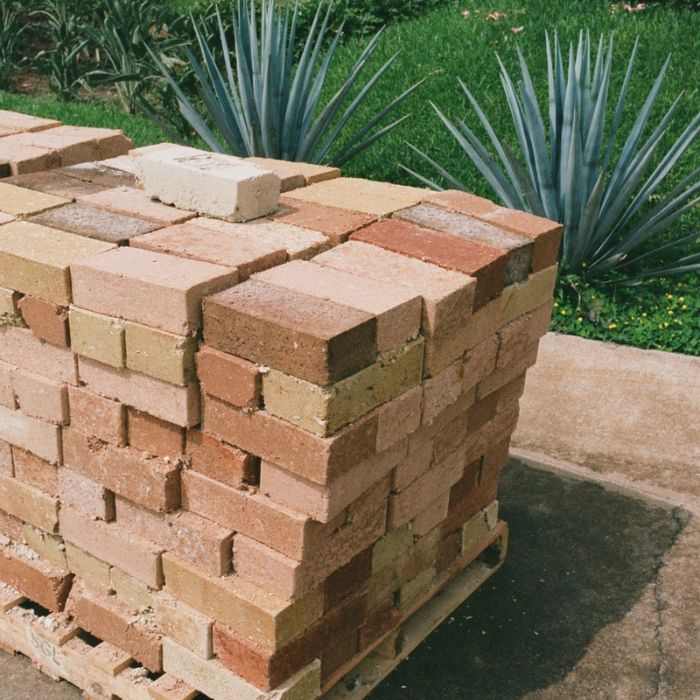 How do you focus on sustainability while distilling your spirits?
We've done entire interviews only on this topic alone! Environment/sustainability is a pillar of 818. We are a member of 1% for the Planet and are working on our b-corp certification. Our distillery is powered by biomass and solar, and we work with our non-profit partner S.A.C.R.E.D to repurpose the by-products of making tequila. We are using agave fibers (bagasse) and liquid waste (vinaza) along with adobe clay to make "818 bricks" which we are using to build a community library to teach regenerative agriculture, a community center, and a cultural center in different areas of Jalisco. Plus, our glass bottles are made with a large amount of recycled glass, and our labels, corks, and shippers are U.S. Forest Council certified.
How do you explore new markets for your brand and focus on business development?
Consumer demand and trade interest have been our guide. We have had people in at least 113 countries ask to buy (or import) 818. We get non-stop requests for this on our Instagram account. We also see the tequila category growing rapidly around the world and plan to participate in and contribute to, this trend. However, we also believe that we can transcend the tequila category as we build a well-known and well-regarded brand.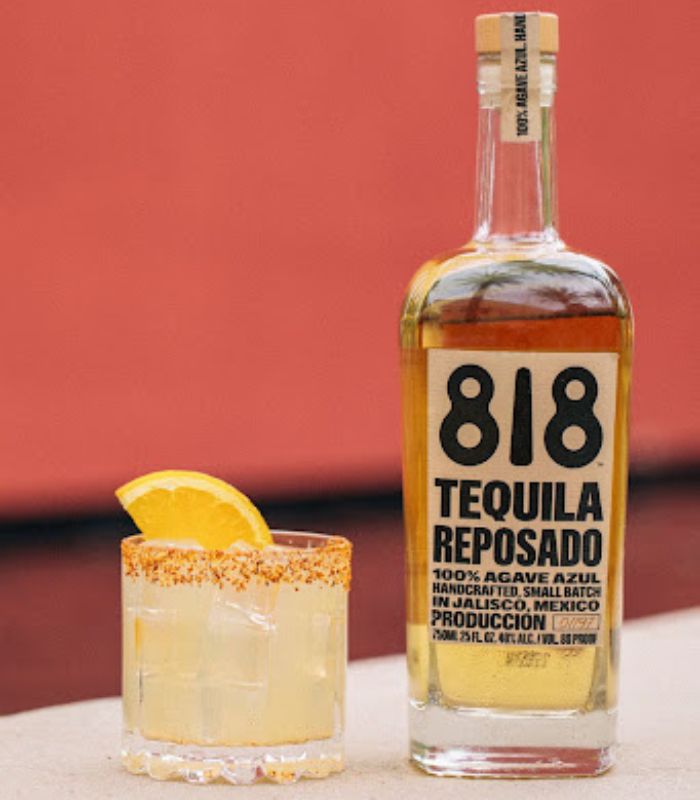 Image Source: 818 Tequila
Sixteen tasting awards at six international spirits competitions, including Gold Medal and Best Reposado at the World Tequila Awards. So what distinguishes your selection from other tequilas?
That number is now 22 awards as of today, which makes us all very proud. Kendall and our team created 818 with the goal of delivering a beautifully smooth and complex style for each expression – Blanco, reposado, and Anejo. 818 is made with great care using very mature Weber blue agave and then very traditional production methods such as brick ovens, tajona wheels, and copper pot stills. Then we finish or age our tequilas in beautiful French oak wine barrels and American oak bourbon barrels from the best coopers and wineries/distilleries.
What do you think the tequila category will look like in five years?
It will be much larger than it is today. It will be more relevant globally. And consumers will be more knowledgeable about tequila and demanding of quality.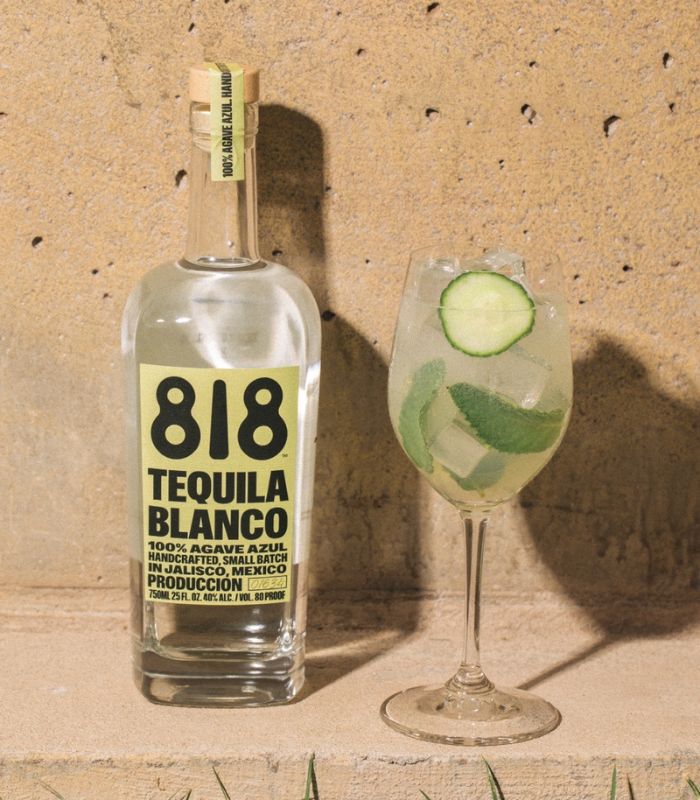 Image Source: 818 Tequila
Which expression is your go-to when you drink tequila?
My favorite depends on the situation – the weather, time of day, and my mood. Lately, I have been experimenting with tequila as a substitute for whiskey in a variety of cocktails like Manhattans and old-fashioned.
But as a simple go-to drink, I sip Blanco with a splash of soda water and with a slice of lime or twist of lemon. It's refreshing, it lets the agave show through, and it's also very easy to make!
Get rated by Quality, Value, and Packaging by the top trade buyers in the USA. Enter today and avail the early bird offer. Here is how to enter.