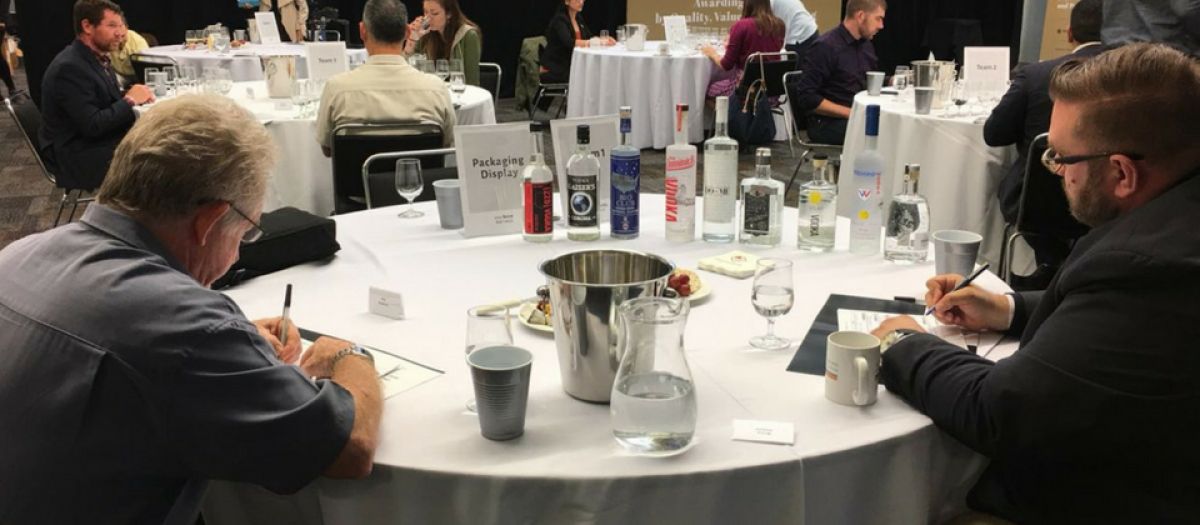 USA Spirits Ratings Competition Uses New 100-Point Ratings System To Find the World's Best Spirits
17/08/2018 Winners of the first-ever USA Spirits Ratings competition to be announced in early September
The first-ever USA Spirits Ratings competition, which took place in San Francisco on July 23-24, featured high-profile judges evaluating spirits from around the world on the basis of quality, value and packaging. Gold, Silver and Bronze winners from the competition will be announced on September 5.
The judging process at the USA Spirits Ratings competition, which is hosted by Beverage Trade Network, is fundamentally different from that found at similar types of events around the world. While the rating system uses a 100-point scale, it assigns points for Quality (out of 50 possible points), Value (out of 25 possible points) and Packaging (out of 25 possible points). Gold Medal winners are those that score 90 or higher points out of 100; Silver Medal winners are those that score 80-89 points out of 100, and Bronze Medal winners are those that score 70-79 points out of 100.
The creation of this innovative new ratings system means that a top-ranked spirit needs to do more than just taste great – it also needs to deliver value for the money and offer an engaging brand presentation that appeals to specific types of consumers and demographic groups. When consumers reach for a spirit on a retail shelf, they are taking into account more than just the taste or flavour – they are also taking into account factors such as how that spirit ties into their overall lifestyle.
"We've noticed that spirit consumers are increasingly viewing spirits much like they would a traditional brand, and we wanted our judging process to reflect that fact," said Sid Patel, CEO and Founder of Beverage Trade Network. "We really worked to put together an all-star judging panel to evaluate the spirits in competition according to this innovative new scoring system. These are the types of judges with direct commercial buying responsibility, who understand what consumers are looking for when it comes to buying a spirit."
The list of judges for the USA Spirits Ratings competition includes:
1. Robert E Gonzales Jr., Spirits Specialist, Wine Warehouse California
2. David Nepove, Director of Mixology, Southern Glazer's Wine & Spirits
3. Mike Ryan, Director of Bars, Kimpton Hotels
4. Morgan Tierney, Lead Bartender, Mystic Room + Tavern
5. Jessica Maria, Owner and Bartender, Hotsy Totsy Club
6. Tamir Benshalom
7. Elijah Berlow, Bartender, The Slanted Door
8. Bruce Abbott, Spirits Buyer, Liquor Stores NA Ltd.
9. Maritza Rocha-Alvarez, Lead Bartender, Whitechapel
10. Theo Rutherford, Spirits Education Manager, Deutsche Family Wine & Spirits
The involvement of so many high-profile judges on the panel is already leading to increased anticipation and buzz within the industry about which spirits will receive the prestigious Gold, Silver and Bronze medal awards in early September. At the London Spirits Competition, held earlier this year in the UK, the same judging process led to a number of surprise spirits winners that immediately vaulted to worldwide recognition based on their strong showing in competition.
Based on the initial success of this year's USA Spirits Ratings Competition, Beverage Trade Network plans to run the competition again in 2019 and will be opening up entries in early August.
Media sponsors for this year's USA Spirits Ratings competition included The Buyer, iSanté, Food & Beverage Magazine, Modern Distillery Age and NZ Exporter.
About Beverage Trade Network
Beverage Trade Network (BTN) hosts events, competitions, expos, tastings and conferences for the alcohol beverage industry on a global basis. In addition to the USA Spirits Ratings Competition, for example, BTN also hosts the London Spirits Competition. In addition, BTN hosts the USA Trade Tasting event in New York, the International Bulk Wine & Spirits Show in San Francisco and London, and a number of other events in Asia, Europe and North America.
Beverage Trade Network is dedicated to helping spirits producers and spirits brand owners get closer to buyers, distributors and retailers. As part of this mission, Beverage Trade Network organizes events as part of a wider drinks initiative to introduce new brands, producers and manufacturers to the global marketplace.
For more information on Beverage Trade Network:
Get rated by Quality, Value and Package by the top trade buyers in the USA. The super early bird deadline is November 30. Enter now and save.