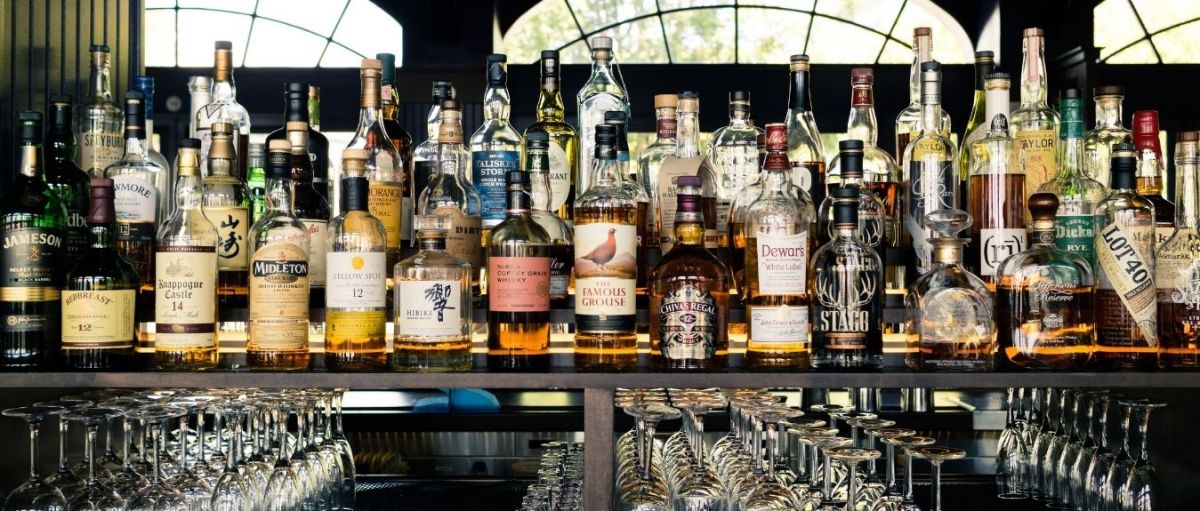 10 Flavored Spirits That Are Not Liqueurs
28/02/2022 Flavored spirits are the new trending category in the alcoholic beverage segment. This article focuses on some of the top-rated flavored spirits that are elevating the drinking experience.
Flavored spirit is a growing segment in the global spirits industry. With the rise of brands and their flavored variations, there is no wonder why flavors in liquor are a new hot trend. According to a recent survey done by Market Research Future, the Global Flavored Spirits Market is estimated to be worth approx $ 32.7 Billion by the end of 2026. In the US, both small and big brands are entering the flavored drinks segment with or without alcohol. The major sales of flavored alcoholic beverages are through hotels, restaurants, or bars where they are sold directly or as a base of a cocktail.
[[relatedPurchasesItems-42]]
Flavored spirits are liquors that have added flavors and sometimes a small amount of sweetening agent. It is different from liqueurs, as liqueurs contain a large amount of sugar and some may also contain glycerol. Made by infusing or distilling natural flavors along with the alcohol, flavored spirits are based on high-purity neutral alcohol. Surprisingly, a lot of flavors work perfectly with different liquors creating an array of unique spirits with different flavor profiles. These distinct spirits can be claimed as a new category in the alcoholic beverage segment. To help you with your favorite flavors we have created a list of some of the best-rated flavored spirits which you should have in your home bar.
1. Jan Stephenson Pineapple Rum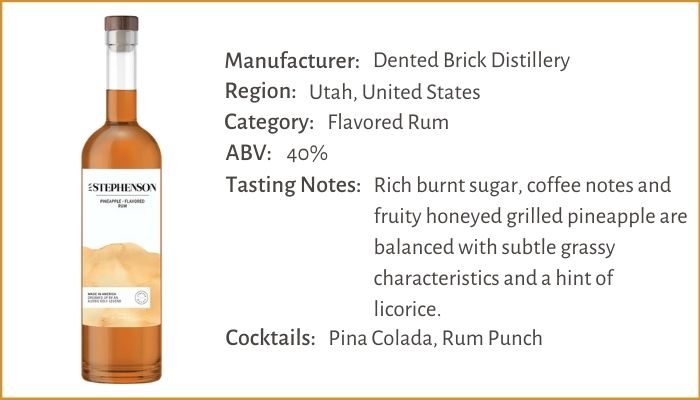 Source: Jan Stephenson Rum
Created by Dented Brick Distillery in partnership with one of Australia's best golfers Jan Lynn Stephenson, Jan Stephenson Rum comes in a range of different flavors. This rum is made by fermenting a blend of molasses and Turbinado sugar, distilled in Copper Pot Still, and added pineapple flavors. The bottle is tall with a long neck and simply communicated label with basic information about the spirit. The liquid is a strong yellow-amber color with high density which comparatively looks similar to pineapple juice than aged rum.
2. SelvaRey Chocolate Rum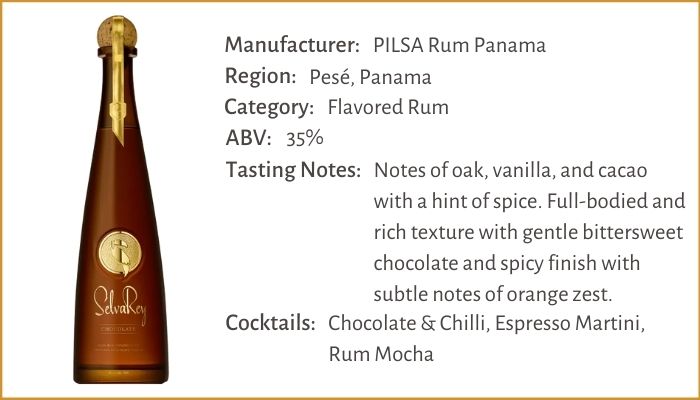 Source: SelvaRey
Handcrafted in the jungles of Panama, SelvaRey is a premium rum brand that translates to "Jungle King" in Spanish. The brand is a joint venture of three brothers - Seth Gold, Marc Gold, Robert Herzig, and the international music sensation Bruno Mars. Distilled by the Godfather of Rum, Master Blender Francisco 'Don Pancho' Fernandez, SelvaRey Chocolate is made by infusing fine locally-sourced chocolate and aging the rum for five years in bourbon barrels. It is one of the first flavored spirits to win the prestigious Chairman's Trophy at the Ultimate Spirits Challenge.
3. Siesta Key Toasted Coconut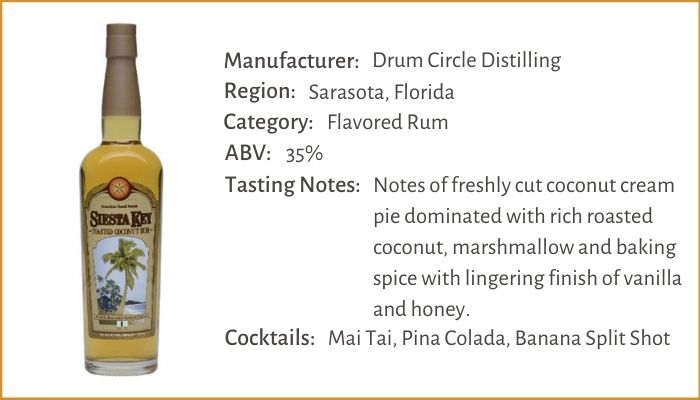 Source: Siesta Key Rum
Siesta Key Rum is a family-run craft distillery founded by Troy Roberts and is based in Florida. Siesta Key Toasted Coconut Rum is one of the biggest hits of Siesta Key Rum. It is handcrafted using 100% real toasted coconuts, ground spices, honey and is distilled in a copper pot still in small batches. It is said to be the best-flavored spirit and something that raised the bar of the rum drinking experience.
4. Cîroc Summer Citrus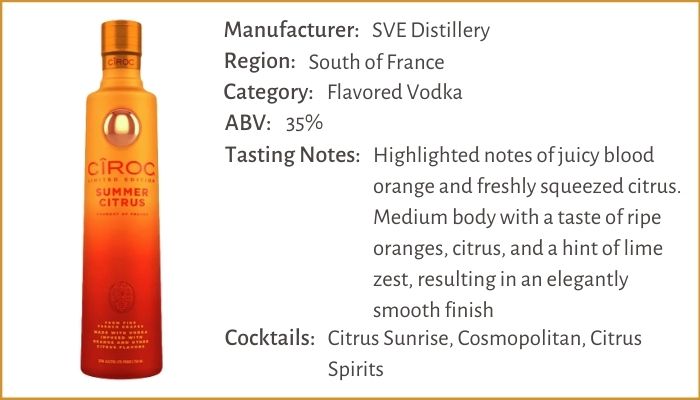 Source: Cîroc
Cîroc is known for its high-quality gluten-free vodka made from fine French grapes hailing from the South of France. Founded by Master Distiller Jean-Sébastian Robicquet, Cîroc is one of the most popular vodkas in the world. The vodka is made by distilling the grape juice five times, four times in column stills and final distillation takes place in traditional, handcrafted copper pot stills. Cîroc Limited Edition Summer Citrus is infused with a blend of oranges and other citrus flavors. With unique citrus notes imparting from the grapes, making it a perfect spirit to include in a tropical refreshing cocktail.
5. Finlandia Grapefruit Vodka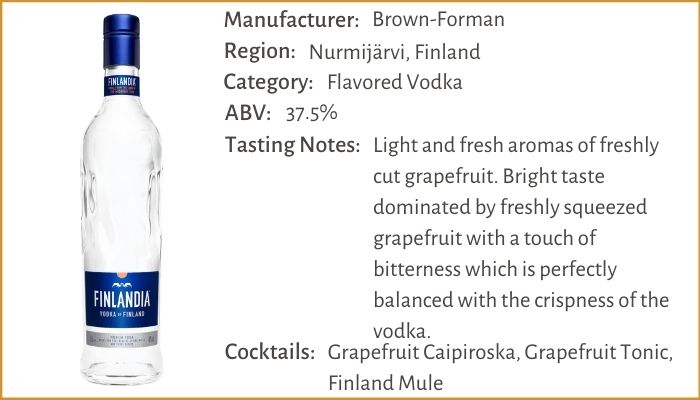 Source: Finlandia Vodka
Finlandia is a premium vodka produced in Finland and manufactured by Brown-Forman. It is made from golden Finnish barley which undergoes more than 200 distillation processes for more than fifty hours before the glacial spring water is added. Finlandia Grapefruit Vodka reflects freshness and purity with a unique flavor and long pleasant finish. The spirit is bottled in a crystal clear, smoothly designed bottle which conveys the premiumness of Finnish vodka. This award-winning vodka has a bright spark of grapefruit with a smooth texture which is a must for every cocktail bar.
6. Van Gogh Dutch Caramel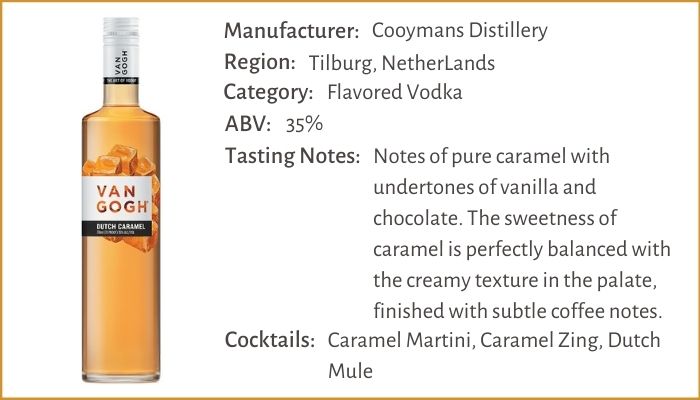 Source: Van Gogh Vodka
Van Gogh Dutch Caramel is one of the stars from 22 different flavors in the Van Gogh portfolio. It is handcrafted in small batches using the finest ingredients and premium grain alcohol overseen by Master Distiller Tim Vos. It is uniquely made using a double infusion method giving it the taste of luscious, pure caramel. Inspired by caramel candy, this spirit uses burnt sugar to naturally give it a rich shade of caramel and creamy texture of the candy. It is an award-winning vodka with an international reputation.
7. Sauza Cucumber Chili Tequila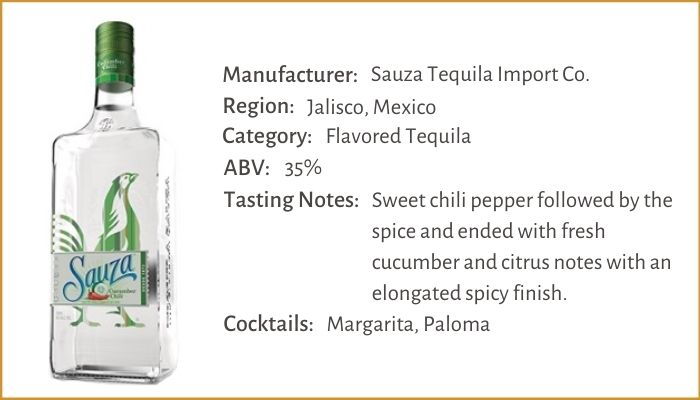 Source: Sauza Tequila
Sauza Tequila produces one of the finest tequilas in the world which is owned by Beam Suntory. Sauza Cucumber Chili Tequila is the first flavored tequila from the Sauza group. It is carefully crafted using the finest blue agave using a unique method called gentle extraction which is combined with natural cucumber and chili twists. Originally made for spicing up classic cocktails, this unique spirit works very well in margaritas and can even be enjoyed on the rocks.
8. Ole Smoky Salty Caramel Whiskey
Source: Ole Smoky
Ole Smoky Distillery originally focused on corn-based whiskey and producing an unaged moonshine. After a significant rise in their sales, they started their whiskey range, which is now one of the most enjoyed Tennessee whiskey. Ole Smoky Salty Caramel is handcrafted using natural flavors and added caramel colors. The golden amber spirit is bottled in a big hip flask-shaped bottle, following their traditional style of label. Caramel is a great flavor when it comes to whiskey which works very well in various cocktails or even straightly poured over vanilla ice cream.
9. Skrewball Peanut Butter Whiskey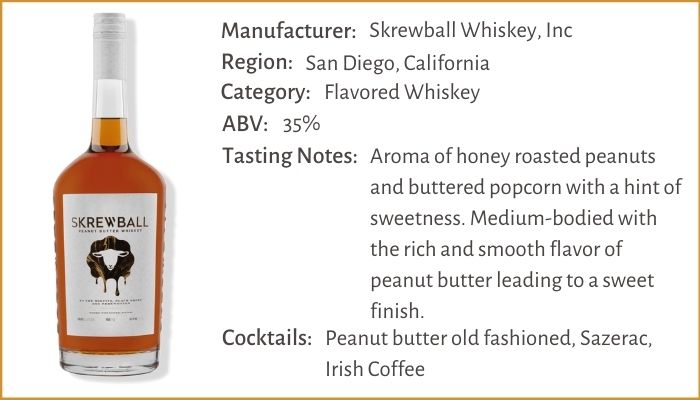 Source: Skrewball Whiskey
With the unique combination of peanut butter and whiskey, Skrewball Peanut Butter Whiskey is one of the best-selling premium whiskey. Skrewball is made with corn and barley and flavored with premium natural flavors. Peanut butter and whiskey blend very well together, the rich and smooth flavors of peanut butter perfectly compliments the complexity of the whiskey. This uniquely tasting spirit has bagged many awards in international spirits competitions. It is a perfect spirit to enjoy on the rocks, with your coffee or elevate your cocktails to the next level.
10. Crown Royal Peach Whisky
Source: Crown Royal
Crown Royal, also known as Seagram's Crown Royal, is a blended Canadian Whisky that started as a tribute to that year's royal tour of the country by King George VI and Queen Elizabeth. Crown Royal Peach is a limited edition from the Crown Royal portfolio which is blended with carefully selected whiskies and infused with fresh Georgian peaches. The success of this peach-flavored whisky led Crown Royal to launch a canned Peach Tea RTD. Crown Royal Peach is not only used in cocktails but people also love to use this in cooking and baking.
Article By Tushar Anand, Junior Writer, Beverage Trade Network
Submissions for the 2024 USA Spirits Ratings are now open. Enter your spirits brands today at the lowest price. Here's how to enter.