10 Gin Brands That Are Perfect for Your Halloween Party
17/10/2019 Make 2019 Halloween the best-ever celebration with these 10 gin brands that are perfect for your Halloween party.
Halloween is almost here! Halloween costumes, decorations, Halloween themed cocktails and food, there are so many things that you should be ready with by now. How about a little help?
Here we have sorted a list of 10 gin brands that are perfect for your Halloween party. These gins can be mixed with cocktails or can be consumed neat.
If you are a bar or restaurant owner and if you're hosting a Halloween party, this list will help you, too.
Harahorn Gin
The winner of many world-famous spirits competitions, Harahorn Gin tops our list of '10 gin brands that are perfect for your Halloween party'. This Norwegian gin has been brewed with an exciting mix of herbs and berries grown in Norway itself. Named after the mountain in the Norwegian area Hemsedal, Harahorn Gin is a real craft gin produced in small batches of 300 liters at a time. Det Norske Brenneri has chosen the best ingredients for this gin. They have used the best botanicals from the different parts of Norway. Those botanicals include juniper berries from Roros, blueberries from Nordmarka, rhubarb and bladderwrack from Grimstad, angelica from Oppdal, and wild marjoram from Sunndal.
Tasting Notes:
Rich, full, warm, dry. Cool aromas characterized by juniper berries, anise, flower, and citrus.
ABV: 46%
Thinking of trying our Harahorn Gin in your Halloween party? Make yourself a glass of traditional gin and tonic. Fill your glass with ice cubes. After a minute or two, spill out the melted water and add gin and the tasty tonic. Garnish it with some blueberries and rosemary or blood orange.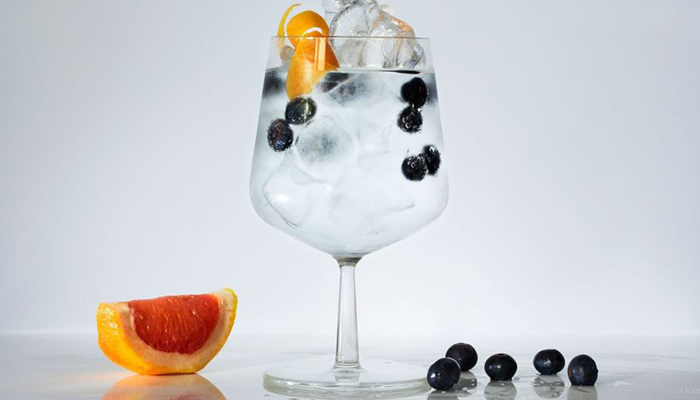 [Recipe & Picture: inside24.no]
This gin also works well as neat – complex and rich, very even with a long aftertaste.
You can mix it with Martini, too. Here is the recipe:
5cl Gin, 1cl Noilly Prat. Garnish with three blueberries soaked in vermouth.
[Recipe: martiniwhisperer.com]
5 Pence London Dry Gin
The gold medal winner at 2019 USA Spirits Ratings, 5 Pence London Dry Gin is at the 2nd position on our list of 10 best gin brands for your Halloween party. This gin is handcrafted in small batches in the heart of Woodstock, Cape Town's artistic hub. It is made from more than 15 different botanicals, out of which, 8 botanicals are very carefully and ethically sourced fynbos plant species.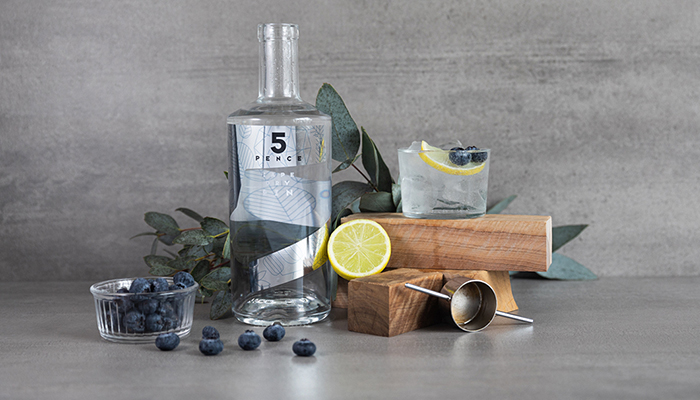 Tasting notes:
Slight undertones of citrus are present in this bold, aromatic, and remarkably smooth gin.
(Picture: 5 Pence)
Ballykeefe Lady Desart Gin
Ballykeefe Lady Desart Gin, one of the best gin brands to try on this Halloween, is handcrafted at Ballykeefe Distillery in Ireland. Vapour infused in an Italian copper pot still, Ballykeefe Lady Desart Gin is crafted using 12 botanicals including three rare oriental peppers that are handpicked from the remote mountain regions of Vietnam and Cambodia.
Tasting notes:
Nose: Pre-sneeze pepper hit, with spruce like a hit of juniper and fresh perfumed notes of citrus fruits.
Palate: Exceptionally fresh, juniper gives way to citrus, followed by palate-cleansing pepper. A dry finish with a big kick of citrus.
For a perfect Halloween serve, use a Copa glass filled with ice, add 35.5 ml of Ballykeefe Lady Desart Gin and top it with premium tonic water.
[Recipe: Ballykeefe Distillery]
Teddy & The Fox, Bellarine Gin
Teddy & The Fox Bellarine Gin is produced by Distiller Russ Watson at Bellarine Distillery. This small-batched and hand-crafted gin has taken its name from the family dog and the fox.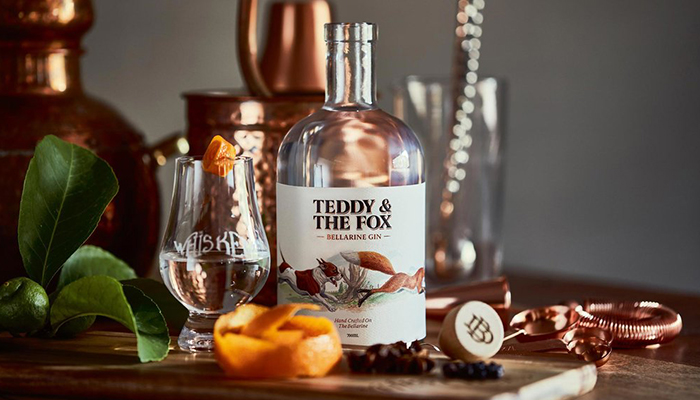 Teddy and the Fox is an aromatic blend of 6 botanicals such as juniper, coriander, orange, lemon myrtle, orris root, and star anise.
Tasting notes:
It shows the strong citrus character with orange and lemon myrtle on the front. It is highly recommended to sip this gin neat, but it also makes a great Gin and Tonic combo. A light tonic such as Fevertree's Naturally Light is the best. You can garnish it with a slice of organic orange or lemon slice with a spring of rosemary.
[Recipe & Picture: Bellarine Distillery]
OX44 Gin
OX44 is an extremely smooth gin handcrafted by Chalgrove Artisan Distillery. It is made with basic botanicals such as juniper, coriander, lemon peel, black cardamom, orris root, mulberries, kaffir lime, and Scottish heather.
Tasting notes:
Nose: Fresh notes of kaffir lime with earthy coriander, followed by sweet, piney juniper with hints of mulberry and Scottish heather.
Palate: It is extremely smooth on the palate with pine, juniper spice, and a citrusy lemon and orange taste. The angelica root in the gin gives it a touch of dryness, with the subtleties of mulberry and heather.
Finish: An elegant and balanced finish letting out some cool notes from the heather and cardamom.
Serving recommendation: (ginrag.com)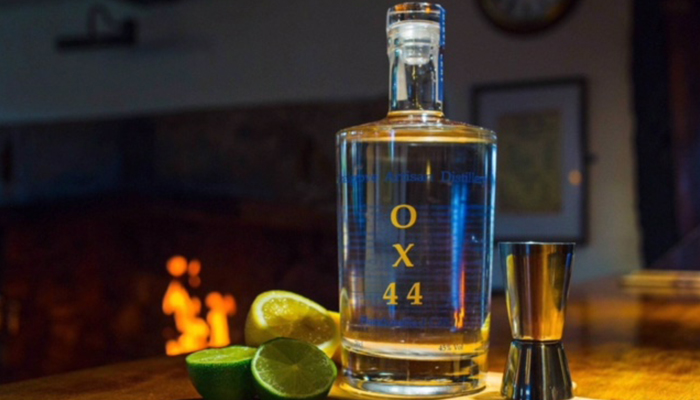 Gin and Tonic – A slice of lime goes best with OX44 G&T. It highlights spice and citrus elements of this Gin.
Picture: Chalgrove Artisan Distillery
Bogart's Gin
Bogart's Gin is produced in small batches by ROK Distillery of the United States. It is handcrafted and distilled with Italian juniper berries, vine-ripened cucumber, coriander, lavender, macadamia nuts, and citrus zests.
Tasting notes:
Bogart's Gin is extremely smooth and complex Juniper-forward with Spruce tips and a crisp cilantro taste that finishes in a round full-back note of macadamia and peppery lime.
ABV: 45%
Serving suggestion:
Serve with ice, with tonic or in a Dirty Gin Martini, with a slice of orange or English cucumber.
Coppercraft Distillery Gin
Coppercraft Distillery Gin is produced in small batches using 13 botanicals. Its taste profile consists of juniper, coriander, orange, cinnamon, and lemon.
ABV: 40%
Tom Cat Gin
Tom Cate Gin is a bolder expression of Caledonia Spirits. Tom Cat Gin is aged in new American oak barrels to get the bolder expression of it. The robust character of the new American barrel mixes with the high-quality juniper to develop an enticing aroma in this gin.
Here are some cool recipes to enjoy on Halloween.
Classic Tom Cat Old Fashioned Cocktail
2 oz Tom Cat Gin
1/2 tsp Demerara syrup (2 parts demerara sugar: 1-part water)
2-3 dashes of Angostura Bitters
Lemon or Orange Twist, or both for Garnish
Combine ingredients in a mixing glass, add ice, stir, then strain into an old-fashioned glass over fresh ice. Garnish by squeezing the citrus twists over the top of the cocktail.
Muddled Fruit Tom Cat Old Fashioned
Ingredients:
2 oz Tom Cat Gin
1 tsp Demerara syrup (2 parts demerara sugar: 1-part water)
2-3 dashes of Angostura Bitters
1 Cherry
1 half Orange wheel
Preparation:
Combine sugar and fruit in an old-fashioned glass then gently muddle. Add other ingredients and fresh ice, stir, strain into an old-fashioned glass over fresh ice, then garnish with an orange slice and cherry.
[Recipe & Image: Caledonia Spirits]
Compelling Gin
Compelling Gin, one of the winners of 2019 USA Spirits Ratings, is a bright and citrusy Scotch-made gin from Dogfish Head Distilling Company. It is produced with the ingredients including analog vodka redistilled with juniper, coriander seed, angelica root, black peppercorn, lemon peel, green cardamom, hibiscus, orris root, orange peel, lime peel, kaffir lime leaves, and cinnamon.
Tasting notes:
Compelling gin has peppery citrus zest flavors followed by baking spices and lemon-lime finish.
ABV: 44%, 88 Proof
Recipes:
Ingredients:
1 oz Compelling Gin
1 oz Fresh Orange Juice
1/2 Fresh Lemon Juice
1 oz Simple Syrup
4 oz Flesh & Blood IPA
Directions:
Shake all ingredients, except beer, in a shaker for 5 seconds. Strain over ice in a pint glass. Add Flesh & Blood IPA, gently roll drink or stir to mix.
Ingredients: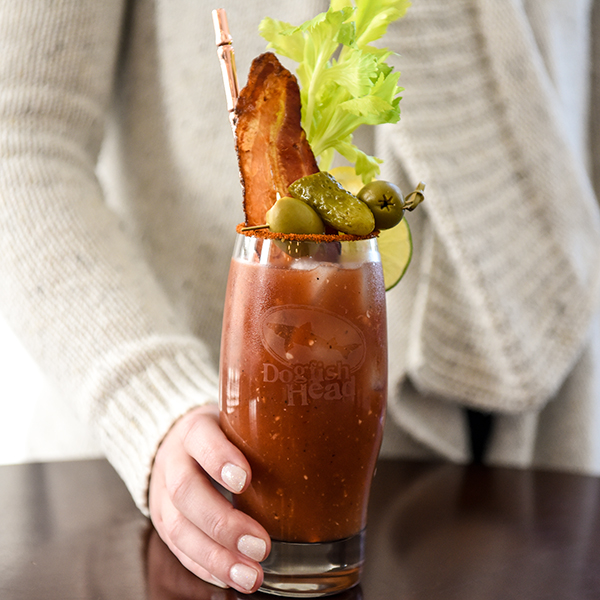 1.5 oz Compelling Gin
5 oz Tomato Juice
0.5 oz Lemon Juice
1 dash Worcestershire Sauce
1 tsp Old Bay
1/8 tsp Celery Salt
1/8 Ground Pepper
Hot Sauce (to taste)
Horseradish (to taste)
Directions:
Build over ice, gently roll from one large mixing glass to another to mix. Pour into an Old Bay rimmed glass. Garnish with any fixings you like, we went with celery, bacon, olives, lemon & lime wheels and a pickle.
Earl Grey Gin
Earl Grey Gin is infused with the finest Earl Grey tea and bright bergamot citrus peel. A fragrant aroma beckons, as your palate embraces richly smooth and lingering black tea flavors (Corgi Spirits). You can sip this gin as a stand-alone spirit or try it with cocktails. On this Halloween, mix this gin with lemon, honey, mint, club soda or tonic.
Enjoy your Halloween party with any of these 10 gins and be ready for Thanksgiving next month. The cocktails list for Thanksgiving party is coming soon, keep tracking us.
Get your spirits brands rated by Quality, Value, and Packaging. Currently, we are accepting international and domestic submissions under the early bird offer. Enter your spirits now!