7 Best Tequila Brands That Importers Must Include In Their Portfolio
11/05/2021 Why go with the basic when we are giving you a collection of award-winning tequila brands.
You will agree that drinking quality tequila has its own experience. The award-winning brands that are mentioned below use the exceptional and carefully harvested blue agave, which is then lovingly processed to deliver a superior quality tequila that deserves a spot in your portfolio. Tasted and assessed by leading bartenders and top-notch spirits buyers, here are the winners of the 2020 USA Spirits Ratings.
Suave Reposado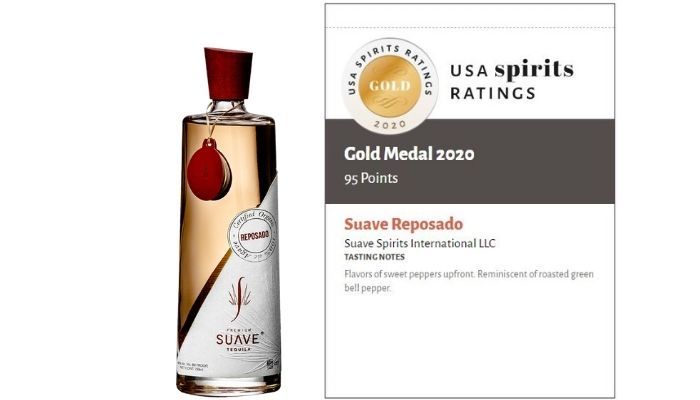 Gold medal winner with 95 points, Suave Reposado is produced by Suave Spirits International LLC with a mission to produce the most naturally sophisticated and organic sipping tequila in the market today
through their blend of sustainable farming methods and socially responsible production practices.
Tasting notes: Flavors of sweet peppers upfront. Reminiscent of roasted green bell pepper.
Espanita Reposado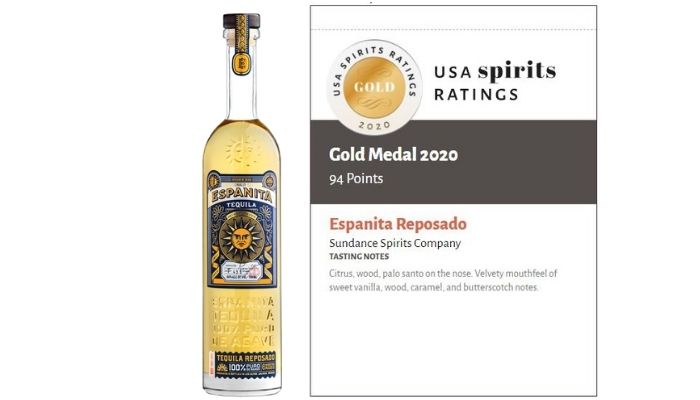 Imported by Sundance Spirits Company the Espanita Reposado won a Gold medal and scored a solid 94 points at the 2020 USA Spirits Ratings.
Founded by a group of seasoned industry professionals, Sundance Spirits Company is respected as a sales, marketing, and import company that has been built on a solid foundation of hard work, sustainable brand building, modern category awareness, and innovation. The popularity of craft alcohol is on the rise, and at the Sundance Spirits Company, the team rejoices at the opportunity to help established and emerging producers of craft spirits, wine, and beer grow their brands in the U.S.A
Tasting notes: Citrus, wood, palo santo on the nose. Velvety mouthfeel of sweet vanilla, wood, caramel, and butterscotch notes.
Gran Centenario Leyenda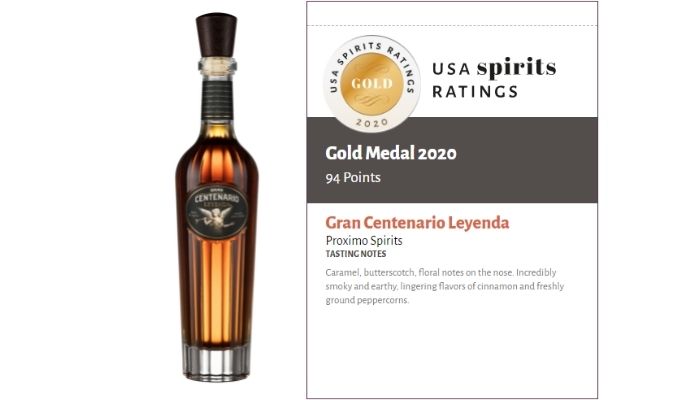 Gran Centenario Leyenda is imported by Proximo Spirits which is a global innovator of quality spirits that creates excitement with every sip.
Always on the lookout for what's next, Proximo builds brands and invents new products to meet the world's changing tastes and trends in memorable new ways.
Gran Centenario Leyenda tequila won a Gold medal with a smashing 94 points at the USA Spirits Ratings.
Tasting notes: Caramel, butterscotch, floral notes on the nose. Incredibly smoky and earthy, lingering flavors of cinnamon and freshly ground peppercorns.
El Tequileño Reposado Rare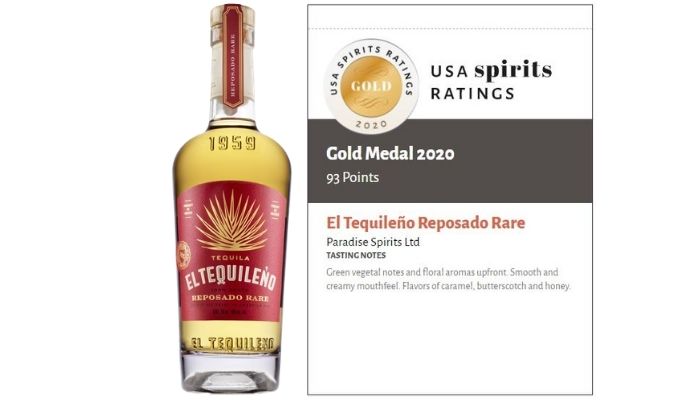 Taking home a Gold medal with 93 points is the El Tequileño Reposado Rare presented by Paradise Spirits that leverages worldwide industry network and business experience to produce and distribute high quality spirits globally. They inject working capital to build brand awareness, secure new markets and invest in infrastructure to support growth.
Tasting notes: Green vegetal notes and floral aromas upfront. Smooth and creamy mouthfeel. Flavors of caramel, butterscotch and honey.
Siempre Tequila Plata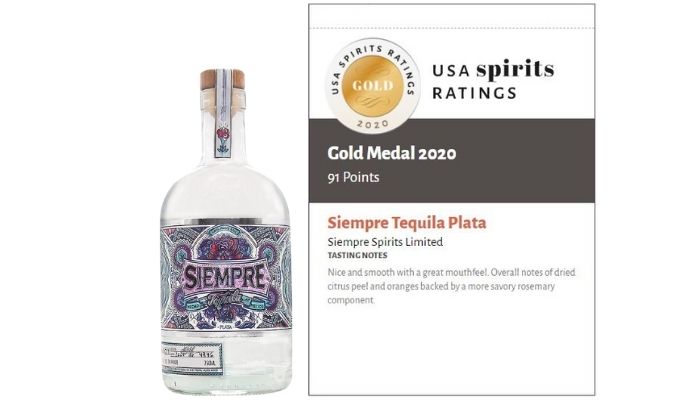 Crowned with a Gold medal and 91 points is the Siempre Tequila Plata by Siempre Spirits Limited
Siempre is the rose that grew from adversity. The flowers, both dead and alive, in our hand-drawn label represent beauty born from struggle. We remember to celebrate good times, bad ones and everything in between - because it's all part of what makes us who we are.
Tasting notes: Nice and smooth with a great mouthfeel. Overall notes of dried citrus peel and oranges backed by a more savory rosemary component.
Juan Lobo Blanco Tequila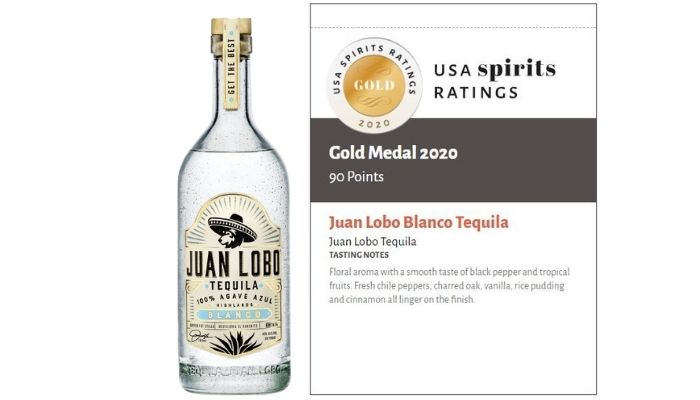 From five generations of agave farmers, Juan Lobo Tequila is handcrafted in the Highlands of Jalisco, Mexico. Enriched in tradition, slow-cooked in brick ovens, fermented to classical music, and distilled in copper pot stills. Their careful process delivers a smooth, full-bodied spirit abounded with aroma and flavor.
[[relatedPurchasesItems-42]]
Horses and livestock roam the land, the sweet aroma of roasting agave envelopes the atmosphere, and the red clay in the los altos region provide slightly sweet and floral notes to the tequila.
Juan Lobo Blanco Tequila won a Gold medal with an amazing 90 points at the 2020 USA Spirits Ratings.
Tasting notes: Floral aroma with a smooth taste of black pepper and tropical fruits. Fresh chile peppers, charred oak, vanilla, rice pudding and cinnamon all linger on the finish.
Mijenta Tequila
Presented by Altos Planos Collective, Mijenta Tequila won a Gold medal and score 90 points at the USA Spirits Ratings. The purest form of the agave plant meets the most supreme expression of mijenta's quality and artistry.
Mijenta is a sustainable artisanal tequila from the highlands of Jalisco, offering a unique super-premium proposition. The spirit was created by a passionate collective who believes in doing well by doing right and is crafted by Mexico-based Maestra tequilera ana maria Romero.
Tasting notes: Herbaceous and floral bouquet aroma, mountain mist, wet earth, and flower blossoms. Ripe chile peppers, cantaloupe, peaches, black pepper and charred wood, slight smoked oak, and a vanilla finish.
Submissions for the 2024 USA Spirits Ratings are now open. Enter your spirits brands today at the lowest price. Here's how to enter.