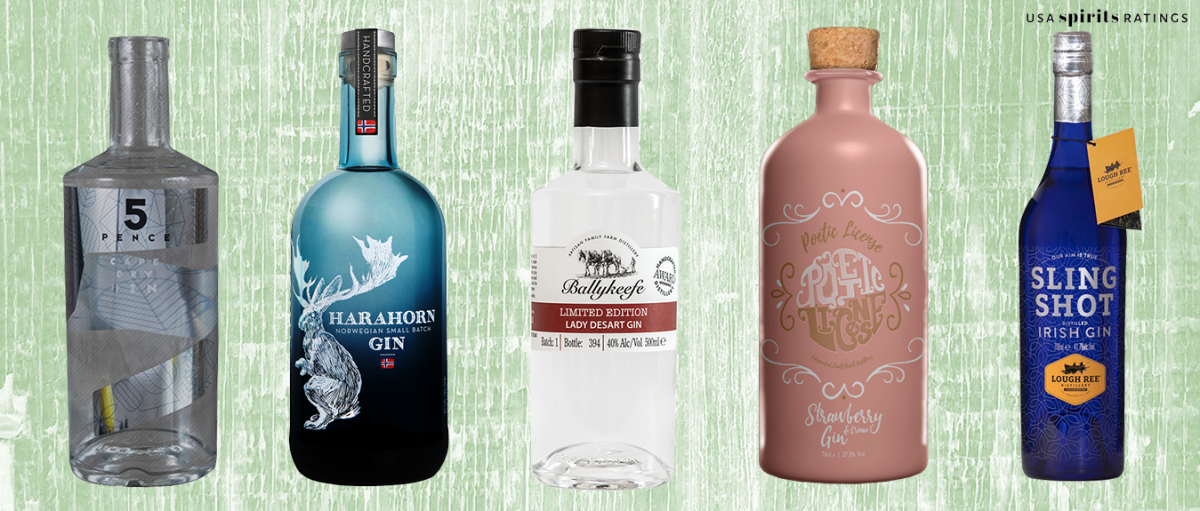 Top 10 Gin Brands To Try In 2020
31/07/2020 Add right gin flavor to your mix and make delicious cocktails with this top 10 award-winning gin brands.
Gin lends itself wonderfully to cocktails. They are easily paired with a soda. Some extra ingredients and a few shakes make some of the finest cocktails. However, it is very important to select the right gin flavor for the mix. So, here are the top 10 gin brands to mix with your cocktails and try in 2020.
Ballykeefe Lady Desart Gin
Named as Ireland's Best in Show Spirits Brand and winner of Gold at the 2019 USA Spirits Ratings, Ballykeefe Lady Desart Gin is a perfectly balanced London Dry Gin. Its flavor requires no garnish. On the nose, it has notes of pepper, juniper, and fresh citrus fruits. It is refreshing on the palate with citrus flavors and a dry finish. Serve in a Copa glass filled with ice. Add 35.5ml of Ballykeefe Lady Desart Gin and top with premium tonic water. (Source: Ballykeefe Distillery)
Harahorn Gin
Gin of the Year at the 2019 USA Spirits Ratings, Harahorn is a Norwegian gin brewed with an exciting mix of herbs and berries grown in Norway itself. Named after the mountain in the Norwegian area Hemsedal, Harahorn Gin is a real craft gin produced in small batches of 300 liters at a time. Det Norske Brenneri has chosen the best ingredients for this gin. They have used the best botanicals from the different parts of Norway. Those botanicals include juniper berries from Roros, blueberries from Nordmarka, rhubarb and bladderwrack from Grimstad, angelica from Oppdal, and wild marjoram from Sunndal. It is rich, full, warm, dry, and cool. Its aromas are characterized by juniper berries, anise, flower, and citrus. Fill your glass with ice cubes. After a minute or two, spill out the melted water and add gin and the tasty tonic. Garnish it with some blueberries and rosemary or blood orange. (Source: Inside24)
[[relatedPurchasesItems-42]]
5 Pence London Dry Gin
The gold medal winner at 2019 USA Spirits Ratings, 5 Pence London Dry Gin is handcrafted in small batches in the heart of Woodstock, Cape Town's artistic hub. It is made from more than 15 different botanicals, out of which, 8 botanicals are very carefully and ethically sourced fynbos plant species. You will see slight undertones of citrus in this bold, aromatic, and remarkably smooth gin.
Freedom Barrel Rested Gin
The Freedom Barrel Rested Gin is handcrafted in America. It has floral accents from juniper, coriander, lavender, lemon peel, chamomile, and calendula flower. All these are blended together perfectly as they're mellowed out by a 6 month resting process in Freedom Bourbon Barrels. It is packed with character and a perfect bourbon flavor blended right in.
Bixby Gin
The Bixby Gin is handmade at Lloyd Distillery based in the USA. It is botanical forward, balanced with savory exposed chaparral and terroir in rosemary, juniper, and various roots. It is brightened with orange and other citrus. On the palate, it has complex and intriguing flavors.
DogMaster Gin
Distilled from Missouri Corn, DogMaster Gin is made with twelve botanicals including juniper, opris, angelica and licorice root, cardamom, cinnamon, clove, coriander, black pepper, hawthorn berries, pears, and cucumbers. On the palate, this gin is lightly floral with a cucumber finish.
Poetic License Strawberry & Cream Gin
This Strawberry & Cream Gin is sweet, creamy in texture and taste, with a strong nose. It shows off notes of juniper, coriander, and orris root. It has a deep red color that tints to a blushing pink when mixed with tonic.
HWY 9 Gin
HWY 9 Gin is an award-winning premium gin with nine fragrant botanicals. Four of these botanicals bring a bright and pleasing citrus flavor to the palate. With freshly zested lime artfully added to the batch directly before distillation, the flavor is unmatched.
Sling Shot Irish Gin
Sling Shot Gin is proudly distilled and bottled at our micro distillery in Lanesborough, Co Longford. It has fresh notes of citrus and mint. The juniper and cardamom, in particular, add spice and boldness while the peat finishes it off with an earthiness and rounded mouthfeel, balanced with a hint of freshness from the mint.
Poetic License Northern Dry Gin
The Poetic License Northern Dry Gin gives big punch of juniper that is balanced with green cardamom for a warm and spicy flavor. With undertones of lemon and eucalyptus, the inclusion of Persian lime intensifies the citrus feel while adding a note of perfume.
Get rated by Quality, Value, and Packaging by the top trade buyers in the USA. Enter today and avail the early bird offer. Here is how to enter.