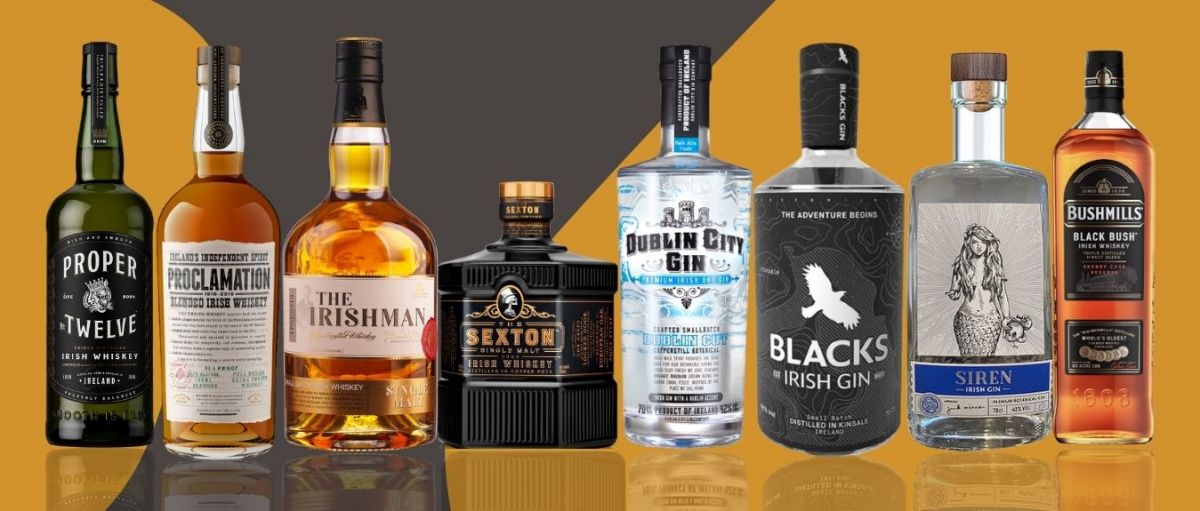 Top 8 Award-Winning Spirits Brands From Ireland
14/05/2021 Pick your favourite Irish whiskey or Irish gin from these top 8 award-winning brands from Ireland.
With an ever-expanding selection of Irish whiskeys and Irish gins, our judges have tasted through dozens of brands and sorted out the top best ones worth drinking. Rated highly on quality, value, and packaging, here are the top 8 award-winning spirits brands from Ireland. Let's get started!
Bushmills Black Bush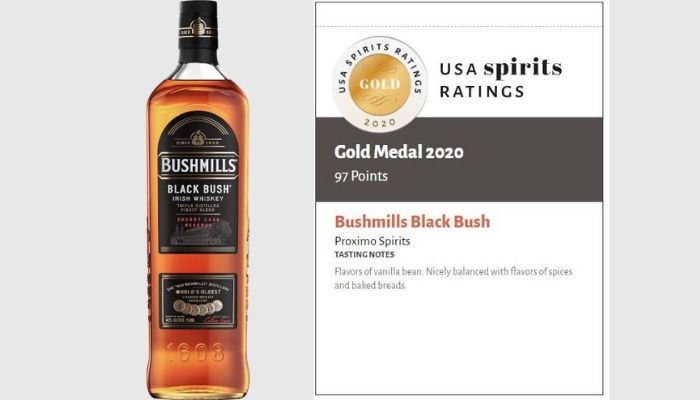 Presenting Whiskey Of The Year which was crowned to BUSHMILLS IRISH WHISKEY imported by Proximo Spirits. This Irish whiskey scored 97 points and won Gold Medal and Best in Show By Country special category award.
Since 1608, BUSHMILLS IRISH WHISKEY has been made at Ireland's oldest working distillery. It is one of few distilleries in Ireland to use 100% malted barley to make triple-distilled whiskey, which is what creates its unique character and smooth taste.
[[relatedPurchasesItems-42]]
The saying is the distillery is grain to glass because BUSHMILLS® IRISH WHISKEY is made with every stage of production expertly managed on site.
Tasting notes: Flavors of vanilla bean. Nicely balanced with flavors of spices and baked breads.
Proclamation Blended Irish Whiskey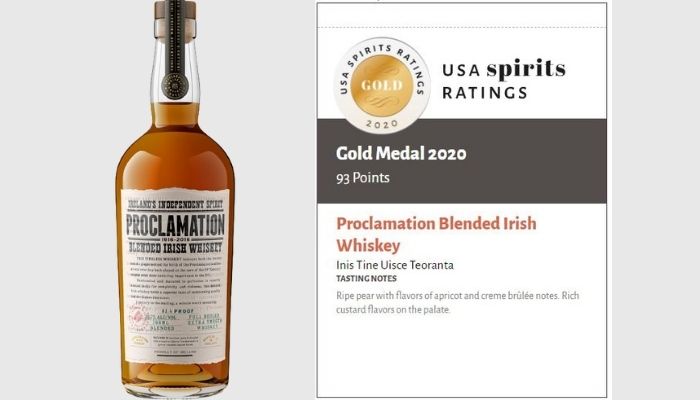 Proclamation Blended Irish Whiskey presented by Inis Tine Uisce Teoranta is a blend of the finest grain whiskies from across Ireland. Timelessly crafted in small individual batches offering a liquid of complex, yet refined character.
The liquid is tripled distilled and aged in new American Oak, offering up a singularly smooth whiskey with a clean taste.
Matured in bourbon casks & blended with a touch of sherry-finished malt to give a rounded, toasted finish.
Tasting notes: Ripe pear with flavors of apricot and creme brûlée notes. Rich custard flavors on the palate.
Proclamation Blended Irish Whiskey won a Gold Medal and scored 93 points at the 2020 USA Spirits Ratings.
The Sexton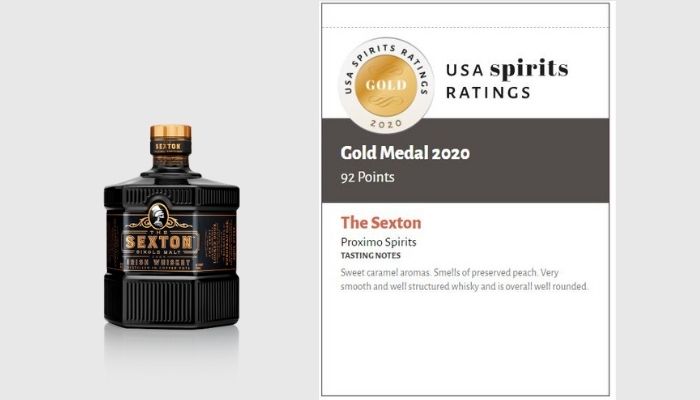 The Sexton Single Malt Irish Whiskey presented by Proximo Spirits is crafted using 100% Irish malted barley. It is aged for four years in sherry casks for a uniquely smooth finish
Created by Alex Thomas, one of a few female master blenders in the industry, The Sexton starts with the best ingredients, using only unpeated Irish malted barley in the mashbill for a pure malt flavor.
Distilled in copper pot stills for exceptional smoothness and then aged in formed Oloroso sherry cask from Jerez, Spain, imparting uncommon complexity and richness of flavor.
Tasting notes: Sweet caramel aromas. Smells of preserved peach. Very smooth and well-structured whiskey and is overall well rounded.
The Sexton won a Gold Medal and scored 92 points at the 2020 USA Spirits Ratings.
The Irishman Single Malt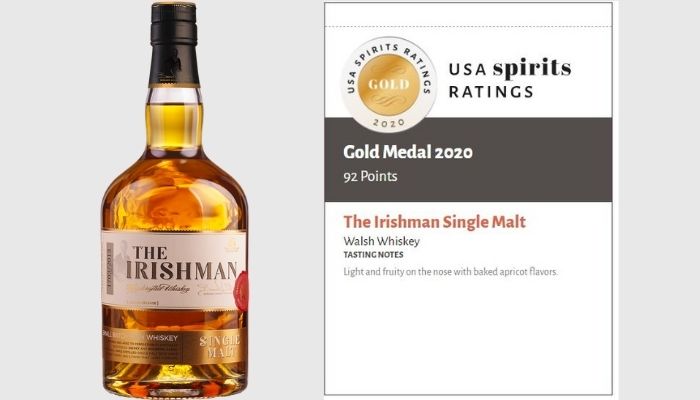 Established by Bernard and Rosemary Walsh in 1999, Walsh Whiskey is a family business dedicated to playing a part in the revival of Irish whiskey as one of the world's most appreciated spirits.
They are whiskey creators with a purpose and enthusiasm to question, create, experiment, challenge and, ultimately, to make things better.
Their philosophy is anchored in the Walsh family motto which is 'Never Say Die'. And that resilient attitude, along with our passion, innovation and attention-to-detail drive our family's dream to create a legacy of whiskey excellence.
Tasting notes: Light and fruity on the nose with baked apricot flavors.
The Irishman Single Malt won a Gold Medal and scored 92 points at the 2020 USA Spirits Ratings.
Dublin City Gin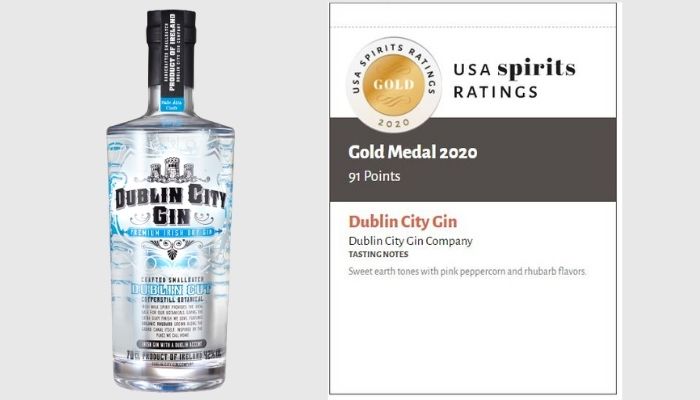 Dublin City Gin produced by Dublin City Gin Company is an Irish handcrafted dry gin with carefully selected core Botanicals. They prepare the recipe, which includes Organic Rhubarb grown along the Grand Canal in Dublin itself, by hand. Irish Milk Spirit provides the ideal base for our recipe giving the extra silky finish we love. To their great delight, it has been acclaimed for quality and taste as an award-winning gin both at home and abroad. A genuine full character gin and a little cheeky too!
Tasting notes: Sweet earth tones with pink peppercorn and rhubarb flavors.
Dublin City Gin won a Gold Medal with 91 points at the 2020 USA Spirits Ratings.
Proper No. Twelve Irish Whiskey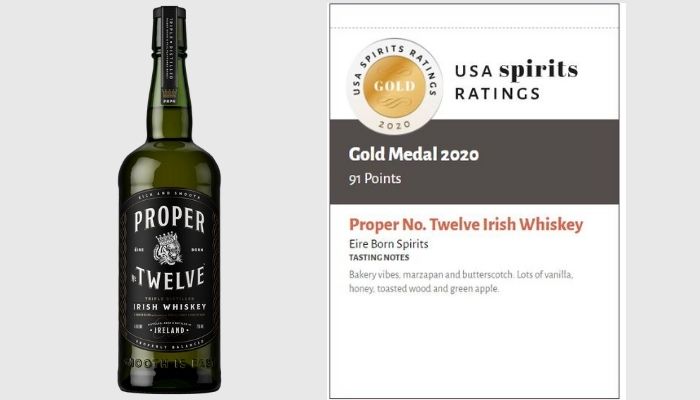 Proper No. Twelve by Eire Born Spirits pays homage to their founder, Conor McGregor, and his neighbourhood of Crumlin, Dublin 12. It embodies their shared spirit of brotherhood, loyalty, and hard work. As Conor says, it is a proper Irish Whiskey and 12 is my hometown.
Conor McGregor and his team searched for a place and people that shared the same passion for Ireland and its whiskey. He found this at the oldest whiskey distillery on the Isle of Ireland and with his master distiller created a unique and special blend.
Tasting notes: Bakery vibes, marzapan and butterscotch. Lots of vanilla, honey, toasted wood, and green apple.
Proper No. Twelve Irish Whiskey won a Gold Medal and scored 91 points at the 2020 USA Spirits Ratings.
Blacks Irish Gin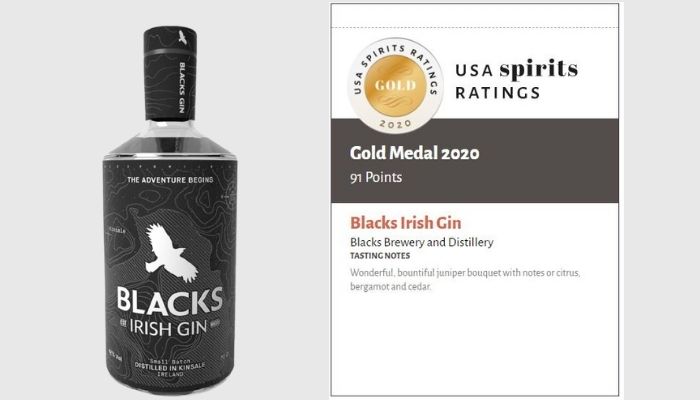 Blacks Irish Gin crafted by Blacks Brewery and Distillery is a modern Irish Gin boasting a unique citrus & spice fusion, with a Wild Atlantic twist. Featuring thirteen carefully selected botanicals, freshly cut citrus peels, hand-cracked juniper berries & vapor-infused Irish heather flowers, picked locally along on the Wild Atlantic Way.
Blacks Irish Gin is smooth and can be enjoyed neat, or on the rocks with a wedge of pink grapefruit, which compliments the fresh pink grapefruit peel used in our distillation.
Tasting notes: Wonderful, bountiful juniper bouquet with notes or citrus, bergamot and cedar
Blacks Irish Gin won a Gold Medal and scored 91 points at the 2020 USA Spirits Ratings.
Siren Gin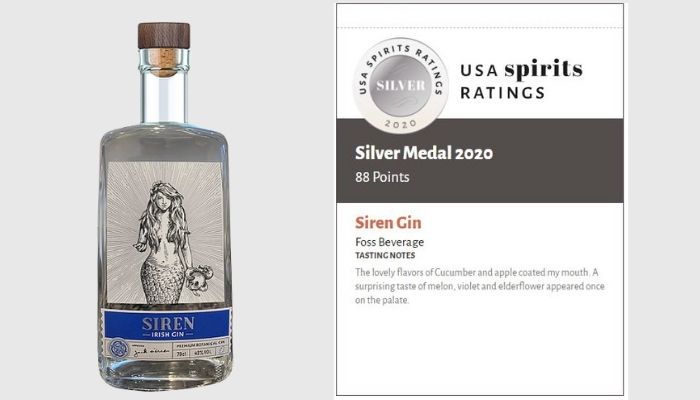 Siren Gin presented by Foss Beverage is pot distilled using typical botanicals like juniper, lemon peel, Angelica, orrisroot, and cassia. This gin will complement any cocktail and its rich flavour will keep surprising you.
Tasting notes: The lovely flavors of Cucumber and apple coated my mouth. A surprising taste of melon, violet and elderflower appeared once on the palate.
Siren Gin won a Silver Medal with 88 points at the 2020 USA Spirits Ratings.
Get rated by Quality, Value and Package by the top trade buyers in the USA. The super early bird deadline is November 30. Enter now and save.