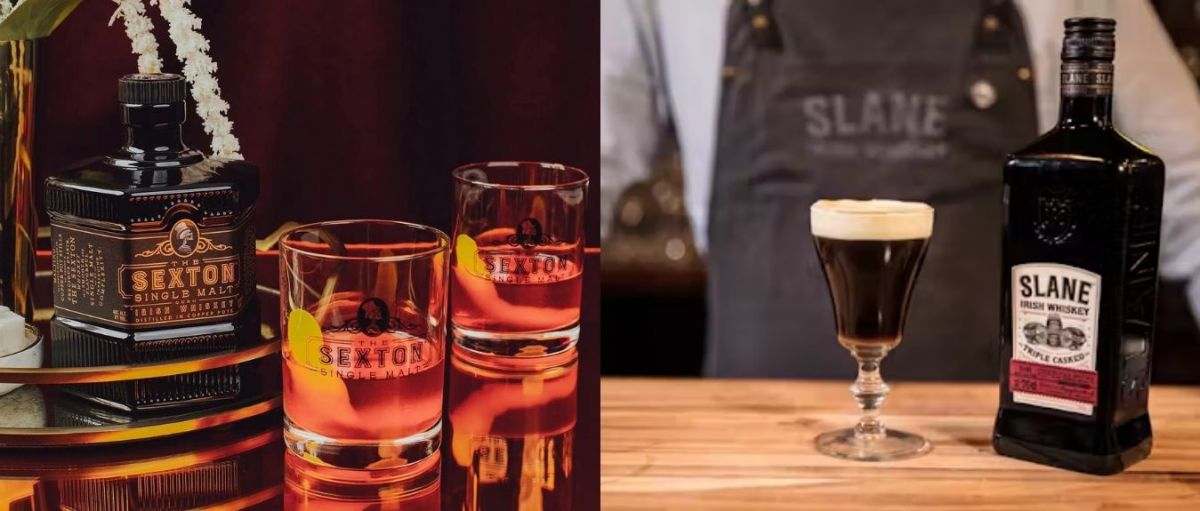 Top Ten Irish Whiskeys you need to try
02/02/2022 Considered as one of the best alcoholic beverages globally, it comes as no surprise that the U.S. is the leading country in terms of Irish whiskey consumption. So, here's a list of 10 Irish Whiskeys you need to get your hands on. 
The Irish have played a huge role in the global beverage market. Be it Irish Coffee, Guinness, Redbreast, or your good ol' bottle of Jameson, they have made themselves indispensable in the Wine and Spirits industry too. Irish Whiskey was very popular in the United States in the 19th Century. Its finish is considered smoother than a scotch as peat is often excluded from the process. While its fan following dipped in the interim, there has been a surge in the consumption of Irish Whiskey since the 1990s. The popularity of Irish Whiskey in the United States reflects in how they rank on number 8 in the most sold beverages in the United States list today. This revival of the Irish Whiskey was spearheaded by Jameson. According to the Distilled Spirits Council, more than 5 million cases of it were sold in the United States in 2020, generating $1.1 billion in revenue. The bump is especially impressive at the high end, where Super-Premium Irish Whiskey has grown a staggering 8,728 percent since 2002.
[[relatedPurchasesItems-42]]
If you are looking forward to trying something new or are looking to diversify your Irish Whiskey taste buds, here are ten Irish Whiskeys you need to try:
Connemara Single Malt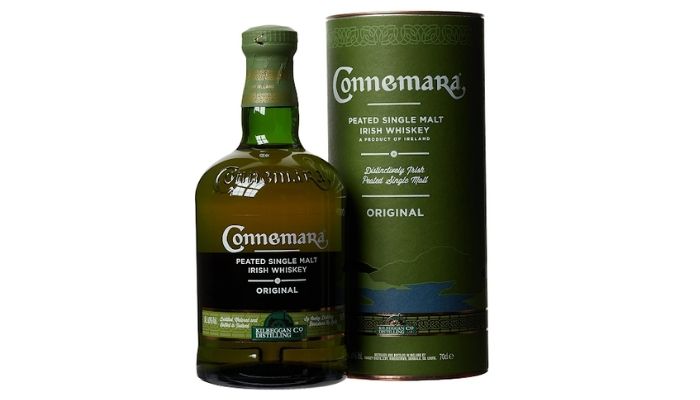 Source: Amazon UK
Connemara Single Malt Whiskey is produced by Cooley Distillery by The Kilbeggan Distilling Company in County Louth, Ireland. Uncharacteristic to Irish Whiskey, this Single Malt uses peat in production which lends it a Scotch Whisky taste profile. Connemara Single Malt Whiskey is a blend of three aged whiskies. A 4-year old whiskey is used for a level of vibrancy, 8-year-old whiskey is used to add depth, and a 6-year-old whiskey is used to bind them all together to create an iconic peated blend. Connemara Single Malt has an ABV of 40% with an initial smokiness followed by an underlying sweetness.
Midleton Very Rare Irish Whiskey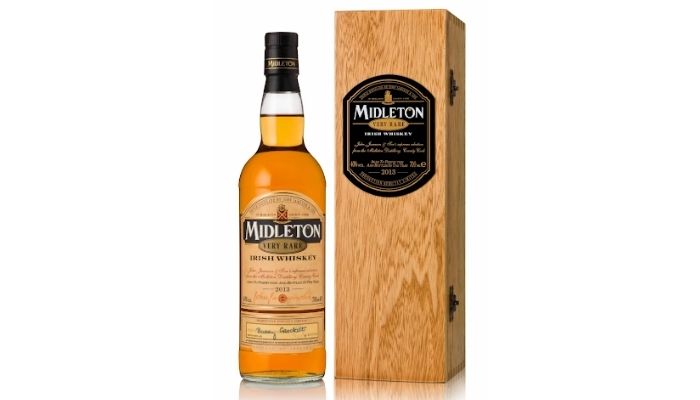 Source: Drinks Enthusiast
One of the most collected and sought-after Whiskeys since 1984, only 50 casks of Midleton Very Rare Irish Whiskey are produced each year. Master Distiller Brian Nation hand-selects this whiskey aged in ex-Bourbon and Sherry casks for 12 to 25 years. This selection happens once every year. It is produced by Irish Distillers at the New Midleton Distillery, in the East Cork town of Midleton which naturally lends the whiskey its name. Midleton Very Rare Whiskey has an ABV of 40%, is rich and creamy in texture with a Honey Gold appearance, and has a long and peppery finish.
Redbreast 12-Year Old Whiskey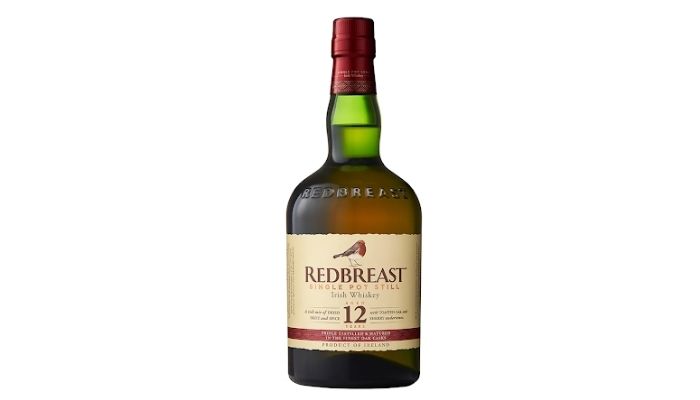 Source: Reserve Bar
Redbreast is a single-pot still whiskey from the Old Midleton Distillery, East Cork, Ireland. It is recommended to serve this whiskey with water. Redbreast was originally made by Gilbey's but is now made by Irish Distillers. This whiskey is celebrated for its smoothness with a combination of fruit and sherry flavors. It is aged in an oak cask that helps flavors mature and grow richer. No water is added in the bottling process, ensuring every sip is that of a full-bodied whiskey. It is Ireland's best-selling single pot blend with a 57.2% ABV.
Tullamore D.E.W.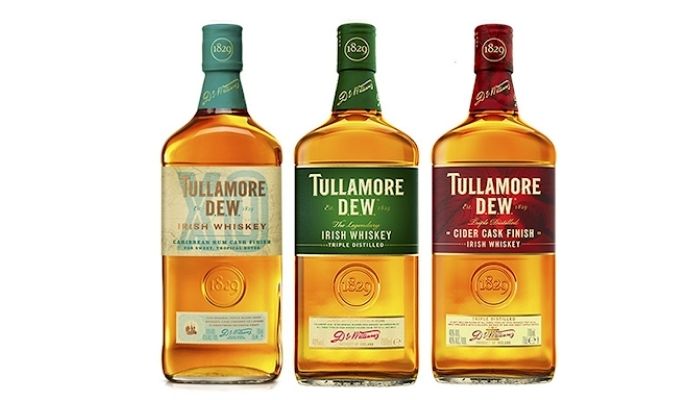 Source: Woodshed Wine and Spirit
Tullamore D.E.W. where D.E.W. represents Daniel E. Williams who was a General Manager at the Tullamore distillery in the late 19th Century. It is another renowned Irish whiskey brand around the world. It comes only second to Jameson in global sales. Tullamore D.E.W. is made from three different grains, including malted barley, unmalted barley, and corn. It has solid undertones of vanilla and oak, with a delicate and rich aroma filled with tropical fruits, mixed nuts, and tannins. Tullamore D.E.W. has an ABV of 40% and is currently made by William Grant & Sons.
Bushmills 16-Year-Old Three Wood Whiskey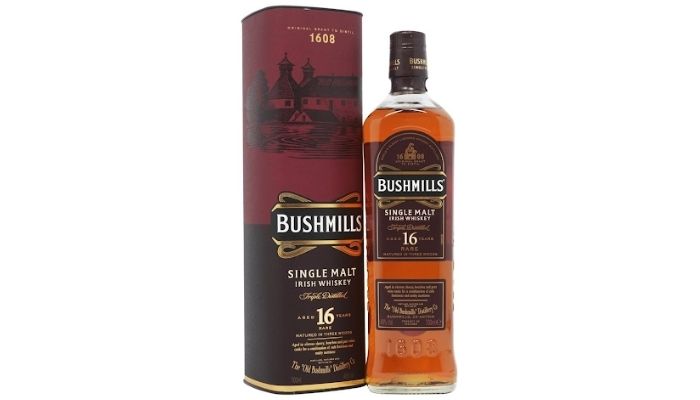 Source: The Whisky World
Bushmills 16-Year-Old Three Wood Whiskey is aged 16 years individually across three casks. The process begins in bourbon barrels, moves to sherry casks, and is finally finished in port casks. It lends the name "3-wood whiskey" as well as many layers of complexity. This features cherries and berries with hints of pepper and oak spices on the nose, dried fruit, sticky toffee and port on the palate, and a sweet and long finish. Now rare to find, Bushmills 16-Year-Old Three Wood Whiskey has an ABV of 40%.
Teeling Single Grain Irish Whiskey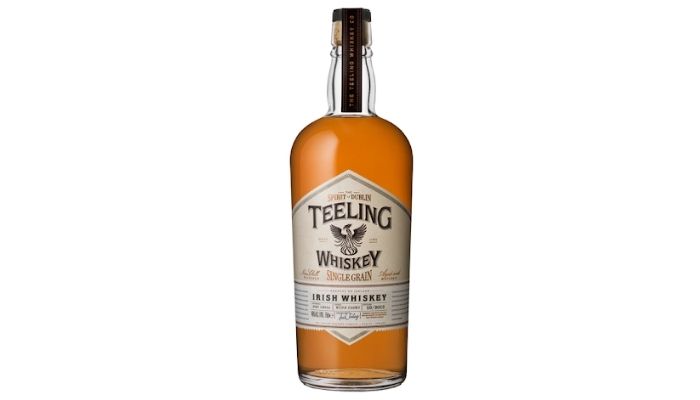 Source: Difford's Guide
Teeling Single Grain Whiskey is made using 95% corn and 5% malted barley that is triple distilled and matured exclusively in French oak Ex-Cabernet Sauvignon red wine casks from California. While it entered the market only in 2015, it has instantly become a crowd favorite. This is also one of the very few single grain whiskeys in the trade at the moment and is definitely enjoying that advantage. Teeling Single Grain has spice and fruit notes that mingle with sweet and sugary notes. It also has a tannic influence of red wine with a touch of spice and deep berry notes with a 46% ABV.
The Sexton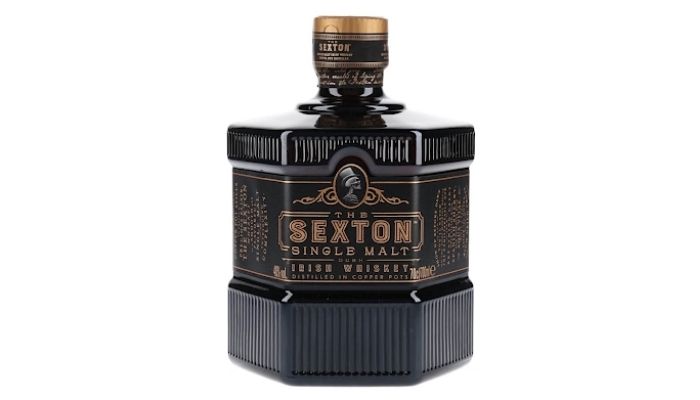 Source: The Whisky Exchange
With exquisite packaging, The Sexton is a single malt Irish whiskey made with 100% malted barley. It was created by Alex Thomas, one of a few female master whiskey blenders in the industry. The Sexton is distilled in copper pots and then matured in European Oak Oloroso ex-sherry Butts for 4 years. These casks bring out the honey and dried fruit notes that set off its toasty finish. With 40% ABV, The Sexton has the perfect balance of rich dried fruits and subtle oak notes with a smooth finish.
The Quiet Man 8-Year Single Malt Irish Whiskey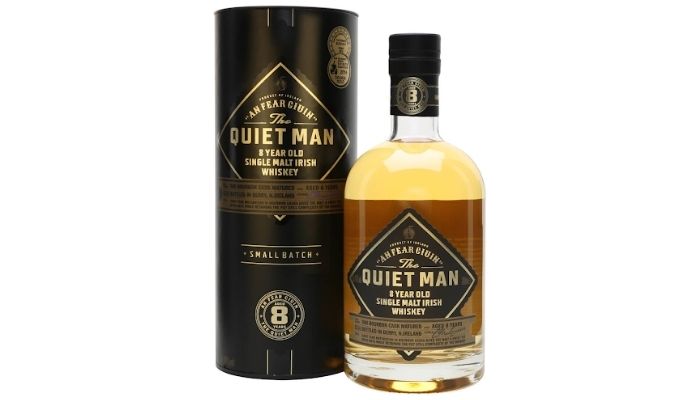 Source: The Whisky Exchange
The Quiet Man Single Malt Whiskey was founded by Ciaran Mulgrew in the year of 1983. It is an 8-year-old Irish single malt whiskey finished in first-fill bourbon barrels. It has a golden color in the glass and notes of vanilla, oak, and honey. This whiskey also has the fragrance of fresh-cut apple and pear and an ABV of 40%. Two whiskeys under the Quiet Man label are also the first whiskey bottled in Derry in over a century.
Slane Irish Whiskey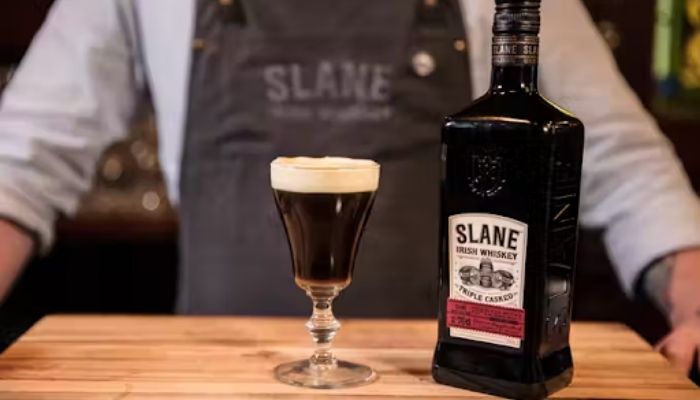 Source: Drizly
Slane Irish Whiskey is a powerful triple-casked whiskey distilled in Slane, Ireland. It is a spirit made by the Conyngham family of Slane Castle, Brown-Forman, and the proud people of Slane Village. The process of making this Whiskey uses three different types of casks: Virgin, seasoned, and sherry. This makes it a perfect whiskey for cocktails and other spirits. It has notes of vanilla, banana, butterscotch, dried stone fruits, and subtle baking spice. This young whiskey has an ABV of 40%
Dead Rabbit Irish Whiskey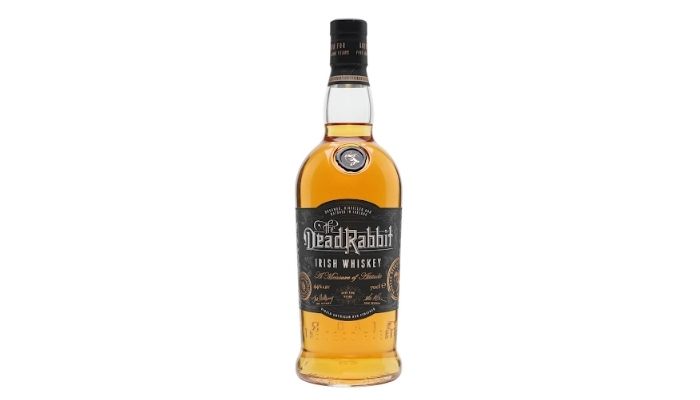 Dead Rabbit Whiskey. Source: Quintessential Brands Group
Dead Rabbit Whiskey is a whiskey created by the Dublin Liberties Distillery and the founders of New York's excellent Dead Rabbit Grocery & Grog, one of the world's best cocktail bars. It is a five-year-old blend featuring Irish malt and grain whiskey, finished in virgin American oak crafted by Master Distiller, Darryl McNally, in collaboration with Jack McGarry and Sean Muldoon, the founders of The Dead Rabbit Grocery & Grog. The inspiration behind this Whiskey was a notorious Irish street gang in New York City in the mid-1800s. It is a blend of malt and grain whiskeys, matured first in bourbon casks before a finish in virgin American-oak casks for an extra kick of peppery spice.
Get rated by Quality, Value and Package by the top trade buyers in the USA. The super early bird deadline is November 30. Enter now and save.