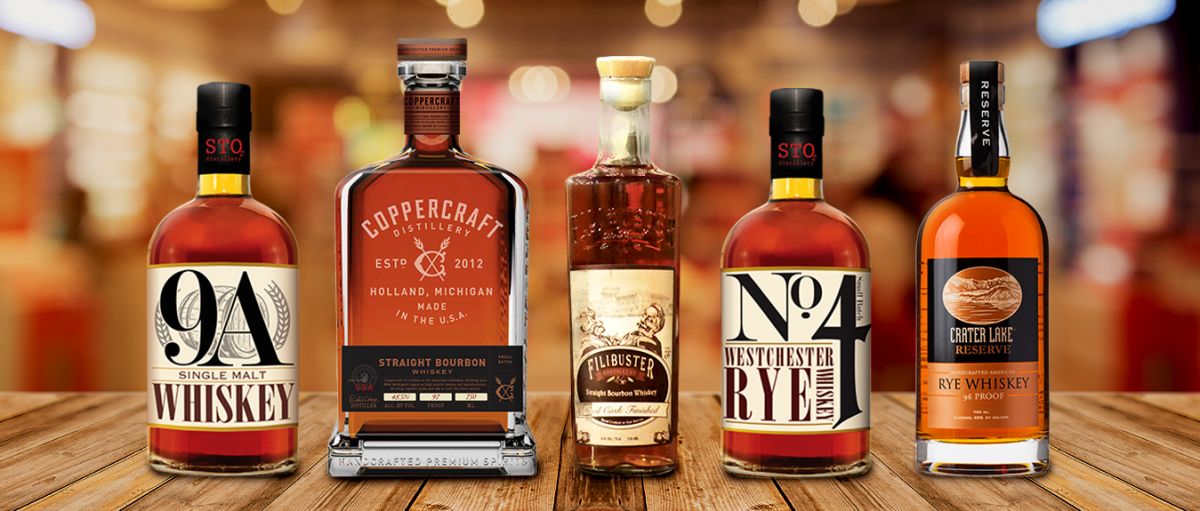 Top Whiskey Brands From The US, You Must Try!
22/01/2019 America is one of the largest producers and consumers of whisky. Here is the list of whiskies which you must try.
Whisky is a distilled beverage produced in the United States from a fermented mash of cereal grain. Sales of American Whisky grew $252 million to $3.4 billion in 2017, or 8.1 per cent, according to the Distilled Spirits Council. Whisky sales in the United States had yet another magnificent year, with American, Irish, Canadian, and Scotch products all seeing significant growth. The overseas sales of U.S.-made spirits were up more than 14%, reaching $1.63 billion. With so many options, there will be always a chance of confusion on the selection of whisky. Here are some whiskies distilled at the USA, which you must try.
Coppercraft Distillery Straight Bourbon

Coppercraft Distillery Straight Bourbon`s barrels are of 10+ year old. The Whisky is masterfully blended to create a rich taste. It has flavours of sweet caramel and vanilla, which really stands out with each sip. It is produced by Coppercraft Distillery from Holland, Michigan.

Citrus Distillers Pecan Whisky

Citrus Distillers Pecan Whisky is an American distilled & blended whisky crafted with a natural creamy toasted pecan whisky profile. It was created for the perfect shot or sipper. Citrus Distillers Pecan Whisky is distilled & crafted in Palm Beach County, Florida.

No.4 Rye Whisky

No.4 Rye Whisky is made from New York State rye, specially grown for them. They use 100% rye so the spirit is a little bolder and spicier than most rye whiskies, but their innovative fermentation and distillation style makes it very smooth and approachable. The smell is lightly floral with some spice. The taste starts with sweet vanilla and caramel notes, transitions to cinnamon and floral rye flavours and gives a long spicy, but not overwhelming, rye finish.

Coppercraft Distillery Blend of Straight Bourbon

Coppercraft Distillery Blend of Straight Bourbon is an aggressive, spicy, punchy, bold whisky. It comes in Four+ and ten+-year-old bourbons artfully variants blended to provide a flavour that lends itself ideally to cocktails.

Crater Lake Reserve Rye Whisky

Crater Lake Reserve Rye Whisky is an American grown rye limited edition Reserve Series Spirit. It is aged 3 years in new, charred American oak. Its rich notes of toffee give way to a distinct peppery finish. It also has higher proof. Pronounced rye flavor is perfect for complex cocktails or the serious whisky enthusiast.

9A Single Malt Whisky

9A Single Malt Whisky is the second beer to whisky series with, Still The One Distillery Two and Broken Bow Brewery. 9A is masterfully distilled using an imperial stout beer from Broken Bow Brewery. The chocolate, smoky flavour from the stout comes over through the distillation process. It is then matured in American oak barrels to impart the colour and Caramel/Vanilla notes. The 9A Whisky is smooth and full of deep robust flavours. Try this deliciously unique Whisky neat, on the rocks or in a craft cocktail!

FILIBUSTER BOURBON

Filibuster Bourbon is an aged in American oak casks, then finished in "white-wine seasoned French oak barrels," this honey-hued whisky has rich, powerful aromas of apricots and butterscotch. On the palate, surprising floral accents transition into honey and rounded stone-fruit notes, with a bit of a tannic pucker on the finish."
Get rated by Quality, Value and Package by the top trade buyers in the USA. The super early bird deadline is November 30. Enter now and save.